Barcelona proudly holds the title of being one of the most romantic cities in the world, and with its stunning architecture, delectable food, and amazing cultural heritage, it is no surprise that Barcelona's romantic charm continues to captivate countless couples from all over the world.
To help you make the most of your romantic getaway, we've meticulously crafted this comprehensive guide of the top 5 ideas for a perfect date night in Barcelona, ensuring that you will create lasting memories in the city of love.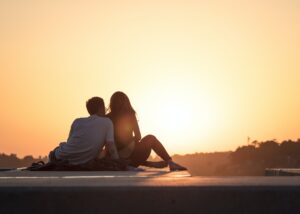 Picnic With a View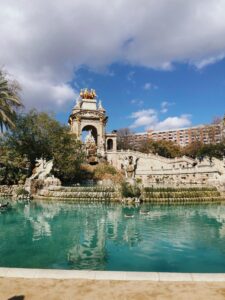 When it comes to Barcelona, having a picnic takes on a uniquely romantic charm. The city offers a variety of picturesque locations, from lush parks like Parc de la Ciutadella, to scenic hilltops like the Bunkers del Carmel. Sharing a picnic with your partner in this vibrant city allows you to escape the urban hustle and bustle, and immerse yourselves in the natural beauty that surrounds you. 
For couples seeking a serene escape without the need for an extensive journey, Parc de la Ciutadella emerges as the perfect haven for a romantic picnic. This enchanting park, located in the heart of Barcelona, offers a tranquil oasis, where you can unwind and enjoy each other's company. With its sprawling green lawns, winding paths, and charming water features, Parc de la Ciutadella sets the stage for an idyllic and romantic outdoor meal.
Alternatively, if you truly wish to escape from the bustling city, look no further than the Bunkers del Carmel. Perched high above Barcelona, this scenic gem welcomes you with awe-inspiring panoramic views that seem to stretch endlessly in every direction. The moment you arrive, you will find yourself captivated by breathtaking views, making it the perfect retreat where you and your partner can immerse yourself in each other's company amidst the backdrop of Barcelona's majestic skyline. To enhance this experience further, you could even time the picnic perfectly and watch the sunset over the beautiful city!
Whether you choose a sunny afternoon or a moonlit evening, a picnic in Barcelona is a gesture of love that not only celebrates your connection, but also the city's undeniable allure.
A Date in a Hidden Bar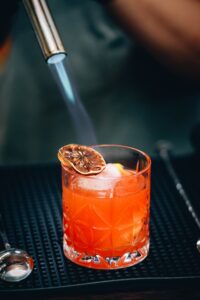 An array of hidden bars are tucked away in the charming streets of Barcelona, offering a truly unique yet romantic experience, perfect for a date night. The excitement of uncovering these lesser-known treasures adds an exciting element to the evening, ensuring that it becomes a cherished memory. 
For couples who wish to experience the thrill of finding a hidden bar in the streets of Barcelona, but still appreciate some level of intimacy and calmness, then Monk is the perfect speakeasy bar for your date night. The establishment masquerades itself as a store, but as you step through its doors, a hidden bar is revealed, waiting for you to try its incredible cocktails.
Alternatively, if you are searching for a distinctive bar experience, consider paying a visit to El Paradiso. This establishment cleverly disguises itself as a lunch café, yet, once you step through the fridge door, you will find yourself in an extraordinary bar. The cocktails served here are nothing short of theatrical, incorporating elements like smoke, lights, and even fire to create unforgettable drink experiences. 
There are numerous hidden bars awaiting in the charming streets of Barcelona, all of which can add a touch of magic to your romantic date night. These hidden gems promise unforgettable moments and are perfect for adventurous couples!
El Món Neix en Cada Besada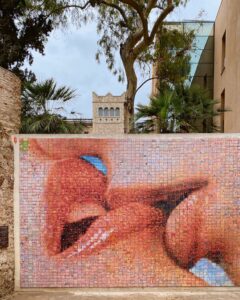 For a truly unique romantic experience in Barcelona, immerse yourself into the captivating streets of the Gothic Quarter and discover the hidden treasure of El Món Neix en Cada Besada (The World Begins with Every Kiss).
Nestled within the charming Born neighbourhood, this stunning mosaic mural is an absolute must-visit for those looking to create lasting memories on a date night in Barcelona. The street art beautifully encapsulates the essence of Spanish life, and celebrates the profound happiness and love that can be found within the city. 
This vibrant masterpiece is often unknown to many tourists, making it an ideal stop for couples seeking an unforgettable date night in the city. 
Visit the Labyrinth Park of Horta
Discover Barcelona's oldest garden, Labyrinth Park of Horta, for a nature-inspired date. This tranquil park offers a serene escape from the city's hustle and bustle, creating the perfect setting for a romantic stroll. As you step inside, you will be greeted by a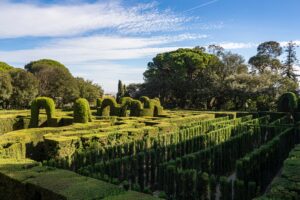 serene oasis featuring lush gardens, meticulously maintained landscapes and fragrant flowers. What sets this park apart is its enchanting maze, adding an element of mystery and adventure to your date. 
With its peaceful ambiance and intriguing maze, the Labyrinth Park of Horta promises a truly unique and romantic experience. It provides an opportunity for you and your partner to connect with each other while immersing yourselves in the beauty of Barcelona's natural heritage. This location is an idyllic choice for couples aiming to create tranquil yet unforgettable memories.
Watch Flamenco Dancing
For an authentically Spanish date night, immerse yourself in the mesmerising world of flamenco. When you attend a flamenco show in Barcelona, you are not just watching a show, but you are also becoming part of a centuries-old tradition that combines music, dance, and emotion in a way that is both exhilarating and deeply moving.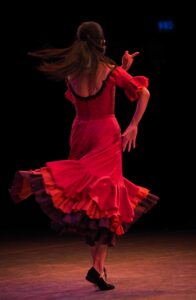 One of the best places to experience this art form in all its glory is at the renowned Tablao de Cordobes, as it is centrally located and has been hosting flamenco performances for decades. Here, you and your partner have the opportunity to savour not only the incredible artistry of flamenco dancing, but also the rich flavours of Spanish cuisine, as the establishment serves typical Spanish dishes, various types of wine, and incredible sangria.
Attending a flamenco show in Barcelona promises to be an enchanting and romantic date activity that will leave you both with lasting memories of the vibrant Spanish culture and the powerful connection you share. Don't miss the chance to add a touch of Spanish passion to your romantic date night in Barcelona!