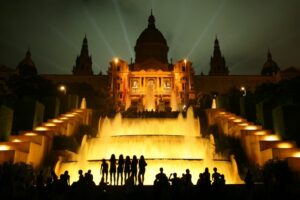 Last Updated: 17th February 2016
The incredible show put on by the Magic Fountain at the foot of Montjuïc hill really is an event not to be missed during your stay in Barcelona. A feast for the eyes, this awe-inspiring spectacle of color, light and plenty of water makes for one seriously impressive performance. The excitement is infectious, the rhythms captivating and the scene before you truly imaginative. The Montjuïc Magic Fountain is, without a doubt, one of the most enchanting experiences Barcelona has to offer.
Madness or Genius?
Initially put forward as a potential centerpiece for the 1929 Universal Exhibition, the Magic Fountain was originally dismissed as being far too daring and unrealistic a project. However, architect Carles Buigas was determined and would not give up easily on his dream of creating this extravagant, outlandish monument.
Finally he won his case and with the help of 3000 workers his masterpiece began to take shape and was unveiled on the 19th of May that year. The fountain was an instant hit with the public who were amazed by such an incredible work of engineering… it was indeed, 'magical'.
Unfortunately, Buigas' architectural triumph was damaged during the Spanish Civil War, fell into disrepair and was out of use from 1955 until the 1970s. Luckily however, and much to the public's delight, the fountain was eventually restored and was even awarded a special makeover for Barcelona's 1992 Olympic Games.
The inclusion of music in the performance gave the Font Màgica de Montjuïc even more of a dramatic effect and today its 3,620 pirouetting jets of water work in an endless array of perfectly choreographed movements and music – which ranges from classical and film soundtracks to Freddie Mercury and Montserrat Caballé's legendary song 'Barcelona' – culminating in one truly mesmerizing performance.
Unmissable Events at the Magic Fountain
It doesn't matter when you visit, the Magic Fountain always puts on an unforgettable show! But for something really incredible, something unique, you should visit during Barcelona's La Mercè Festival the annual celebration of the city's patron saint. The fountain hosts the 'Piromusical' event: a dazzling finale to the week's festivities consisting of a stunning display of fireworks alongside a special light and water show, which draws an eager crowd of thousands year on year.
Also not to be missed are the Christmas performances put on throughout December – an undeniably magical way to get you in the yuletide mood!
The Important Info…
Perhaps one of the most surprising things of all about the Montjuïc Magic Fountain is that this wonderful attraction is actually free, so there's no need to break the bank to enjoy it! To arrive, just hop on metro lines 1 or 3, jump off at Plaça Espanya and head up past the Venetian towers toward the Palau Nacional de Montjuïc, also known as the MNAC. For opening times visit the Fountain's website.