Last Updated: 23/10/2017
It's no surprise that Barcelona ranks as one of Europe's most popular tourist destinations. As the expression goes, it truly does have "something for everyone." If you're coming for a cultural city break, Gaudí's Modernist masterpieces such as the Sagrada Familia, Casa Batlló and Casa Milà (La Pedrera) are a must-see. Barcelona city centre is a unique blend of cultural heritage, with large monuments and small details that recount its history from Roman and Medieval times, to the Civil War, and beyond. If you'd like to go shopping in Barcelona, there are countless trendy boutiques where you can pick up your own pieces of Barcelona style to wow your friends back home with. And of course, there is the beach and many parks where you can relax and enjoy the cosmopolitan ambience of the Catalan capital.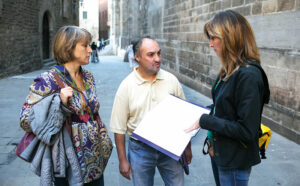 Tours in Barcelona are as varied as the city itself. Bike tours, scooter tours and boat tours are all popular. Themed walking tours around Barcelona are plentiful and cover anything from Modernist Barcelona, to literary haunts, and even urban tours that focus on sustainability and street art. And yet, as the new initiative Hidden City Tours have just proved, there is always room for innovation. They launched their walking tours in Octobure 2013, to coincide with the 7th International Responsible Tourism in Destinations conference, which was held in Barcelona from the 1st-4th October in 2013.
More than just another tour company, Hidden City is a social enterprise that employs homeless people as tour guides and gives them an opportunity to start earning and regain their independence.  They have been trained by a local historian who prepared the guides for Barcelona's Olympics, and they take small groups of up to 10 people around the historic centre.
It was Unseen Tours in London who first pioneered this concept. They began training homeless people to work as tour guides 3 years ago in London. Now they run several different tours, and have made their vision into a total success. Various similar initiatives were recently launched in Berlin, Prague and Bath.
We caught up with Hidden City Tours' founder, Lisa Grace, who has lived in Barcelona for 10 years and is originally from the UK. On being made redundant last year she started looking for new ideas, and came across an article in the Telegraph about the project in Bath. "I saw it and I thought that someone must already be doing this in Barcelona. There´s a huge homeless problem here, and Barcelona has the second largest tourist sector in Europe."
However, nobody had yet caught onto this potential, so she decided to make happen. Barcelona counts with the highest rate of homelessness in Spain, with more than 3000 people living on the streets. The average age is 43, mostly male, and approximately half have children. About 40% are English speakers and 60% Spanish speakers. The split used to be an even 50% before the economic crisis.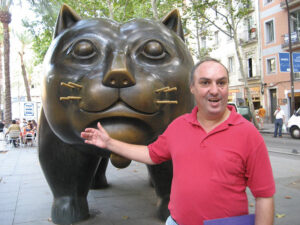 For many of Barcelona's visitors and residents, especially those who live in the city centre, homelessness is an aspect of urban reality that they encounter every day.
Lisa shares her experience. "I lived in Escudellers in the Gothic for 5 years, and the same homeless guy was on my doorstep every day. We both had dogs, and so we ended up getting to know each other. I spoke with plenty other homeless people when I lived there and this really changed my perspective."
Hidden City followed the model of the project in Bath, whose founder contacted local charities. They put forward candidates who they considered this could work for, and the training began. Building up trust was an important initial step, and was a process which took many meetings and endless coffees. The guides joined the project in July, and were first taken on some tours around Barcelona to see if they could see themselves working in this sector. Then the Hidden City team planned their route.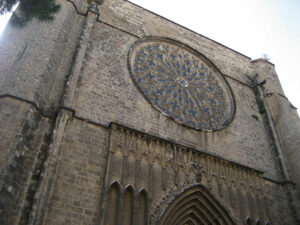 Tours begin in Barcelona´s Gothic area, which has many important landmarks. Groups visit the Cathedral, Plaça del Rei, the Temple of Augustus, and Pl. St Jaume, where the Roman forum used to be. They discover the Jewish quarter, go to Pl. Felip Neri, and visit Pl. del Pi, before crossing the Rambla into the Raval district.
The Barcelona tour then continues along Carrer St Pau. It passes the impressive Romanic church of Sant Pau del Camp before reaching Rambla Raval. From there it continues to Hospital Antic de Santa Creu, crosses its gardens, and on to the Boqueria, passing Palau Virreina, and getting back to the Rambla.
In the Raval, the sightseeing points are more spaced out, and this gives the guides an opportunity to add their comments about the social reality in Barcelona. If they just speak Spanish there is translation during the tour.
So far, the Hidden City guides are excited and committed to the project. This is an opportunity they hadn't expected, especially in this economic climate. This marks a new chapter for tours in Barcelona, so if you are able to book a place on the tour don't miss it!
Groups are small and personal. Reservations are necessary – max. 10 people per group. You can book online or call Lisa on +34 655 585 156 for last minute bookings. Tours begin at 10am, and last approx 1hr 30.
www.hiddencitytours.com