When Antoni Gaudí graduated from Barcelona's School of Architecture in 1878, the director of the institution proclaimed to colleagues: "Gentlemen, we are here today either in the presence of a genius or a madman." Although he most certainly was eccentric, most of the world today would consider Gaudí not only to be a genius, but also a champion of modernist architecture.
Celebrated as one of Barcelona's most prized individuals to have called this city home, Gaudí's works bring a welcome splash of color to the streets of the Catalan capital and most would agree that taking a look at at least one of Gaudí's magnificent masterpieces is vital to any visit to Barcelona. What's more, if you are thinking of coming to the city on vacation, be sure to check out some of the Barcelona apartments overlooking some of his more famous structures, like the Sagrada Familia or Casa Batlló, for a view unlike any other, everyday of your stay.
Gaudí's Modernist Movement
The youngest of five children, Antoni Gaudí i Cornet was born in the Catalan town of Reus in 1852. At the age of 26 he was given a project by the city of Barcelona to design his now famous lampposts, which can still be found throughout the city on many main streets, and in the Plaça Reial in Barcelona's Gothic Quarter.
Gaudí is a name seen and spoken often in the Catalan capital. An architect best known for his 'modernisme' style, his works were highly influenced by the theme of 'nature'. The modernist movement that came about in Barcelona during Gaudí's career incorporated many new materials into the design and construction of the buildings, giving the structures their artistic and unique appearances. Consequently, the city became a popular travel destination for photographers and art students over the years. Today, Gaudí's colorful works decorate the streets and hills of Barcelona, providing a perfect place to escape and admire the inspiring and innovative designs of this Catalan artist.
The Best of Gaudí in Barcelona
Sagrada Familia
Here we give you a small taste of Gaudí's most renowned works, and just a few reasons why they are not to be missed on your next trip to Barcelona!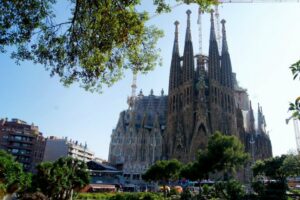 Known to most as 'Gaudí´s Unfinished Masterpiece', the Basílica i Temple Expiatori de la Sagrada Família, or the Church of the Holy Family, is a genuinely awe-inspiring structure. Although construction started in 1882, Gaudí took over the development in 1883 and changed its designs radically, incorporating his Gothic, Modernist and Naturalist styles. From 1914 onwards, Gaudí devoted his life entirely to the Sagrada Familia alone, and it is easily his most famous project.
Walking around this structure is an awesome experience as visitors can see first-hand the intricate details on its various façades, and the striking mosaics on its towers. There are two amazingly detailed entries to the church, and once inside, you are immediately taken aback by the sheer size of the columns supporting the impressive structure. Looking around, colors jump out at every turn of the eye, while light pours in from the stunning stained glass windows. For a spectacular view of Barcelona, take the lift to the top of one of the towers. You won't be disappointed!
Although construction has already surpassed 100 years, the most recent estimates do not see the church being finished until 2026 at the earliest. Due to its astonishing beauty, La Sagrada Familia has become a symbol of Barcelona and is certainly a must see for anyone visiting the city. Entry prices vary based on various visiting options, but it usually costs around 20€ for an adult ticket.
How to get there: Take Metro lines 2 or 5 to the Sagrada Família stop and as soon as you walk out, you will be greeted by this
magnificent building.
Casa Vicens
As Gaudí's first major project, he was commissioned to design Casa Vicens by Manuel Vicens i Montaner. Created in a Gothic Revivalist style, many view this house as one of Gaudí's more conventional works compared to some of his other buildings. Today, the Casa remains a private residence which means touring the inside is difficult. But don't let that deter you from coming to admire this beautiful structure. The building is covered in colorful tile mosaics and cast-iron railings with plant motifs created by making clay molds of fan palm leaves. The house is currently for sale, so if you are a big Gaudí fan, you even have the opportunity to live here, as long as you can afford the whopping 27 million Euro asking price, that is!
How to get there: Take Metro line 3 to Fontana and walk down Carrer de les Carolines to visit this beautiful residence.
Palau Güell & Parc Güell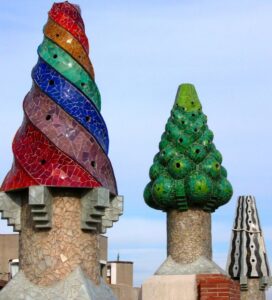 As one of the first projects commissioned by Eusebi Güell, Gaudí worked on Palau Güell from 1886-1890. This elegant mansion was designed for entertaining and guests would come into the house through the front gates, while the hosts could stay on the higher floors and secretly watch their visitors arrive. The iron gates resembling seaweed show the natural world's tremendous influence on Gaudí's designs. Entry tickets for Palau Güell are 10€ but there are discounts for seniors, students, and group visits, as well as free entry for children under 12 years old.
How to get there: Take Metro line 3 to the Liceu station and you'll find this masterpiece on Carrer Nou de la Rambla, just off the bustling Las Ramblas.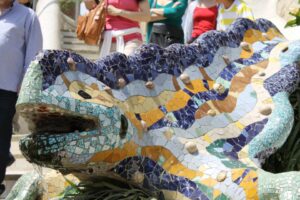 Inspired by the English Garden City movement, Gaudí was once again commissioned by Eusebi Güell to design a residential estate complete with houses and a park. Parc Güell took a substantial amount of time to construct, and is one of Gaudí's most noteworthy works. Here, you can find the famous dragon fountain among many other beautiful sculptures. The gorgeous hypostyle hall was constructed with impressive Doric columns, and charming mosaics can be found in various spots on the ceiling overhead. Moving up the park, you can take a breather on the famous winding bench which is covered in pieces of broken ceramics known as 'trencadis', a signature look of Gaudí's modernist style. From 1906-1925 Gaudí made the park his home, and it is now the site of the Casa Museu Gaudí. Although entry to the museum costs around 5€, the park itself is free to visit, so there is absolutely no reason not to see this stunning corner of Barcelona!
How to get there: Take Metro line 3 to Lesseps and follow the signs to Parc Güell.
Casa Batlló
Located on the busy Passeig de Gràcia, Casa Batlló is a breathtaking piece of modernist architecture. Despite its beauty and detailed design, Gaudí only worked on the house from 1904-1906, which is a relatively short period of time for the painstakingly thorough architect. Some of the more famous features on this building are the strangely striking columns on the building that are shaped to resemble bones, and the balconies which were designed with iron railings that appear like masks. The roof is arched in a typical Gaudí fashion and is reminiscent of the back of a dragon. Casa Batlló is well worth a visit and is open to the public every day of the week at a price of around 20€, with discounts available.
How to get there: Take Metro lines 2, 3, or 4 to the Passeig de Gràcia stop.
Casa Milà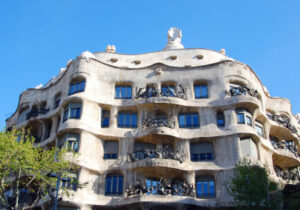 More often referred to as 'La Pedrera', meaning 'The Quarry', Casa Milà is one of the most famous Gaudí designs displaying his stunning naturalist style. Inside the house, arches were designed at various heights to resemble the widths of the Mediterranean bay. This building is best known for its roof, which is home to a number of chimneys that appear to be surrealistic sculptures. Open to visitors every day of the week and only a short walk from Casa Batlló, Casa Milà is a must-see for Gaudí fans. Entry costs around 14€ and some discounts are offered.
How to get there: Take Metro line 3 to the Diagonal stop.