Last Updated: 23/10/2017
The beautiful beaches in Barcelona may very well be described as the cherry on top of this amazing city. Although the Catalan capital is one of the biggest and most bustling cities in Spain, its 4.5km coastline complete with golden sands, soothing sea breezes and breathtaking views is seen as a welcome retreat from the city buzz. Whether you're looking to relax and sip your sangria under the warm Spanish sun, build some sandcastles on a fun family day out, or try your hand at a few of the water sports on offer, the beaches of Barcelona have it all.
Barceloneta Beach
Named 'third best beach in the world' by the Discovery Channel, this strip of sand allows sun-worshippers everything from some of the most popular 'chiringuitos' (beach bars) in Barcelona, to top seafood restaurants specializing in paella, to a buzzing nightlife. With cool waters, a lively atmosphere and plenty of activities on offer, Barceloneta beach is the ideal place to enjoy your Mediterranean experience.
Known to be the busiest beach in Barcelona, due to its close proximity to the other sights of the city, this long stretch of sand is popular with holidaymakers and local residents, and it is easy to get to from inner Barcelona. Perfect for families visiting Barcelona, it features table tennis and beach volleyball courts, but for those who want to relax, there is plenty of space to kick back with a good book. But do make sure to grab your sunscreen, towels and beach balls, and head down early, or you may be left without a spot to soak up the sun!
Feeling peckish? At the Barceloneta beach, you will find some of the most renowned seafood restaurants in Barcelona, many of which boast the best paella in town. The famous Passeig de Joan de Borbó plays host to eateries catering to even the most distinguished palate, but during the summer, we recommend you head to one of the many 'chiringuitos' along the seafront for a true Spanish dining experience. These little beach shacks provide authentic food, great views, and often have live DJs. As the sun sets over the Med, the chiringuitos become top venues for some of the biggest beach parties in Barcelona.
For some even wilder nights in Barcelona, head over to Port Olímpic at the northern end of the Barceloneta beach. An area that was originally constructed for the 1992 Olympics, it now plays host to the rich and famous who head to Barcelona during the sizzling summer months. At night, this area comes to life as some of the most famous clubs in the city are situated here, including the cool Icebarcelona, Shôko and Opium Mar clubs, all offering the very best experience of the nightlife in Barcelona.
How to get there: Metro station: Barceloneta and Ciutadella Vila Olímpica (L4)
Nova Icària and Bogatell Beaches
Just after the Olympic Port lies a more tranquil strip of sand, home to the Nova Icària and Bogatell beaches.  A favorite among families visiting Barcelona, these two beaches offer a gaming area for the kids, as well as ping-pong tables. In an area frequented more by locals than tourists, these beaches remain popular with those seeking a quieter experience.
Bogatell beach in particular hosts a seafront promenade where you can enjoy a mojito at any of the chiringuitos or restaurants that line the shore while the kids cavort in the waves! No need to worry, lifeguards are always present. Our recommendation is to indulge in some delicious paella at two of the most famous seafood restaurants on this beach, Catamarán or Xiringuito Escribà.
And for a breathtaking view of the sunset, hop aboard a sailing boat and soak in the splendid Mediterranean views! For more information and prices, visit the Vela Barcelona Facebook.
How to Get There: Metro station: Poblenou or Llacuna (L4)
Sant Sebastià and Mar Bella Beaches
The  Mar Bella beach is Barcelona's de
signated nudist beach, but the nudist section is confined to one small area of the beach, and rest assured, birthday suits are completely optional! Mar Bella is equally well known for its waves that make water sports a dream on gusty days. Why not try your hand at windsurfing, kayaking, or even hopping aboard a catamarán!
How to get there: Metro station: Selva de Mar (L4)
Sant Sebastià, located near Barceloneta and Port Vell, is one of Barcelona's largest beaches. Situated close to the old port, this beach starts at the end of Passeig de Joan de Borbó, and offers a good diversity of people, while beach bars supply the perfect background music and setting for your sun-soaked day!
This area is also home to the Club Natació Atlètic-Barceloneta, with facilities ranging from indoor and open air-swimming pools, a solarium, and for those who need to unwind, therapeutic and relaxing massages! For more information on times and services, visit the  Club's website.
How to get there: Metro station: Barceloneta (L4)
Nova Mar Bella and Llevant Beaches
Nova Mar Bella beach is often labeled as one of Barcelona's finest beaches due to its cleanliness and golden sand and can be found in the Sant Marti-Poblenou district. A favorite choice among women, who make up more than 60% of its users, this beach offers a quieter experience than the bustling Barceloneta beach, and also remains popular with the younger crowd. With the famous chiringuito chain, Mochima Bar, located on this beach, you can wind down in peace at this tranquil setting, or choose to party the night away!
The most northern beach, Llevant, is one of the least crowded beaches in Barcelona. With sun beds, parasols and a supervised playground for kids, this patch of sand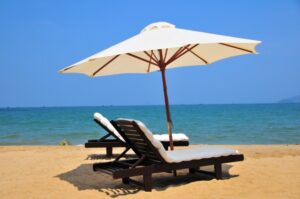 offers a memorable day out for the whole family. There is also the possibility to rent a jet ski, have a go on a banana boat, or try out your skills aboard a pedalo to round out the perfect day on the Mediterranean waters. After your unwinding experience under the Spanish sun, enjoy a drink at the Nueva Ola chiringuito bar, before heading out for a night on the town!
How to get there: Metro station: Selva de Mar or El Maresme (L4)
So, whether you're an adrenaline junkie seeking the rush while tussling with the breeze aboard your windsurfing board, looking for a fun day out with the family playing in the waves, or if you simply wish to soak up the Spanish sun and take in the Mediterranean atmosphere, the Barcelona beaches have it all!
 Discover more about the beaches in Barcelona with our video guide!