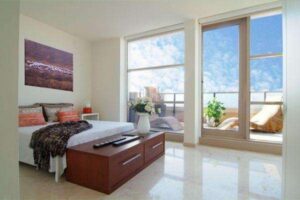 When travelling abroad, whether for a weekend break, a vacation in the sun or for a business trip, choosing the right accommodation can be vital to the success of your experience overseas. Staying in one of the many Barcelona apartments for rent rather than splashing out on a hotel is becoming a popular alternative, especially for those wishing to feel more at home when they are away. With over 6 years of experience in the touristic accommodation business, and more than 1000 fully equipped apartments to rent in and around Gaudí's city, AB Apartment Barcelona can tell you why choosing to stay in an apartment is the best option for your stay in the Catalan capital.
Extras Included

When staying in a Barcelona apartment, you will have access to a fully furnished space for your own personal use. This is perfect for anyone who wants to make the most of their time in the city without spending their hard-earned sightseeing money on extra amenities. You will find a range of serviced apartments that are all well-equipped with bedding, towels, toiletries and kitchen utensils, and most apartments also have a washing machine and dryer available for your convenience. What's more, renting an apartment can often provide you with the added extras that you wouldn't find in a hotel such as an Internet connection, a DVD player and DVDs, games, books and much more – ideal for a family holiday in Barcelona.
Booking an apartment with AB Apartment Barcelona also puts you in with a chance of winning a top prize from our monthly prize draw, including sailing trips, flamenco shows, restaurant experiences and more! You'll also get great discounts on many top attractions and activities throughout the city.
Home-away-from-home
For families, colleagues, or groups of friends staying in Barcelona, one of the top reasons to rent an apartment, apart from their welcoming atmosphere, is the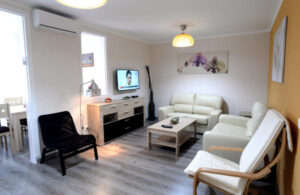 privacy and space provided by the different rooms. Large families are able to stay under one roof, while colleagues on a business trip don't need to splash out on separate hotel suites. From cozy studio apartments to spacious, multi-bedroom duplexes, you can choose from a range of rentals to best suit your needs.
Furthermore, a big advantage of choosing to stay in a AB Barcelona apartment is the kitchen. Having your own space to cook for yourself and your guests can potentially save you money on your trip, as it eliminates the necessity to eat every meal in a bar, restaurant or café. Whether you use your kitchen to try out some new Mediterranean inspired dishes, or even if you simply only use the refrigerator to store cold drinks and snacks, having the option to prepare your meals at home is a big factor when deciding on your holiday accommodation.
In addition, many apartments in Barcelona have their own private balconies and terraces, so you can decide to dine "al fresco" or soak up some sun from the comfort of your own home-away-from-home.

It's all about location

Finding the perfect apartment in Barcelona for you has never been easier, especially if you choose to do your search online. Many websites offer broad overviews of each apartment, including a full list of amenities, room-by-room photographs and helpful information on the neighboring areas, allowing you to gather all of the facts you need to make your selection. You can also find some fantastic Barcelona apartment last minute offers and special deals online, saving money on the right rental for you.
If you need any assistance with your online search, you can work with agency professionals who know your name and exactly what you would like for your time in the city. They can then help you to find the ideal accommodation in your preferred location, including beach apartments in Barcelona and Eixample apartments in Barcelona.
Luxury Apartments in Central Barcelona 
Looking for the highest quality accommodation in the heart of the city? The Casa Saltor building is located just a few minutes from Plaça Catalunya and is home to 12 luxurious apartments, available for short-term and long-term rental, all equipped with state-of-the-art facilities.Guests and tenants staying in any Casa Saltor apartment will receive a number of free additional services such as a tourist guide to Barcelona, a welcome pack including a free sailing trip for stays over 7 nights, a 24/7 reception in the same building and more!
Whether you're coming to Barcelona for business or for pleasure, the Casa Saltor apartments have something to offer for everyone.
AB Apartment Barcelona
AB Apartment Barcelona has over 1000 apartments for rent, situated in various locations across the city for both short and long-term stays. Whether you are looking for a relaxing luxury apartment in Barcelona for your trip, somewhere comfortable and homely, or simply a place which meets your personal specifications, choosing to rent your accommodation with AB Apartment Barcelona will certainly give you the key to a perfect holiday.