Last Updated: 19/10/2017
If you like to dance, enjoy a few drinks and party the night away, Barcelona's nightlife awaits you with open arms.  The night scene in Barcelona is unlike any other in the world. With bars inviting you in until 3am (or later!), clubs staying open until as late as 6am, and after-parties galore, you'll have no problem finding time to party hard in the Catalan capital. Port Olimpic, situated just next to the beach, offers some of the most fantastic bars and clubs for both tourists and locals alike. So, if you're looking to stay in one of the many Barcelona beach apartments along the picturesque coastline, or even stay in the city center, you can find yourself amidst the party in a heartbeat.
Read on to find out about the hottest beach clubs in Barcelona's Olympic Port…
Opium Mar
Opium Mar is one of the most popular nightclubs in Barcelona. Located right on the beach, Opium, as it is more commonly known, is a fancy club with all the goods. Arrive at around 2am to get the entire feel for the place, complete with extravagant stage dancers dressed in flamboyant costumes, and drinks that are sure to knock your socks off. The inside of the club is decorated in a modern and classy style, and has lots of seating should your feet get tired from all the dancing. This is definitely a club worth checking out on your stay in Barcelona!
TOP TIP: Opium is a little strict – leave the sneakers at home and put on your Sunday best to get into this club.
Catwalk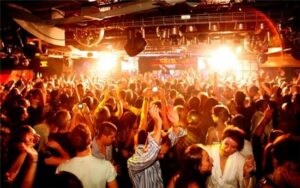 Just around the corner from Opium Mar is another spectacular nightclub, Catwalk. Club Catwalk is a two story venue situated under the Hotel Arts. The bottom floor of the club is usually dedicated to house and techno music, with international DJs provoking everyone to tear up the dance floor. The second floor, called the 'skyroom' is similar, but often home to a few more tourists, who can jam the night away to R&B and Hip Hop.
The club is open from Thursday Sunday until 6am, offering party-goers an experience they will never forget.
TOP TIP: Arrive before 1am for a guaranteed discount on entry prices!
Shôko
An Asian-Mediterranean fusion restaurant by day, a crazy club filled with celebrities by night. Just a stroll down the beach front, next to Opium Mar, you will stumble across Shôko, another one of Barcelona's wild nightclubs. The club boasts its reputation for holding after-parties for many famous artists such as Madonna, Coldplay, Lady Gaga and The Killers. Shôko's themed parties make it a hotspot for clubbers on the beach in search of a venue filled with banging music, sweet drinks, and originality.
TOP TIP: Come early and grab some dinner before the partying begins. You can even reserve a bed (yes, a bed) to eat on, to enjoy a culturally different dining experience.
Icebarcelona
If you're not as into the club scene as some, but still want the beachside atmosphere, you must
check out Icebarcelona. Located on the coast in between Shôko and  Pacha clubs, the  Barcelona ice bar is completely decorated with, you guessed it, ice. The bar is kept at a temperature of -5⁰ C and the cover charge of 17,50€ includes a jacket, gloves, and a drink. This venue is a bit more relaxed than the other clubs, but provides a once in a lifetime experience, as you sip on your drink in chairs made completely of ice.
Minors can enter this joint up until 11:00 pm, and the bar serves non-alcoholic beverages, so they do not have to miss out on enjoying the refreshments too.
TOP TIP: A great experience for a family trip to Barcelona. 
Pacha
The sister to the famous Ibiza club, Pacha Barcelona is one of the most popular clubs along the Barcelona beachfront. Situated next to Shôko and Opium, the club is a quality restaurant by day with the best of Eastern and Mediterranean food, you can enjoy lunch or dinner surrounded by a great environment and on occasions live music. Open every day of the year, Pacha hosts some of the best DJ's in the world every week, you can see what events are coming up soon here. Pacha club covers everything, from Hiphop, EDM to techno. Open from 11pm – 6am everyday, this one's not to miss if you're into your club scene.
TOP TIP: For the best in techno and house, make your way to Pacha on Sundays presented by Insane, Fact and Cocoon. 
Whether you're headed out until 6am, or just going to grab an after dinner drink, the nightlife in Port Olimpic is definitely worth checking out. A cultural experience in itself, partying the night away on the beach is definitely something you don't want to miss out on during your stay here in the city. With many Barcelona apartments located in, or near Port Olimpic, there is absolutely no excuse not to take part in the fun only minutes away from your doorstep.
Book your apartment today…