Did you know that Barcelona was the first city in the world to be named a 'Biosphere World Class Destination' by the Responsible Tourism Institute? This means it boasts a responsible, environmentally sustainable, socially inclusive and universally accessible model of tourism.
Want to help the city keep up the hard work? Going green in the beautiful city of Barcelona is simple. From environmentally friendly tours to shops to markets, there's always a way to enjoy the city while keeping green. Whether you want to grab a bite to eat at an organic vegan restaurant or shop at an eco-friendly boutique, Barcelona will have something to offer you. Here are some tips to help you stay green in Barcelona.
What to Do
Walking Tours
Walking tours in Barcelona are a great way to see the intricate city streets while keeping the environment in mind. Runner Bean Tours offers the Old City Tour, a free walking tour through the winding roads of the medieval Gothic Quarter.
Runner Bean also offers a free Gaudí Tour that explores the architecture of this Barcelona legend. Tours begin every day at 11am and 4:30pm. Discover Walks will take you through the Gothic Quarter, Las Ramblas or through some of Gaudí's  famous works. Prices vary but they promise the walking tours every day "rain or shine."
There are lots of free walking tours around Barcelona, too, so you don't have to break the bank to be eco-friendly in Barcelona.
Bike Tours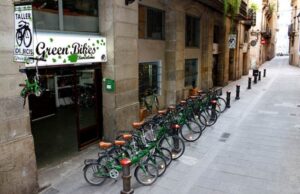 If you want to get off your feet and go a little faster through the city sites, a bike tour of Barcelona is an environmentally friendly way to do it. Fat Tire Tours has a variety of tours for all biking enthusiasts, including a general city tour that goes through the most popular tourist attractions for 24€. They also offer a visit to Montjuïc by electric bike (also known as E-bikes) for a wonderful view of Barcelona as well as a look at the natural parks, green gardens, and nature trails for 34€.
Green Bikes offers two tours or bike rentals where you can set your own path. The city tour takes you through iconic places like the Arc de Triomf and La Sagrada Familia on a 3 hour tour. The Gaudí and Modernisme tour will show you beautiful and iconic architecture like the Casa Batlló. Both tours cost 25€ per person.
Parks and Hiking
There are many beautiful parks in Barcelona with lush greenery and hills to climb. For an amazing panoramic view of the city and a short walk through head up to Park Güell which features some of Gaudí's iconic work. Or try the Jardins del Turó de Putxet which has a full view of Barcelona including Tibidabo and La Sagrada Familia.
For dedicated hikers, try the Parc Natural de la Serra de Collserola or even Montserrat. Though the trip there is a journey, the views from Sant Jeroni is worth it. On a clear day some say they can see Mallorca.
Where to Eat
Bar Celoneta
If you're in the mood for a good sangria this is the spot. The organic wines are paired with fresh fruit for a refreshing beachside sangria. The Bar Celoneta menu also offers vegan tapas, burgers and raw desserts. There are also gluten-free options.
Carrer de Sevilla, 70
Teresa's
Teresa Carles is a vegetarian restaurant located close to Plaça Catalunya, where you can enjoy healthy food in a comfortable environment. The decoration is rustic, with brick walls, white wooden chairs and many upholstered benches. They offer a changing daily menu, which includes a soup or a salad followed by a main dish, such as vegetable stew, couscous with seitan, or sauted vegetables with mushrooms and tahini. This is a great hideout for those who are wanting to be more health conscious or simply love vegetarian food!
Carrer de l'Argenteria, 31
Rasoterra
This vegetarian bistro offers a culinary flair. Their food is artfully served, unique combinations of vibrantly colored food. Most options are vegan, gluten-free, or only local/organic. Many of the vegetables you will be served were grown in Rasotterra's very own garden.
Carrer del Palau, 5
Where to Shop
OBBIO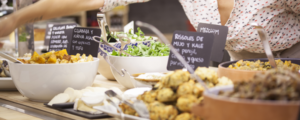 OBBIO is a supermarket and a "haven of healthy eating." The store offers more than 8,000 products, many of them seasonal. The team receives training and advice from nutritionists and are there to help you. If you are a loyalty member, you have direct access to a nutritionist. This is a good place for some environmentally friendly grocery shopping in Barcelona.
Carrer de Muntaner, 177
GreenLifeStyle
This clothing boutique in Gràcia features clothing from smaller designers. They are dedicated to being "sustainable and environmentally friendly." Each of the GreenLifeStyle designers puts importance on social responsibility, fair trade and ethical production. But being green in Barcelona doesn't always come cheap, and many of the items are on the pricey side.
Carrer del Torrent de l'Olla, 95

Olokuti
Olokuti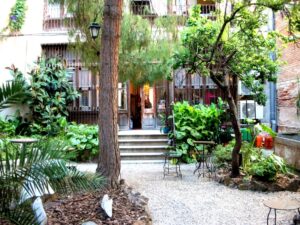 is an eco-friendly boutique with two locations in Barcelona. They offer "eco, bio, just" artisanal and cultural products. Nic-nacs, clothing and cosmetics are available in the store or online. The boutique in Gràcia has a small, peaceful garden area in the back where shoppers can sit and enjoy the greenery and quiet.
Carrer Astúries, 38