A city like Barcelona has something to offer everyone, including the kosher food seeker. Even though it may seem like a challenge, there are some very popular spots that cater to that niche within the city, serving a variety of unique and exquisite dishes. Check out these local restaurants for a one-of-a-kind BCN food experience that is sure to leave you wanting more. Shabbat Shalom a todos!
Formerly known as Shalom Restaurant, this eatery located in the popular Las Ramblas mixes Kosher with a Spanish flair. It has served the area for over 30 years, incorporating a diverse menu of rich Mediterranean meats.
It's flavorful steak and lamb choices are the most popular on the menu of delicious kosher food in Barcelona, but there are tons of options for vegetarians as well. This iconic establishment is well praised for its quick service and good prices. A live band visits frequently to add to the Spanish vibe.
La Rambla, 79
This catering company offers options for catering events as well as meals for takeaway if you don't feel up to cooking one night. Their Barcelona kosher menu includes a variety of salads, quiches, pastas, sandwiches and desserts. Their bakery is by far the most popular kosher bakery in the city, offering an assortment of cookies and exquisite pies. All their products are lactose free and many are gluten free as well, providing a healthy way to indulge in some home cooked meals.
Carrer de la Ciutat de Granada, 44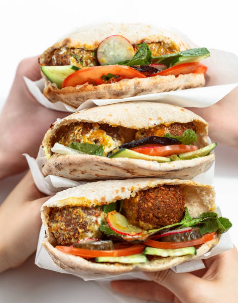 This fast food restaurant offers a nice selection of takeaway food. There are options for vegetarians, vegans and of course all the meals served are Kosher.
By the way, there are also plenty of gluten-free options if you need to watch out for that too. El falafel de Shanihat also has a stand at La Boqueria food market in Barcelona, which gives you the opportunity to feast on the delicious falafel and other offerings at two locations!
Calle Europa 28, Barcelona
Booth number 133-134, La Boqueria food market in Barcelona
That's it! If you enjoyed reading this, you might also be interested in where to find halal food in Barcelona.