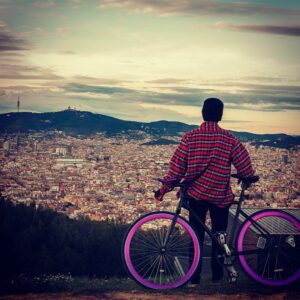 Last updated: November 2017
When visiting Barcelona there are many ways to get around and see the sights, from Segways to boats and more. But one of the most popular choices is to rent a bike in Barcelona. It's handy and light and the Catalan capital offers a great service for those travelling on two wheels: rental agencies, bicycle paths (carrils bici), routes and parking stations. Check out our short collection of ideas for renting a bike in Barcelona!
Who to Choose for your Urban Bike Rental in Barcelona?
1.  Steel Donkey Tours
This company offers a unique cycling experience allowing visitors to discover distinctive places around the Catalan Capital, away from the hustle and bustle of the city centre. You could find yourself tasting some local cheese, shopping in Gràcia or even, playing paddleball on Marbella beach! Each tour is tailored to the group and many experiences are different from one another, keeping on your toes (or pedals!) each time. www.steeldonkeybiketours.com
2.  Fat Tire Tours
With years of experience in the field and native guides, you can discover the best of the city's attractions, along with fellow visitors with this Barcelona bike tour company. The itineraries are usually at a relaxed pace and there are many stops in front of each sight, making the tour suitable for cyclists of all ages and abilities, including families with children. Fattirebiketours.com
Green Bikes is a bike rental company in Barcelona with local guides who truly love the city and who will introduce you to the top sights, such as the Gothic quarter and Barceloneta beach. They also offer bespoke tours and private tours, perfect for large groups coming to the city. The company have multilingual guides, and also offer helmets and child seats at no extra cost. www.greenbikesbarcelona.com
4.  Ajo Bike
Located in the quirky neighborhood of El Raval, this bike rental company in Barcelona is perfect for those travelling on a shoestring, with rentals from as little as 4€! Ajo Bike also run private off the beaten track tours of Barcelona, allowing visitors not only to discover the city's most famous sights, but its hidden corners, too. www.ajobikerentbarcelona.com
Fancy a change of scenery?
Barcelona is not only a seaside city. It's also crossed by the Collserola and Garraf Massif Mountains. For you adventurous types and nature lovers, there are many bike tours along the mountains of Barcelona, perfect for enjoying the great outdoors!
Terra Diversions arranges  a variety of day trips with varying degrees of difficulty; tours can be taken individually or in groups with expert, multilingual local guides. Cyclists will receive daily sports insurance, as well as bottles of water and snacks.

Montjuïc Hill Cycling

Another great option is cycling around Montjuïc hill, where you can enjoy wonderful views of the city below along with some great cultural sights such as the castle and Olympic stadium. After, head down to Plaça Espanya, and take Avinguda Paral-lel over to the Port Vell and Columbus statue!
Did you know?
Currently ranked as seventeenth in terms of bike-friendly cities, Barcelona is constantly striving to improve the cycling facilities offered as well as the coexistence between pedestrians and different means of transport. Recent measures include speed limits, as well as clearly signalling metro stations and other modes of transport allowing bike access, not to mention the compulsory use of helmets and traffic lights for cyclists.
So get active, go green, get on your bike and discover a different side to the Catalan capital!