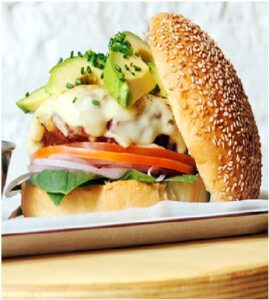 Last updated: November 2017
What's the latest fad in dining? The classic burger with a gourmet twist! Many renowned international chefs have been inspired by the challenge to prepare the perfect burger with a creative touch. Barcelona is well in on this trend, and finger-licking, mouth-watering burger bars can be found all over the city.
From classic burgers to burgers topped with blueberries and brie, there's a taste for everyone. So to help you figure out where to get the best hamburguesa in the Catalan capital, here are our top 6 burger joints in Barcelona.
1. b Burger Barcelona
This hidden gem in Barcelona might easily offer the best burger in town. Their creative burgers are made to perfection every time. You could try the b-Bronx, a burger topped with bacon and a fried egg or the b-Dali, topped with foie gras.
A burger wouldn't be complete without a side of fries, but instead of the long, thin potatoes we're used to, b Burger serves the Spanish equivalent: patatas bravas topped with their own homemade spicy sauce.
To wash it all down you can choose from the selection of locally-brewed beers at this top Barcelona burger bar. Get there early because it's a local hangout that fills up quickly.
Carrer d'Aragó, 36
2. Bacoa
Everyone's favorite burger can be found at Bacoa in Ronda Universitat. Part of a small gourmet burger chain, this joint is based on  the original Bacoa in the Born, which is now called Little Bacoa. Owner Brad Ainsworth is proud to insist that his Barcelona burger bars use only the freshest ingredients.
We recommend the seasonal burger made with local fresh produce. You could also try the La Bacoa burger, a classic topped with cheddar, bacon, pickles, and their very own spicy mustard.
Ronda Universitat, 31
3. Oval
One of the trendiest spots on our list, Oval attracts a large crowd of people every night who keep coming back for their delicious burgers. Once seated, you are given a pencil to check off everything you want on your perfect burger. There are even 15 different sauces to choose from to accompany your creative masterpiece.
You could go for something exciting like a burger with brie and grilled pineapple, or choose from one of their classic recipes. Either way, you won't be disappointed. Although their burgers are more than filling, don't shy away from trying some of their delicious fries; regular or sweet potato. Open late, this burger place in Barcelona is perfect for spending a pleasant evening enjoying tasty food with friends.
Carrer de València, 199
4. Timesburg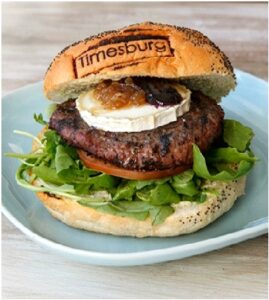 This cute spot serves up some of the biggest, most unique burgers around that will keep you coming back for more. With 15 different burgers, you are sure to find your perfect match. There is a delicious chicken burger with piri piri sauce, tomato, arugula and onion. Another favourite is the goat burger, which is topped with goats' cheese, caramelized onions, blueberry confiture, and their special Timesburg mayonnaise. Each bun is personally branded with the Timesburg logo, a cute touch unique to this Barcelona burger bar. Choose your favorite burger and bread and chow down!
Carrer de París, 95
5. Santa Burg
This burger joint creates gourmet burgers using some of the best meat found in Barcelona. The chef, Alain Guiard, uses every ounce of his creativity to ensure that every customer gets the best possible experience. One of our favorites is the Santa Chili, a delicious burger topped with chili sauce and cheddar cheese. Make sure you check what the special burger of the day is for an exciting treat.
Carrer del Vallespir, 51
6. El Filete Ruso
This gourmet burger restaurant in Barcelona adds a little class to the traditional burger concept, using only the best ingredients. The burger 'bun' is handmade daily and the toppings are always the freshest around. Try their California burger topped with bacon, cheese, avocado, tomato, lettuce, and BBQ sauce. And don't miss out on their amazing onion rings, which are the perfect size to accompany your burger. Located on a small street in Barcelona, you can enjoy your meal in a relaxing atmosphere.
Carrer d'Enric Granados, 95
With so many delicious options to choose from, perhaps it's time to try one (or all) of these tempting burger joints in Barcelona!
Which is your favorite burger bar in Barcelona? Drop us a comment below!