Whether you're a true naturist exploring this region in all its (and your) glory, or you just want to get rid of those tan lines, there are plenty of beaches in the north east of Spain – including in Barcelona itself – where you can strip down to your birthday suit. Here we give you a few of the best nudist beaches in Catalonia.
Playa Mar Bella – Barcelona
Mar Bella Beach is known as Barcelona's go to nudist beach ever since the government's nudity ban was put in place. This beach is one of the seven beaches that make up Barcelona's 4.5 kilometer stretch of sand.
The area is fairly private. Blocked from behind by sand dunes and on the sides by rocks, visitors of this beach are protected from any outsider wanting to sneak a peak. It is also a LGBTQ friendly area. Not all people on the beach will be nude but all are welcome to be at the small nudist section. Like any other Barcelona beach, there are chiringuitos where beach goers can grab a drink, showers to wash off and bathrooms.
Playa de las Balmins – Sitges
A short walk past the main town area of Sitges, this beach is made up of three beautiful cove areas with blue waters. Playa de las Balmins offers 240 meters of freedom to be as nude as you wish, a beach bar, umbrellas and showers. The hidden coves are protected on either side by rocks, allowing privacy for those who wish to go fully nude.
Like much of Sitges, this area is also very LGBTQ friendly with a young crowd. The beach can be easily accessed on foot and Sitges is only a short train ride away from Barcelona.
Playa Illa Roja – Begur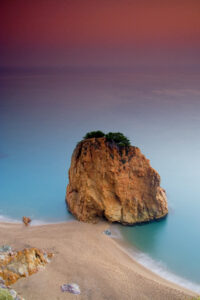 Jagged hillsides, beautiful deep blue waters and a huge red rock formation are characteristic of this internationally known nudist beach. The views all around Playa Illa Roja are spectacular as expected of any Costa Brava beach. The entire cove is surrounded by high rock walls hiding golden sands and one little snack shack within.
The beach boasts a peaceful ambience with silence and without crowds. The only way to get to it is to walk through a wooded path which gives it its privacy and hidden away charm. Keep in mind that since the cove is surrounded by rocks, it offers fewer hours of tan time.
Playa del Torn –  L'Hospitalet de l'Infant
A train ride away from Barcelona, this secluded beach offers tranquility on its sandy shores with deep blue waters. Located on the Costa Dorada, the beach is closest to the town L'Hospitalet de l'Infant.
It's a quiet beach with a single beach bar. It has nearly five stars and over 100 reviews on Tripadvisor, all raving about the beach's peacefulness and cleanliness. Behind the beach are views of green hills and rocky ledges that contrast the smooth blue Mediterranean waters.
Cala de Sa Boadella – Lloret de Mar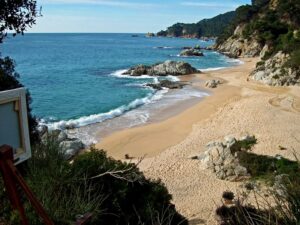 Another Costa Brava beauty, Cala de Sa Boadella is the "virgin beach" of Lloret de Mar. The beach is natural and hidden away by vibrant green hills and trees. It's accessible through a beautiful pine forest between Santa Clotilde Gardens and Santa Cristina Beach. The waters are a crisp blue and shallow within the first few meters.
The beach is an ideal place for snorkelling or kayaking. Farther out into its waters, there are natural caves common in Costa Brava. Though the entire beach is not nudist, there is a section where nudity is allowed.