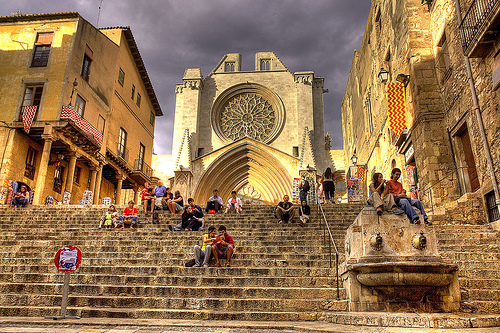 Step back in time and lose yourself amidst historic Roman architecture, ancient aqueducts, and medieval buildings…Once the capital of the Roman Empire, the beautiful city of Tarragona in Southern Catalonia can be found nestled just over an hour outside of Barcelona, and  makes for a fantastic holiday destination or day trip from Gaudí's City. Situated right on the Costa Dorada, Spain's 'Golden Coast', Tarragona attracts visitors from all over the world to admire its well-preserved Roman ruins, spectacular Mediterranean beaches and picturesque alleyways dotted with brightly colored orange trees. Perfect for those looking to escape the hustle and bustle of Barcelona for a while, Tarragona has plenty to offer guests of all ages, and with the famous theme park, PortAventura, nearby, it is an ideal destination for a family getaway in the sun.
Despite having been declared a UNESCO World Heritage Site due to the rich history on display in this seaside city, Tarragona remains to be one of the lesser visited parts of Spain. That being said, there are many activities to sink your teeth into when vacationing in 'Tarraco' (the ancient name of Tarragona), so if you find yourself heading to this awe-inspiring city, take a look at some of our suggestions below.
Roman Ruins in Tarragona
With virtually all of the Roman ruins within a fifteen-minute walk from each other, guests can easily tour the historic sites of Tarragona on foot, getting an unparalleled and up-close look at the magnificence that was the Roman Empire. We suggest  heading down Rambla Nova, the city's main artery, and from there you will find easy access to the Foro de la Colonia, the Provincial Forum and the National Archaeological Museum. At the end of the Rambla lies the Balcón del Mediterráneo, which offers an astonishing view of the Mediterranean Sea, as well as the 2nd century AD Roman amphitheater. This arena holds much historical significance, and once hosted gladiator fights for the pleasure of up to 15,000 spectators!
On the other side of the Rambla Nova lies the Old Town, where the Praetorium and the Circus Complex offer even more intricate views of this bygone period. Built by Emperor Domitian, chariot races were held here and it is considered to be the best preserved Roman circus in Europe.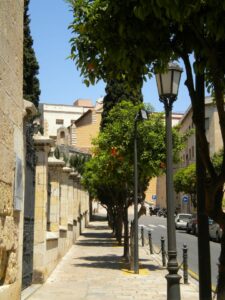 Other points of interest along the way include:
The Ferreres Aqueduct
The Roman Wall
Tarragona Cathedral (although not a Roman ruin, this beautiful cathedral is most definitely worth a visit)
Delicacies and Nightlife in Tarragona

If you find yourself a little peckish after a day of sightseeing, head to Plaça de la Font, where you will find many bars, cafés and restaurants serving up Mediterranean dishes such as fresh seafood paella and pasta. For the younger crowd, this historic village has a few nightclubs worth checking out. Our suggestion is 'El Cau', an underground club set in a Roman circus vault!
Cool Down on the Sparkling Beaches of Tarragona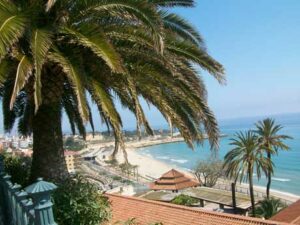 Although there is plenty to see and do in the city center and the old town, there's so much more to Tarragona than its magnificent historical sites. Our suggestion for a relaxing day out is a trip to one of the many beautiful beaches with strips of sand that altogether stretch for a massive 211km. Take a dip in the warm turquoise waters and unwind under the Spanish sun at one of our favorites…
Arrabassada beach is one of Tarragona's most popular spots, and with an ideal location just a short walk or bus ride from the city center, it should come as no surprise that this beach is a top choice among families with kids. Featuring volleyball nets, fine sands and calm waters, this is a great place to spend a day by the shore.
Playa Larga is also an excellent option. Featuring jet ski hire and some of best seafood restaurants in Tarragona, this is an ideal option for a fun day out.
PortAventura Theme Park
For those who seek a truly memorable day out with the kids, head down to PortAventura! Just a few minutes from Tarragona City, this adventure park covers 34,000 square meters and is a great idea for those visiting the Costa Dorada with family. With high-speed roller coasters for the thrill-seekers, more soothing rides for the youngsters, and an Aquatic Park, spending a day at PortAventura should definitely be top of your to do list.
How to get to Tarragona from Barcelona:
Public transportation: Renfe trains from Sants station (approx. 1 hour)
By Car: Take the AP7 Motorway (approx. 80km from Barcelona)
From history hounds to families visiting Barcelona, a day trip to Tarragona offers the perfect getaway in the sun. And for those who wish to be transported back to the Roman Empire for more than 24 hours, there is also the option of renting an apartment in Costa Dorada, allowing you to experience all that this beautiful city has to offer every day!