Last Updated: 23/10/2017
Barcelona is renowned for its endless array of gastronomic delights, and rightly so. From the exquisite local produce found in abundance in the city's markets and the typical 'Menú del Día' to incredible, rustic feasts and sneaky, free tapas, there is something to suit all tastes in the Catalan capital.
You can be sure that you won't go hungry during your stay – far from it! The most difficult thing will be to decide exactly where to eat in Barcelona, as the infinite options can be overwhelming. And of course, as in any big city, prices can sometimes be a little on the 'caro' side. But fear not; if you're heading to Barcelona on a budget, we've prepared a short guide to eating out on the cheap in Barcelona.
In the mood for a nibble?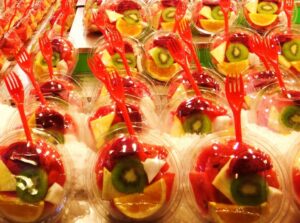 So, after a couple of hours of sightseeing and shopping, you might need a little pick-me-up. We recommend heading to the colorful Boqueria Market on Las Ramblas. There's no better place to stop for a snack than amongst the exciting hustle and bustle of this foodie wonderland!
The specialty pizza post Eslice is a must. Perch on a stool amongst the locals and let the waiter serve you up a scrumptious, rustic bite. Perfect! They even offer an all you can eat deal for groups of two or more for 8€ per person – just drop them an email or give them a call to confirm your arrival (http://www.eslice.es/).
Alternatively, if you're feeling healthy, pick up one of the incredible, exotic fruit cups found on many stalls in the market, costing around 2€.
A couple of rounds of free tapas in Barcelona is also a great option for dining on a budget in the Catalan capital and one that always provides that smug, cheeky feeling. Head to Gata Mala in the bohemian Gràcia neighborhood and watch your tapas improve with every drink you order. The same goes for Café de los Angelitos in Barceloneta, a lively hangout a stone's throw away from the beach! There are many more bars offering free tapas in Barcelona, so keep an eye out while on your wanders.
Feasting on a budget
Taking in all that culture can leave you feeling famished! But fed to the brim you shall be if you head to one of the following cheap eateries in Barcelona.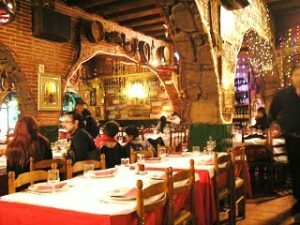 For the meat lovers out there, don't miss out on La Rueda, a hop and skip from Diagonal metro station on Carrer de Roselló, 266. You won't be hopping and skipping afterwards though, as the food here is spectacular and a true feast. This rustic grill offers an endless menu with every cut of meat you can imagine. If you just can't choose, try the special 30€ meat platter for two – incredible value for money! There is also a fantastic three course lunch time menu priced at 9.95€, a real must for those of you who prefer a larger meal in the afternoon.
Gracia's traditional Catalan taverna El Glop, found on Carrer de Sant Luis, 24, is ideal for those of you wanting to dine out on amazing local cuisine. From traditional ham and cuts of meat, to fresh fish and delicious paellas, there's something for everyone here! For 15€ – 20€ you are guaranteed a truly authentic meal at an amazingly high quality.
If all-you-can-eat style buffets are more your fancy, then be sure to head to one of the six FresCo restaurants that are dotted all over the city. Prices range between 9.95€ – 12.95€ per person depending on the time and location. There is a good choice of salads, meats, pizzas, pastas and deserts available and free refills on drinks.
Fancy something different?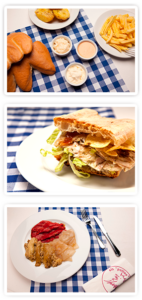 Of course, it's not all tapas and paella in Barcelona. There is a huge variety of foreign food and fusion cuisine available too, as well as plenty of quirky spots to dine at. The fantastic bar Petit Jet Lag on Carrer de la Dagueria, 12, is a great place to head to on a Thursday night, when their brilliant Aperitivo Italiano takes place. Buy your drink at the bar and then help yourself to their amazing free buffet! Awesome!
Alternatively, if what you're in the mood for is a delicious salad or a creative sandwich, then Fo Bar is the place for you! Located in a small square near Sants Station, Plaça Osca, ithas a true vintage feel to it and its colorful decor is really inviting. This one's a favorite amongst locals, and with it's chilled out atmosphere and delicious food for an average price of around 4€, it's easy to see why.
Or maybe you're in the mood for some chicken? Head over to Els Pollos de Llull! Situated on Carrer de Nàpols, 272 near the Sagrada Familia, this place is known for its special rotisserie and also offers a great lunch time menu from Mondays – Fridays for 7.95€.
Top tips for cheap dining in Barcelona
1.  Stay away from the tourist traps. Prices are often sky high and the quality very poor. Also be weary of the streets leading directly off Las Ramblas. It's always better to venture a little further afield, where the price and the standard of the food is generally much better.
2.  You can't really go wrong with a menú del día. A classic choice amongst locals, this set menu of two or three courses which normally includes a drink too is a great way to eat a lot for a little. The portions are normally good and the menú is a great way to get to grips with local cuisine. Prices normally range between 8€-15€.
So there you have it… Some great places to eat out where you'll have some change in your pocket afterwards – more money for enjoying the amazing sights of Barcelona, then! ¡Buen provecho!