The holiday season has finally arrived in Barcelona, and with it comes plenty of bright and colourful lights, a giant ice rink and, of course, the oldest Christmas market in the history of the Catalan capital: The Fira de Santa Llúcia! The 237th edition of this massive outdoor fair will run from November 24th until December 23rd outside the Barcelona Cathedral, f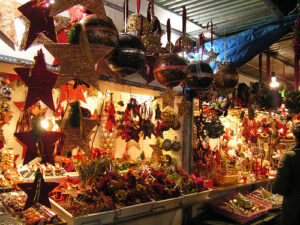 illing the Plà de la Seu square with over 283 stalls where you will find tons of handmade gifts, figurines for nativity scenes, and plenty of traditional Christmas decorations.
What's more, there will be several workshops and lots of festive activities for all of the family. If you're visiting Barcelona at Christmastime, this is certainly one piece of Catalan culture you don't want to miss.
The Day of Saint Lucy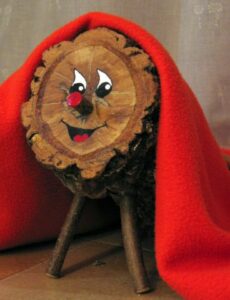 The market takes its name from Santa Llúcia, or Saint Lucy (more on this later), so it stands to reason that one of the best days to visit the Fira is the Day of Saint Lucy on December 13th. On this day the market is dedicated to traditional Christmas activities such as storytelling, carol singing, dance performances and even a parade complete with lavish floats.
Throughout the fair, there will also be other great activities to enjoy, such as the giant 'Tió de Nadal', aka the Caga Tió. The Caga Tió is best described as a log with a painted smiley face, a hat and a blanket. The Catalan tradition goes that children must 'feed' their own smaller versions of the Tió every day until Christmas Eve, when they will attack him with sticks while singing traditional christmas carols, until he 'poops' gifts and candy. You can grab your own Tió at plenty of the fair's stalls this year.
Gifts for All at the Fira de Santa Llúcia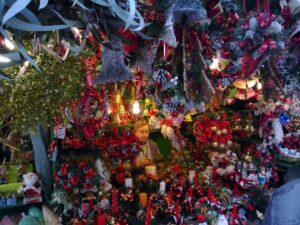 The Fira de Santa Llúcia market is split into four sections: Nativity and Figurines, Greenery and Plants, Crafts, and Simbombes. The Nativity and Figurines section offers you the chance to buy accessories to create your own nativity scene as well as decorate your home. Watch out for the 'Caganer', another Catalan Christmas tradition that sees a little figurine with his trousers down hiding amongst the nativity scenes or 'pessebres' of each home. A custom that dates all the way back to the 18th Century, kids enjoy searching for this little guy who is said to bring luck by fertilising the earth.
The Greenery and Plants section sells all types of natural and artificial trees as well as bright and beautiful poinsettias. The crafts section is a great place to do some Christmas shopping because it offers many types of hand-made products including clothes and jewellery. The last section, Simbombes, sells traditional instruments perfect for accompanying all of your favourite Christmas carols.
The Oldest Christmas Market in Barcelona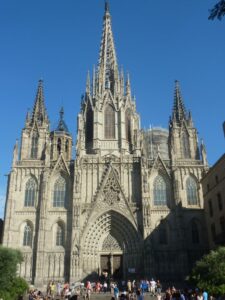 The market dates back to 1786 and would take place on the Day of Santa Llúcia, December 13th. Saint Lucy was known as the patroness of seamstresses, tailors, needleworkers and the blind, so people would often gather inside and outside the Catedral de Barcelona on this day to pray for their clarity and eyesight. This market was also called the 'girls' fair' for some time because many people believed that unmarried women could go there, dressed in their best clothes and jewellery, in search of their future husbands.
Nowadays, the Fira de Santa Llúcia is a magical place where locals and visitors alike can gather to purchase gifts, join in activities and generally get into the Christmas spirit.
How to get there: Metro L4 to the Jaume I stop.
Opening times Monday to Friday: 10:00- 21:00
Saturdays, holiday days and Vigils: 10:00- 21:00
For more information on this year's festivities, visit irbarcelona for further details.