In Barcelona, you're spoiled for choice with bars, from unique to traditional, modern to quirky. For those who are looking for a truly authentic experience, the Barcelona bars that are a little more off the beaten track will be a great option for you. That said, these can be a little harder to find if you don't know where you're looking. So, we've compiled a list of some of the best secret bars Barcelona has to offer.
1 – Paradiso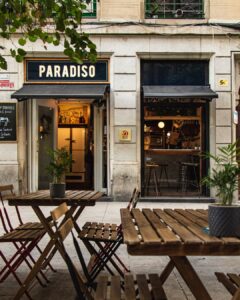 So it's Friday evening and you've just arrived in Barcelona, looking for a cool drinking spot to head with friends in the heart of the city? Paradiso is your answer. This cool 'clandestine' cocktail bar is hidden behind the door of the fridge in a small pastrami bar. Without knowing about it, you'd be hard pushed to discover it but make sure you head there before the queue forms…trust us, this is a popular hangout. With out of this world cocktails, dressed with fresh fruits and fragrant herbs and bar food to boot, you'll be more than pleased with your choice of hangout in Paradiso…need we say more?
Address: Carrer de Rera Palau, 4
2 – Beirut 37
For a secret bar in Barcelona with a great, friendly atmosphere, look no further than Beirut 37. English speaking staff can be the best you'll find in Barcelona. And for drinks, the Gin and Tonics are to die for. Found inside, where the interior includes lots of comfy chairs, renovated sculptures and dimly lit red lights to add to the ambiance. For entertainment, live music is hosted regularly!
Address: Carrer de Joaquín Costa, 37 
3 – The Antic Theatre
The Antic Theatre is the place to be for small and exciting events, you will be surrounded by locals and very reasonably priced drinks. Found next to the Palau de la Música Catalana, this hidden Barcelona bar includes a garden area, which is used more throughout the summer, and a terrace inside which can also give you a great view of the enormous courtyard area. Find live music, poetry, theatre and much more all at The Antic Theatre. Drinks are very cheap, beer can be bought for around 2€ whilst wine is normally 3€.
Address: Verdaguer i Callís, 12
4 – Bobby's Free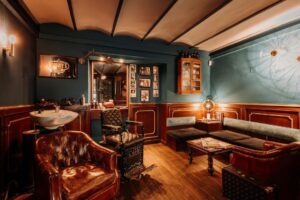 Bobby's Free is a speakeasy that from the outside just looks like your everyday barbershop. Even once inside, you won't see any drinks or bar stools, you have to provide the 'barber's' secret password to enter, which changes every month! But not to fear, this can be found on their Instagram or Facebook. The bar has a classic 1920s prohibition vibe, with a fantastic selection of gin & tonics and exciting cocktails to try. They're found not far from the Passeig de Gràcia and Plaça de Catalunya, so are in easy access for any G&T lover looking for their next favourite bar. 
Address: Carrer de Pau Claris, 85
5 – The Speakeasy / Dry Martini
Despite what you might think, the Speakeasy is in fact a speakeasy… restaurant. It is found in the backroom of the Dry Martini cocktail bar, which is also one of Barcelona's best. The clandestine Speakeasy creates a gastronomic space to remind guests of the popular underground establishments that characterised Chicago and New York's societies during the Prohibition Era in the United States. Their menu includes popular tapas dishes, fish, meat and set menus to choose from too. 
Address: Carrer d'Aribau, 162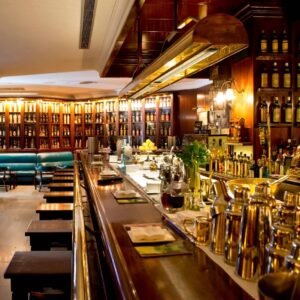 6 – Bar Mariatchi
Located in the backstreets of the Gothic Quarter, Bar Mariatchi was one of the first clandestine bars to open in the entire city. Squatters would occupy buildings which owners could no longer afford to run and transform them into underground drinking dens. Today, there's no chance of finding yourself at the centre of a police raid like in the past! Its tagline is 'bad parties, worse hangovers', and it regularly hosts musicians for some live events alongside some tasty drinks.
Address: Carrer dels Còdols, 14
7 – Bar Marsella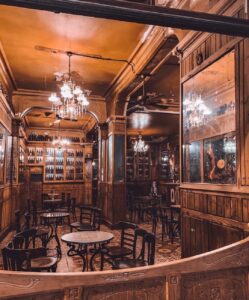 Bar Marsella is the legendary bar that is said to be the very first opened in Barcelona, way back in 1820! Everyone from Picasso to Hemingway is rumoured to have been a regular at some point in this establishment's long history. People come from far and wide to have even one drink in the iconic Marsella, and it is one of the only places in Barcelona where you can drink authentic absinthe brought in straight from Paris. 
Address: Carrer de Sant Pau, 65