Found in the Ciutat Vella (Old Town) of Barcelona, in between the Gothic Quarter and the Ciutadella Park, is the trendy and popular neighbourhood of El Born. The area is home to some of the city's oldest buildings and yet has a reputation as being one of the most hip and fashionable places in Barcelona.
Bars, cafés and restaurants line the streets, meaning there's always an exciting buzz about the place. However, El Born isn't simply a great spot for some food and drinks. Above all else, you are just 15-minutes' walk from the beach! There is also plenty of culture to immerse yourself in. So, without further ado, let us introduce you to your new favourite Barcelona neighbourhood.
History of El Born
The history of the area dates back to the Roman period. Many early inhabitants were fisherman and dockworkers (due to the area's proximity to the sea). But over time, the population began to incorporate noblemen and rich merchants who decided to construct their houses in this beautiful part of the city. Even today, there is quite the melting pot of people that live in El Born. From pensioners playing cards, to young people, international students and local Barcelonians, this district makes itself welcome to all walks of life.
Nowadays, people use the name of 'El Born' to refer to the larger neighbourhood of Sant Pere, Santa Caterina i la Ribera, stretching from Barceloneta up to the Palau de la Música. However, this is a common misconception, as historically El Born has only been used to refer to the lower part of the neighbourhood, La Ribera.
Legend says that the name El Born is derived from the Catalan word 'bornejar', meaning to joust. During medieval times, jousting tournaments were held on the strip that is now called Passeig del Born, and in present day it still remains one of the neighbourhood's most lively street.
What to see and do in El Born 
Cultural sights
Palau de la Música Catalana
Opened in in 1908 as the headquarters of "Orfeó Catala", a prestigious institution to support Catalan music and culture, the Palau de Música Catalana is an iconic landmark within El Born. The concert hall has a breathtaking interior in the style of Catalan Art Nouveau, the only one in the world of this style to be listed as a World Heritage Site by UNESCO. The Palau puts on over 150 shows all year round and is an unmissable experience if you are in the neighbourhood.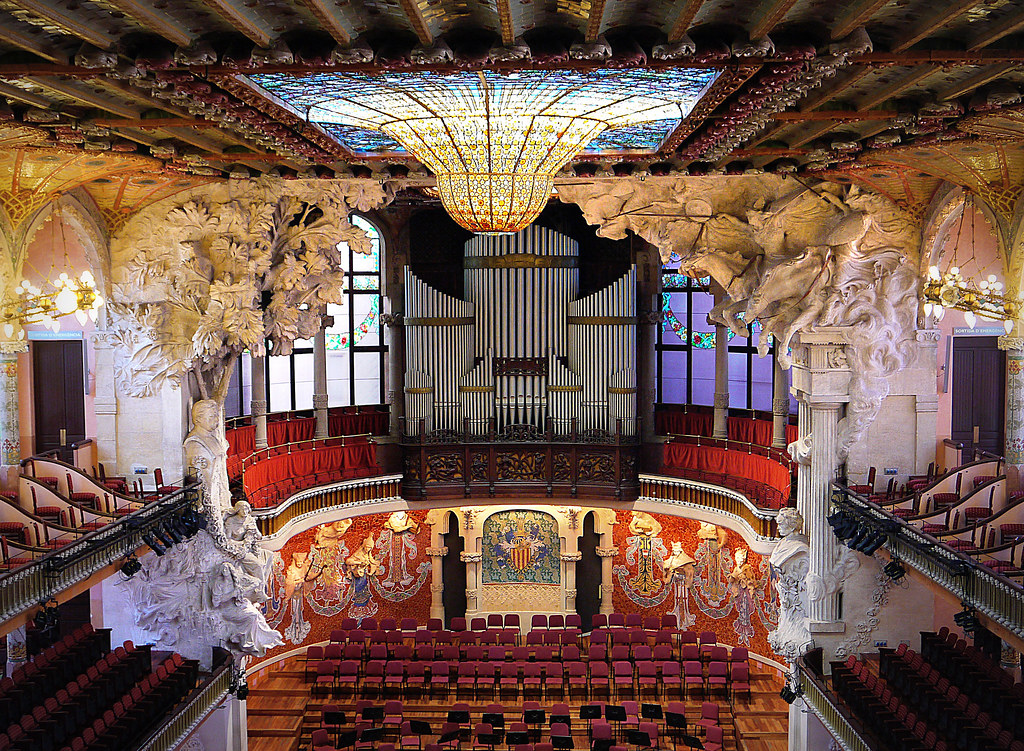 Learn all about one of Spain's most famous artists, Pablo Picasso, at the Picasso Museum. Find ou tall about his life and his work, created when he moved to Barcelona as a young artist. The genius of Picasso is shown here in over 4,000 pieces that make up the permanent collection.
Head there on Thursday afternoons from 4pm-7pm and on the first Sunday of each month to enter free of charge!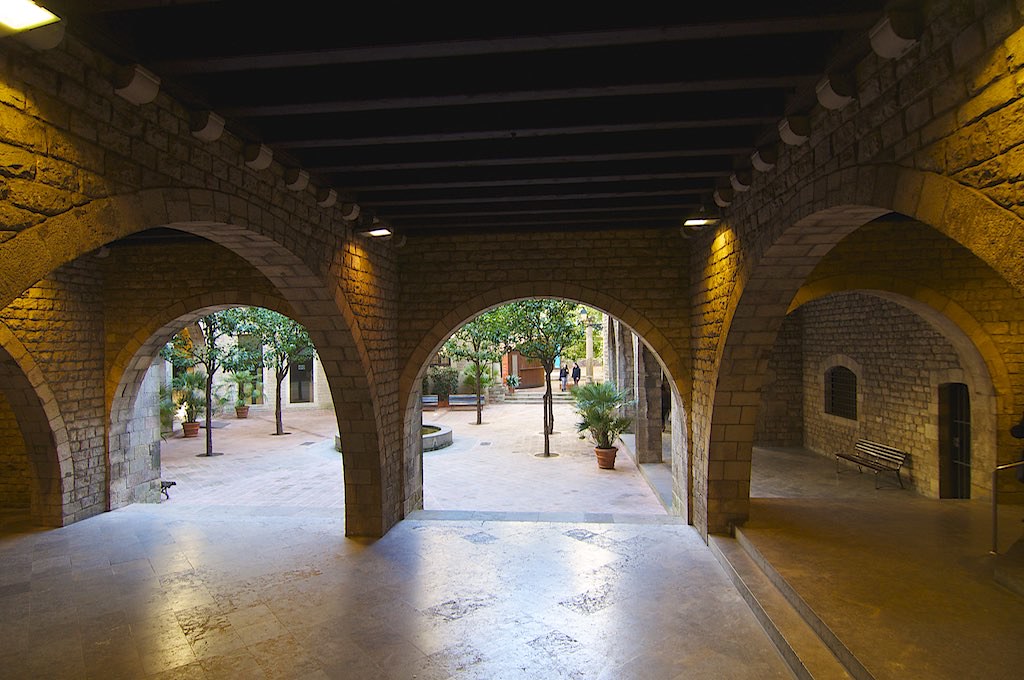 The most iconic landmark in the El Born district has to be the Santa María del Mar church. An outstanding example of Catalan Gothic architecture, this magnificent building was constructed in the 14th century and has stood the test of time to the present day. You can wander inside and marvel at the amazing interior for free! Or better yet, why not get a guide to show you round and teach you a bit more about the history?
Born Centre de Cultura i Memòria
The El Born CCM is a space that was created for the city to commemorate local and national events, as well as events that have affected communities all around the world. Housed within the centre, are the historical remains of the neighbourhood demolished by Philip V, but many other exhibitions are also put on show here. It is also completely free of charge to the public!
The Santa Caterina Market is well worth a visit in El Born! This bustling food market was constructed on the site of the former Convent of Santa Caterina, that after the civil war became the main food supplier to the towns on the outskirts of Barcelona. Today, the lively market sells a wide range of Spanish delicacies, fruits, vegetables, flowers and meats, such as the classic speciality of jamón Iberico.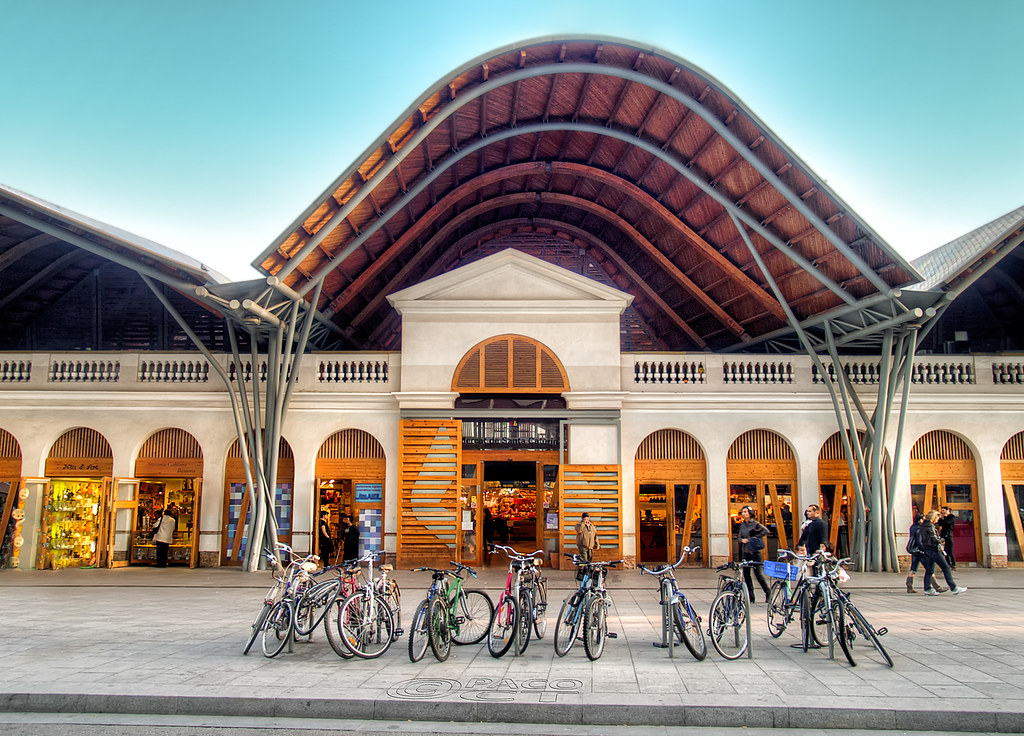 Notable streets and squares to visit in El Born
Passeig del Born

Carrer de la Princessa

Carrer dels Flassaders

Carrer de l'Argenteria

Plaza de Sant Agustí Vell

Plaça de Pons i Clerch
Bars & restaurants
Being one of the trendiest neighbourhoods in Barcelona, there are endless excellent bars and restaurants to visit here. The district is known for its quirky bars along charming side streets. You'll always find people ambling round for a drink with friends. Aside from this, there are also plenty of cafés and bakeries to grab a snack and a coffee at on the go too. To help narrow down your search, here are our top 7 favourites in Born:
Good for: pizza lovers (aka everyone!), vegetarians, friendly service
Address: Carrer del Rec 30, 08003
Good for: brunch, coffee, vegetarians, cocktails
Address: Carrer Cremat 11, 08003
Good for: sweet tooths, churros, chocolate, coffee
Address: Via Laietana 46, 08003
Good for: tapas, Spanish cuisine, vegetarians, cocktails
Address: Plaça de Jacint Reventos, 08003
Good for: breakfast, pastries, coffee
Address: Carrer dels Flassaders 44, 08003
Good for: vegetarians & vegans, dinner, lunch, cakes, international cuisine
Address: Plaça Del Fossar de Les Moreres, 08003
Good for: fine dining, vegetarians, Spanish/Catalan cuisine, lunch, dinner
Address: Carrer de Montcada 22, 08003
Where to stay in El Born
Perhaps after reading about all the wonderful things to see and do in El Born, you've decided it is the ideal place for you to stay in Barcelona. Well, great choice! Many of the apartments here have newly renovated interiors, inside of fantastic historic buildings. 
AB Apartment Barcelona has many excellent apartments in El Born for you to have the perfect stay in our city. Whether a solo traveller, couple, or group of friends, there is a wide variety of apartments to choose from. Check out our website or get in touch with our friendly team who would be delighted to assist you in finding your perfect apartment in Barcelona.
So, there you have it! If you enjoyed this article, make sure to check out the article about the best neighborhoods in Barcelona and discover more of our wonderful city of Barcelona!