Do you need accommodation in Barcelona and don't know which neighborhood or area to look for? Depending on whether you're in Barcelona just for a few days, and want to see everything. Or you're living here for a year abroad and want to be close to your university and other students. Or maybe you are just here for remote work and want somewhere with views over the beach and a tranquil surrounding. Don't worry, with our guide to choosing the best neighbourhood to stay in Barcelona, you will have all the advice you need!
FOR SHORT STAYS
If you are going to be in the city for a few days, it is preferable to stay in one of the most central neighbourhoods of Barcelona, to make the most of your time in the city. The neighbourhoods that best suit you are: Gothic Quarter, El Born, El Raval and even some areas of Eixample.
BEST NEIGHBOURHOODS TO STAY IN BARCELONA WITH FRIENDS
If you are travelling with friends, you are probably looking for a budget neighbourhood, with a nightlife and lively atmosphere. The best options are:
Gothic Quarter or El Born: To enjoy many bars and restaurants and the atmosphere in this area.
El Raval: Ideal for groups of friends looking for a central but economical accommodation. This area is also located near the MACBA, one of the places where young people gather.
Gràcia: In this neighbourhood there are many cocktail bars and bars, so it is common to find a very active nightlife. In addition, in this area the price of accommodation is usually lower compared to other areas.
Les Corts: For those looking for an affordable area well connected to the city centre. In addition, here is the Camp Nou and the FC Barcelona museum.
BEST NEIGHBOURHOODS TO STAY IN BARCELONA WITH FAMILY OR AS A COUPLE
If you travel as a family or as a couple, the needs are usually different. You are probably looking for something central but quiet, or something away from the hustle and bustle.
Poblenou: Despite being close to some beaches, this neighbourhood is not as crowded as others in the centre. However, it is quieter and more suitable for families who come with children.
Sarrià – Sant Gervasi: Ideal for families looking to stay in a residential area away from the centre, but well connected thanks to its public transport connections. In addition, it is one of the safest neighbourhoods in Barcelona.
El Born or the Gothic Mud: This neighbourhood is ideal for couples, and is one of the most central and historic in the city. If you're traveling outside of the high season, it can be a great option, as there won't be as much of a nightlife.
Eixample: It is a very extensive neighbourhood, with a lot of accommodation and close to important monuments such as the Sagrada Familia or Casa Batlló.
FOR TEMPORARY STAYS FOR MONTHS
BEST NEIGHBOURHOODS TO STAY IN BARCELONA FOR STUDENTS
If you move to Barcelona to study, these are the best neighbourhoods for students, taking into account the connections with public transport and the proximity to university centres:
El Raval, Gothic Quarter and El Born: To enjoy the comfort of the centre and accessibility to public transport. Some of the universities in this area: Pompeu Fabra University, University of Barcelona, Elisava, etc.
University Area of Les Corts: This is the area closest to the university campuses of the Autonomous University of Barcelona, the Polytechnic University of Catalonia, ESADE…
Eixample: It is one of the most famous neighbourhoods for students, since it is close to everything and has several universities and study centres. Some universities are: EAE, EADA Business School…
Gràcia: It is one of the neighbourhoods with the most youthful atmosphere in the city. It is quite recognised among students for maintaining a balance between quality and price.
La Barceloneta: If you come from Erasmus to Barcelona, maybe you are looking to enjoy the sun and the beaches of the city. In this neighbourhood you will find both university campuses and some of the most frequented nightclubs by students.
BEST NEIGHBOURHOODS TO STAY IN BARCELONA TO TELEWORK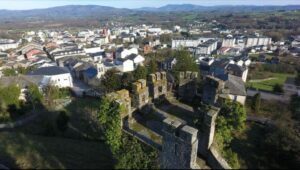 If you come to Barcelona to telework, these are the best areas for it:
Poblenou: It has become an epicenter of start-ups, technology companies and co-working spaces since the creation of the 22@ district.
Sarrià – Sant Gervasi: This residential neighbourhood is good for working from home and is far from the most touristic areas.
La Barceloneta: This area has become one of the best for teleworking, due to the views it offers and the low influx during the autumn-winter-spring months. It is perfect to enjoy a walk on the beach after the working day.
Eixample: This district hosts much of the business fabric of the city and enjoys a very central location, ideal to be well connected to any place in Barcelona.
Surroundings of Barcelona: Other areas such as Badalona, Hospitalet de Llobregat or Esplugues de Llobregat among others, are good accommodation options if you prefer to spend a quiet stay, away from the hustle and bustle, while you can reach the centre of Barcelona in a few minutes with public transport.
FIND YOUR PERFECT ACCOMMODATION IN BARCELONA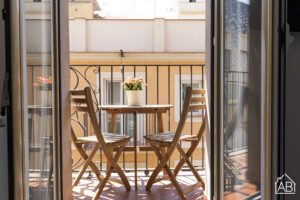 Have you already decided which neighbourhood or area you are going to stay in? The next step is to choose the perfect apartment according to your needs, using the location filters on our website. Choose from a wide variety of apartments in Barcelona and enjoy your stay!