Gràcia is the first main residential area of Barcelona and was its own municipality for centuries until being subject to Barcelona´s expansion plans, from the adjoining neighbourhood, Eixample, back in 1897. Nonetheless, since being officially inside Barcelona since then, Gràcia has maintained its own image and feel. Nowadays, it finds itself as a neighbourhood full of local people, independent shops and many bars/restaurants. Considered by many as a relatively unknown gem, due to many tourists sticking to the main tourist hubs of Las Ramblas, Passeig de Gràcia and the beaches of Barceloneta.
However, Gràcia is one of those places in Barcelona that once you visit; you will have to repeat visit. From its abundance of open squares, to its wonderful architecture that show beautiful facades in a Mediterranean context, this neighbourhood gives you a unique experience in Barcelona. Discover the main attractions of the area and, most importantly, why you should explore Gràcia!
Monuments of Gràcia
This laid-back neighbourhood has many sites to see and places to visit. The most notorious monument to see in Gràcia is Gaudi´s Casa Vicens, a relatively unknown piece of work from one of Barcelona´s most famous sons is truly amazing. With a colourful and graphic design, it is eye-catching and in keeping with the artist´s unique approach to architecture.
For a second monument, there is world-famous Parc Güell, also designed by Gaudí. This is a must-see when exploring Gràcia due to its green space and wonderful panoramic views that you can enjoy as you pass through. Initially designed on the back of British residential parks, this green space was supposed to become a housing complex for some 60 houses! Instead, it has amazing sculptures, unique Mediterranean plants and Gaudi´s house in the epicentre. This UNESCO world heritage site is amazing and should be a priority on any visit to Barcelona.
Lastly, in central Gràcia, the final monument to enjoy is on one of its main plazas. At the Plaça de la Vila de Gràcia, you can admire the 19th Century clock tower that stands at 33 metres high. Around the square, there are many restaurants and bars to take in the scenery in a relaxed setting.
Food and drink in Gràcia
With tastes changing and people wanting to have food and drink experiences available from every corner of the world, Gràcia is no different. Here, there is a definite undertone of health is wealth. Something that is seen with the number of health food places in the neighbourhood, like Heat and Fresh, who are revolutionising the average salad! You can also enjoy Asian food, with Kibuka, a sushi restaurant with two branches in Gràcia. Here, they offer great and fresh food for very affordable prices! Something that highlights the abundance of restaurants in Gràcia is the long street that runs through the centre of the neighbourhood, Carrer del Torrent de l´Olla. Here you will find restaurants for all kinds of cuisines and preferences.
For drinks, there are just as many cafés and bars dotted around the whole area. A factor that gives Gràcia its sociable feel and welcoming touch. For grabbing a fresh coffee on the go, as you explore Gràcia, we´d suggest stopping at Syra Coffee. They have locations all around the city, with their Gràcia branch having friendly staff and fresh sweet treats too! As for alcoholic drinks, you must try a couple fo our favourites. First, on Virreina Plaça (Image below), there is the Terra S L P bar, which gives you an open space to drink and chat in front of a beautiful chapel. Secondly, on the lively Plaça del Sol, there is the amazing Marcelino, who serve innovative and sublime tapas, with a great drinks menu to match, we suggest Martini Rosso! In addition to this, if you are looking for cocktails specifically, then Bar Old-Fashioned is ideal for you! Relax as their talented staff mix up your favourite drink.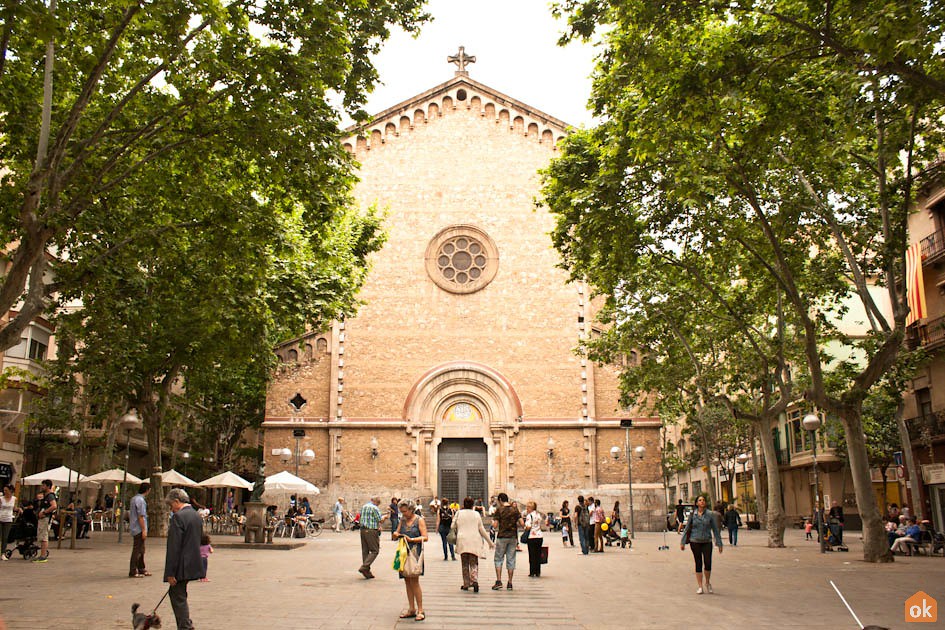 Shopping in Gràcia
Gràcia has many unique clothing shops that, in the main, promote sustainable clothing that is made from local resources. A street where you can find clothing shops like this is on Carrer d´Astúries, next to the Fontana metro station. This is one of the main streets in Gràcia and has many shops that are examples of small business owners. If you are more into streetwear and/or fashion lables, then you should go to the nearby Carrer de Verdi. Another important part of the network of streets here, there is more variety on offer to you. As well as this, you can stop off for a trip to Cines de Verdi and enjoy Spanish films, as well as the latest blockbuster releases in their original language!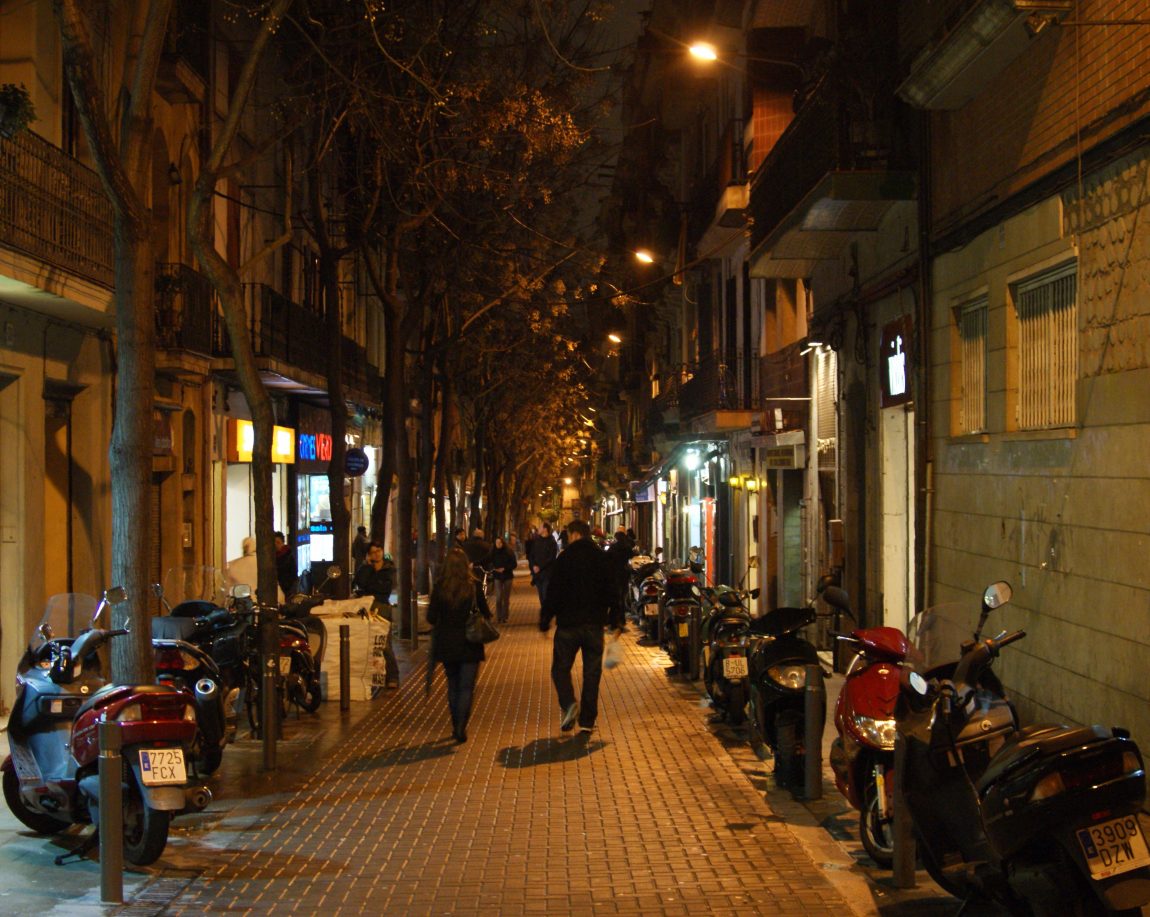 Festivals
The people of Gràcia love to celebrate. So much so, that every August, they spend a week partying! This fiesta requires lots of planning and organising. The main reason being that most streets in the area are in competition with the other to win a prize for the best-decorated street in the neighbourhood! They have weird and wacky designs and put on food and drinks to give people passing through a memorable journey. There is live music every night as well for you to enjoy and dance the night away. Find out more about the last Festa major de Gràcia 
Transport
Getting to Gràcia is very simple. It makes for a nice walk from the centre of the city, past Plaça Catalunya, up Passeig de Gràcia and then into the neighbourhood itself. Alternatively, you can catch the L3 line to Fontana, the L4 to Joanic or the L4/L5 to Verdaguer. There are many bus services that run here from all over the city. Such as the following lines: 24, 27, A6, D40.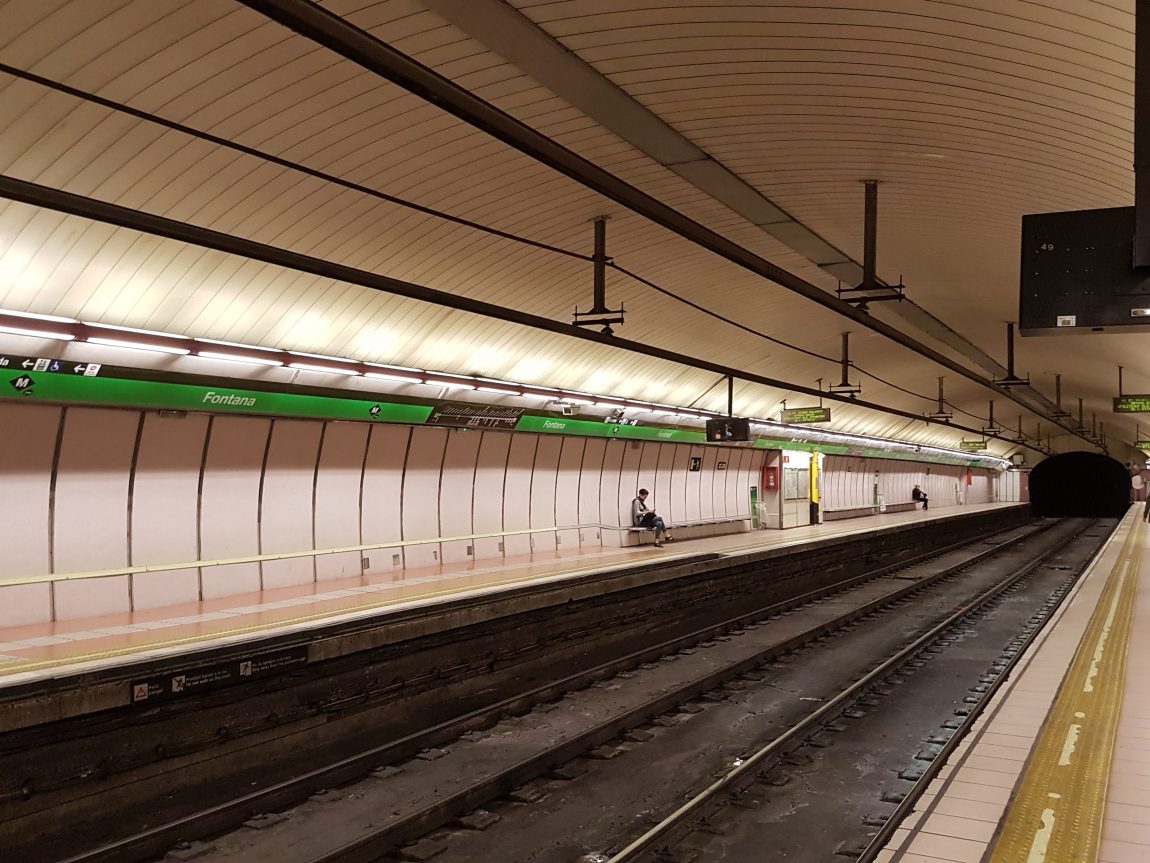 Accommodation
We have highlighted just how amazing it is here and you may now not want to explore Gràcia… you may want to stay here! Not only is that a wise move, it is also very possible. We here at AB Apartment Barcelona have a number of apartments in Gràcia for you to browse and choose from. With it being a place full of local people, of a variety of ages, there is nowhere else in Barcelona to make you feel this much at home!