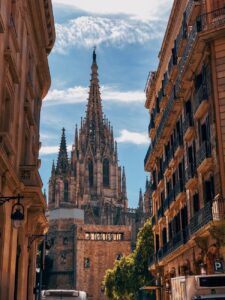 The Gothic Quarter in Barcelona is one of the most famous and beautiful areas of Barcelona, home to the incredible Cathedral of Barcelona. The twisting, shaded alleyways and stunning architecture is some more of what you will find when visiting this area. These tourist filled rambling areas are overflowed by family-owned businesses and memorable places to go for food or drinks. 
The streets and buildings of the Gothic Quarter date back to the 12th century, with its buildings posing as architectural gems. You will find remains of Roman walls, sculptures and the Plaça del Rei, as well as the Barcelona cathedral of course. As a must-see location, you can imagine there are many tourist-trap restaurants, but as per usual we will stray you away from those, leading you towards the best restaurants in the gothic quarter. 
1. Arcano Restaurant 
Arcano is the unusual location of a 17th century old stable, with Romanesque imprint, arched shapes, and stoned walls. The staff are friendly and the ambiance is great, with the cuisine being incredible. Their menu is extensive, they serve seasonal dishes. For offer you will find a plethora of starters of tapas like bravas, croquettes and burratas, or warming dishes including casseroles, raviolis and tartars. They also serve divine seafood, specialty meats such as steak, pork and lamb, and delicious desserts including cheesecakes, chocolate and cheese boards. 
Address: Calle dels Mercaders 10, 08003 Barcelona 
2. Bosc de les Fades Cafè
For a magical experience in the gothic quarter, the Bosc de les Fades offers you the most unique dining experience you could find. The place is filled with beautiful fairytale details which will make you feel like you're out of this world. You will find artificial woodland, waterfalls, fairies and even a wax museum store. You can enjoy this cafe during the day, enjoying burgers, sandwiches, tapas or you can visit at night, when the place comes to life with cocktails, wines, mixed drinks and the best gins. 
Address: Passatge de la Banca, 7, 08002 Barcelona
3. Les Quinze Nits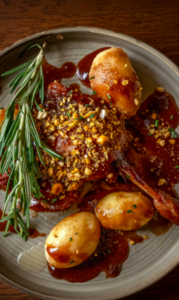 On the must- see Plaza Reial, you can find Les Quince Nits, the elegant and formal restaurant serving traditional Mediterranean cuisine such as tapas, paella and other Catalonian classics. They use fresh local market produce to ensure their dishes are delicious, and they provide a classy but comfortable environment for their guests. The restaurant itself is very reasonably priced and has a lovely terrace for you to enjoy your dinner whilst watching the lively Plaza Reial. 
Address: Pl. Reial, 6, 08002 Barcelona
4. Bar Central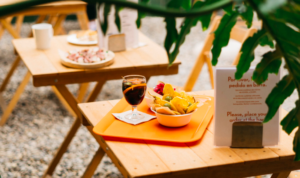 Bar Central is known for its stunning gravel-filled courtyard, shaded by ancient trees and surrounded by a water feature looking like a large meteor covered in green moss. The sounds surrounding the restaurant are wood pigeons serenading one another under the trickling fountain. This is the perfect place to really feel at one with nature, where you can enjoy small plates, sandwiches and cold cuts. 
Address: Carrer d'Elisabets 6, 08001 Barcelona Spain
5. Caravelle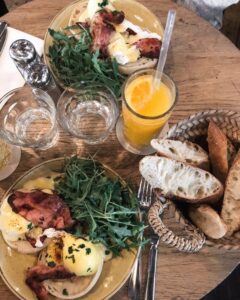 Caravelle is the place to go if you're looking for a good brunch location, this spot was one of the first brunch go-tos in the city. The Aussie owner, Zim Sutton, makes his own sauces, pickles and beers, making this place that little extra special. They are open Monday to Sunday and don't take reservations, so it's a first come first served basis. They also do deliveries and have their own beer shop. Their menu includes muesli, sourdoughs, ricotta pancakes, vegan breakfasts, shakshuka and rancheros. Their lunch menu offers dishes such as tacos, smoked ribs and burgers. Just a sneak peak at the brunch menu will have your mouth watering. 
Address: Carrer del Pintor Fortuny 31, Barcelona, 08001, Spain
6. El Quatre Gats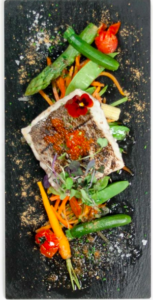 El Quatre Gats hosted the first ever exhibition of Picasso, they also hosted numerous musicians, artists and architects such as Albéniz and Gaudí. El Quatre Gats is imprinted with the impressions of these artists. El Quatre Gats opened in 1897, and has always been an unusual and artistic location for meeting friends and sharing a meal. Its rich and inspiring history makes it a very unique and popular location for dining. Their menu offers starters, delicious meats and fish, and traditional Catalan rice dishes. 
Address: Carrer de Montsió, 3, 08002 Barcelona
7. Set Portes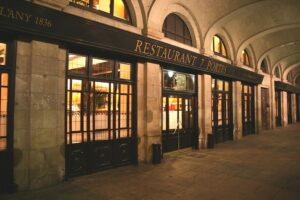 For a classic eatery in Barcelona, serving impressive paellas and variations of seafood and rice dishes as well as fresh salads, seafood, fish, meat and tartars, is Set Portes. They received their name Set Portes translating to Seven doors, from its seven public doors. Their menu includes an extensive recipe book, which has evolved from 185 years of experience. They aren't just a restaurant either, they offer lounges and private spaces available to book out for reservations personalised to clients adapted to their needs. They offer projectors, screens or a public address service, they are always happy to attend to client requests. 
Address: Passeig d'Isabel II, 14, 08003 Barcelona
8. Chivuos 
This burger joint has the illusion of making an honest product that should be treated as deserved. They serve burgers, sandwiches, proper street food and good beer. They describe themselves as a symbol of experience, history, intrigue and wisdom. They even do deals like 2×1 beers, they offer dine in experiences, takeaway and delivery! They are especially known for their loaded bacon cheese fries and pulled pork sandwiches, keep that in mind if you're giving Chivuos a go. 
Address: Carrer del Pintor Fortuny, 15, 08001 Barcelona
9. Caelis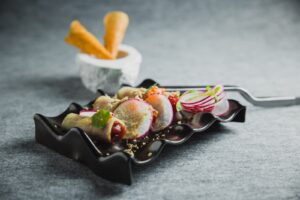 If you're looking for something slightly more luxurious, Caelis is a true Michelin gem. Its chef Romain Fornell does not disappoint on any level from ambiance, to food, to service. They have an open kitchen style, and offer multiple course menus ranging between 95€-140€. These include three tasting menus with one being vegetarian. Whilst it's not exactly cheap, it is cheaper than a lot of Michelin star restaurants throughout Barcelona, and if you are looking to splurge out and treat yourself during your holiday, there's nothing wrong with that! 
Address: Via Laietana, 49, 08003 Barcelona
10. La Plata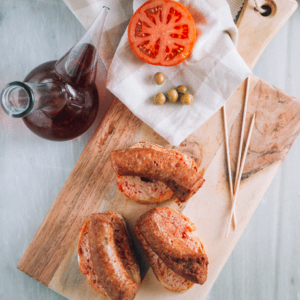 For an authentic tapas experience, La Plata is the place to go. They are more of a no thrills eatery, with simple but quality dishes. Come here to experience dining like a local, and to be surrounded by locals. The wine will go down well with your traditional tapas dishes, poured directly from the barrels above the bar, and the food will leave you speechless. Chosen best tapas bar by the ABC newspaper, this place will not disappoint you. 
Address: Carrer de la Mercè, 28, 08002 Barcelona