We have already told you about the best places to have a picnic and places where you can find street art like graffiti in Barcelona. But Barcelona is not only rich in talented painters and architects, but also in musicians. In this blog, we will introduce you to the places where you can find street musicians in Barcelona. If you like to listen to music while exploring the city – you will be in your element!

Museu Nacional d'Art de Catalunya
One of our favourites is the Museu Nacional d'Art de Catalunya, one of the best museums in Barcelona, located near Plaza Espanya. You should not just be a fan of history and art to go there, because this place offers you more than just a museum.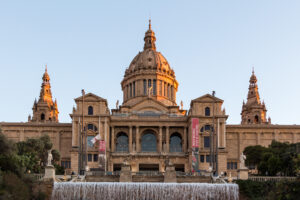 This is a lovely place to walk, to take beautiful pictures and to enjoy street music. Around the museum, you find some places with street musicians, but the best one is on the top, in front of the entrance to the museum. What can be better than sitting on the top enjoying incredible views over the city, drinking a beer or wine on a sunny day, and listening to the sounds of live performing guitars or violins? Additionally, there are always sellers who you can get a beer for only €2 or some souvenirs.
For those interested in history and art, we recommend visiting the museum and then relaxing on the stairs. On weekends, you can save your money and enter for free every Saturday from 3pm and on the first Sunday of the month.
Port Vell 
Isn't it great to take a walk along the harbour on a sunny day? Port Vell offers plenty of space for a relaxing stroll where you could watch boats, listen to the sounds of seagulls and just enjoy the sunshine. It's definitely one of the best weekend getaways when you are not in a hurry.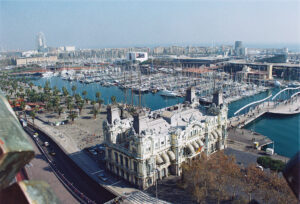 On your way, you will meet many skateboarders who you can watch doing their tricks whilst listening to the sounds of the street musicians. Sun and sounds of the Mediterranean Sea and music. Isn't it a perfect combination? You can usually find them next to the Museu d'Història de Catalunya where you can enjoy the perfect view of the boats and the museum while listening to relaxing sounds.
Barceloneta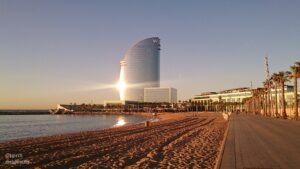 If you don't want to give up right away on Port Vell and walk more, walk along Barceloneta beach. The musicians gather in the places with the most tourists. Barceloneta is one of them, because almost all tourists come to Barcelona to enjoy the perfect weather, sun, and beaches. As you walk along the promenade, you will come across some musicians who will sweeten your walk with music.
Plaza Catalunya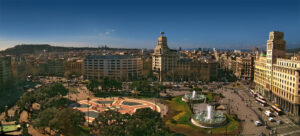 Plaza Catalunya is one of the largest places in Barcelona, where many people meet before or after shopping and where many buses stop. This is where many tourists get off for the first time when they arrive in Barcelona. The square offers plenty of space for large groups of tourists and locals. So, after a long day of shopping and exploring the city, why not take to a spot and relax a little to the wonderful sounds of music?
Carrer de Rivadeneyra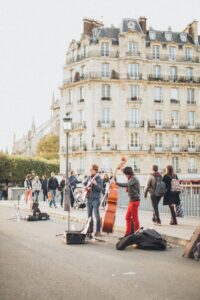 The street Carrer de Rivadeneyra is just off Plaza Catalunya between Hard Rock Café and Primark. This is a wide street where locals and tourists like to shop. Musicians are also often seen here, but most often opera singers, as this street provides a perfect reverb to amplify the singers' voices. Enjoy the perfect voices of Barcelona while shopping and spending your money. You're on holiday!
Cathedral de Barcelona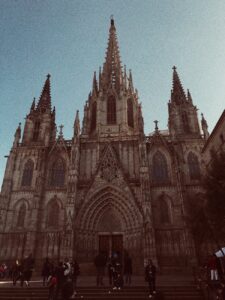 If you keep walking, you will come to the next perfect place in Barcelona – the magnificent Gothic Cathedral of Barcelona. This is a wonderful place that you must visit during your stay in Barcelona. Why not come there at the weekend and see the cathedral while listening to the sounds of guitars or violins and/or wonderful voices. This place also has enough space for dance and acrobatic groups, which you can also find here at the weekend to make your day perfect.