In 1992, the World Olympic Games came to Barcelona and in the years before the event, the city was totally regenerated, many old and obsolete places given a new lease of life in preparation for the millions of overseas visitors that were about to put the city on the map. One of these places was Port Vell.
These days, the harbour is completely unrecognisable from its former self and is now known for being a signature spot for shopping, museums, family entertainment, clubbing, as well as home to some of Barcelona's best seafood restaurants.
Below, Barcelona Connect share five of their favourite things to do at Port Vell.
Visit the Catalonia History Museum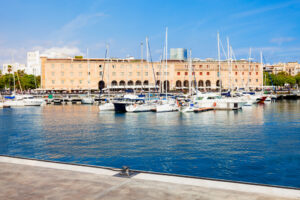 If you want to find out more about the region of Catalonia, don't forget to visit the Catalonia History Museum. With more than four floors of exhibitions, visitors can clue themselves up on everything that happened in the region from prehistoric times, up until the current 21st century. Why not visit the sensational roof top terrace bar after your visit, and sip on a cocktail as the sun goes down over the harbour?
Explore the Aquarium
With over 11,000 water creatures, 450 different species, and 6 million litres of water, Barcelona Aquarium is the largest in Europe. Explore the Mediterranean Sea without getting your toes wet, and find Señor Nemo hiding beneath the anemone.
Go shopping in Maremagnum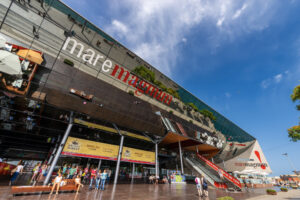 The Maremagnum Shopping Centre is the only shopping mall in Barcelona that is open seven days a week.
This retail and leisure complex has a wide range of stores from well-known Spanish brands, to international labels, as well as several great restaurants and cafes that boast some sensational views across the water.
Take a Boat Trip
Arguably the best thing to do at a harbour is to go on a boat. Hop on one of the city's iconic Golondrina's and explore the coastline on the water. There is roughly 18 stretch of coast from Colón to Forum de Sant Adrià, so trips range from a complete full excursion, to a short quick trip.
Enjoy the views from the Columbus Monument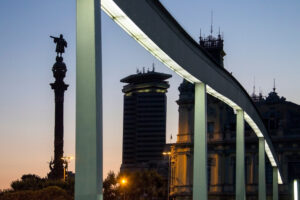 This statue serves as a reminder that shortly after discovering the New World, the first people Christopher Columbus reported to were Queen Isabella and King Ferdinand in Barcelona. Many believe that the infamous explorer is pointing to America, but if so, he is pointing in entirely the wrong direction. Instead, it is more likely that the statue is situated in the current way simply to have Columbus point out to sea in commemoration of his achievements in naval exploration.
The statue has a 60m high viewing gallery with views of La Rambla, nearby Port Vell, and also a panoramic scene starting from the Gothic Quarter all the way to Montjuic.