During the height of summer, Barcelona can get a little crowded. The perfect solution? Head to the nearest green space for a picnic! The city is full of parks that are great for eating a picnic with family and friends, and with a beautiful view, delicious food, and a chance to relax away from the hustle and bustle of summer tourists, we can't think of anything better… So, where can you go for a picnic in Barcelona?
Park de la Ciutadella
Park de la Ciutadella is the biggest park in Barcelona, popular by both locals and tourists alike. The park is free to enter and is a great place to relax away from the busy streets in the city.
Why not rent a boat and go sailing around the lake? Or visit the breathtaking Hivernacle greenhouses? Before you go, don't forget to find the giant mammoth statue!
Metro: Arc de Triomf (L1)
Bunkers del Carmel
One of the most instagrammable spots in the whole of Barcelona and the best non-green space for a picnic.
Formally bunkers in the Civil War, the Bunkers del Carmel offer visitors a spectacular view of the city in its entirety, and is a great spot for chilling out with a few drinks and snacks.
Bus: Number 22 + 15 minutes' walk
Beach
With over 5km of beach along its coastline, taking a picnic to the beach in Barcelona is almost inevitable. We recommend avoiding Barceloneta and instead heading down further along the sand to avoid mass tourists- the L4 line runs straight along the coast so you're guaranteed sand between your toes whatever stop you get off at.
Even better if you can go to the beach after the sun goes down as you're more likely to avoid the crowds. Read our post about the best beaches in Barcelona.
Parc de Cervantes
Parc de Cervantes is a beautiful landscaped park famous for growing an abundance of roses in its greenery. Walk the stunning scenic route around the park and gawp at these flowers, or take a picnic and relax on one of its many lawns.
Metro: Zona Universitària (L3)
Palau de Pedralbes Gardens
Have you ever dreamt of having a picnic in the garden of a royal palace? Well, at the Palau de Pedralbes Gardens, you can! Don't forget to take a walk around this stunning green space and look at the beautiful fountains and open lawns.
Metro: Palau Reial (L3)
Montjuïc
Whether you go for a picnic or not, Montjuïc is a must see location during your time here in the city.
Why not take a cable car to the top and take in some of the amazing views of the city? Views that are made even better with a picnic, of course!
El Forum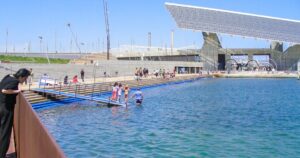 Do you want to combine a picnic with a swim, but don't fancy getting sand in your sandwiches? Head to the bathing area at El Forum and enjoy a seawater swimming pool. Swim in the same seawater as on the beach, but rather than sand, sit on a paved area to enjoy your picnic snacks.
The pool is open in July, August, and the first fortnight in September.
Metro: El Maresme Fòrum (L4)