If you are an art lover, Barcelona has great spots to observe many remarkable artists! From world-wide known artists to lesser known ones, Barcelona has got it all! Among the most famous artists of Barcelona you can find Gaudí, Joan Miro and Picasso.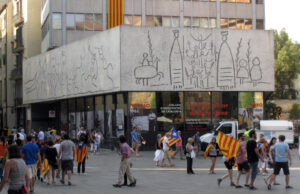 However in recent years Barcelona has greatly developed its street art and graffiti culture, providing a spotlight for some lesser known artists. Street Art in Barcelona is not a rare thing, in fact you can see great pieces of art almost all around Barcelona. And if there is one thing you can be certain about. It is that Barcelona has some of the most unique and creative street art you have ever seen. From total abstract to surreal art or even fractal or lunatic, Barcelona definitely has some outstanding and spectacular pieces of art. 
Where to find the art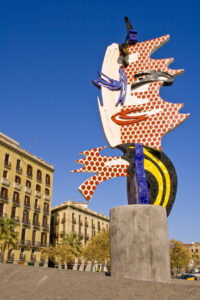 Street Art Barcelona is a collaborative platform created to support and promote the Barcelona art scene. Here you'll find news and updates on where you can visit the latest artistic creations in the streets of Barcelona and beyond. 
Street Art in Barcelona El Raval 
If you take a trek through this district, Barcelona's Street Art is everywhere.  A good place to start is the MACBA – the Barcelona Contemporary Museum of Modern Art – but no need to go inside, just scout around the surrounding area to see really fantastic pieces of work!  There are also a lot of older pieces as you move deeper into the Raval district.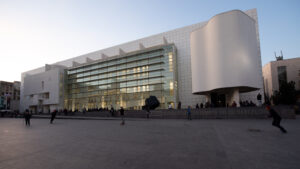 An example of famous street art in Raval is the mural of Keith Haring at the MACBA museum. Painted in 1989 on a neglected building in the Raval neighbourhood, this mural was transferred to a new support preserving the original paint, thanks to MACBA (the Contemporary Art Museum of Barcelona), and finally recreated on a new wall in February 2014, on the 25th anniversary of the creation of the original mural. Painted in red, the colour of blood, this mural contains all his iconography: children, life, sex, death and his fight against AIDS. 
Street Art in Poblenou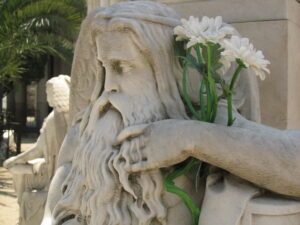 Crisa's mural in Carrer de la Selva de Mar
As usual, the Italian artist Federico Carta a.k.a. Crisa reflects on the balance, or –better- the contrast, between natural and urban landscapes. So here the natural landscape (represented by the colour green) is fighting with the grey shapes: the human constructions. Men are trying to find their own space, an equilibrium that is symbolized by the unstable wooden structure, which attempts to holding everything up, while plants are invading the composition and butterflies are stepping out from their usual habitat.  
Jorge Rodriguez-Gerada 's mural in Carrer de la Selva de Mar 215
Born in Cuba, Jorge grew up in USA and then moved to Barcelona 10 years ago, falling in love with the city immediately. He approached street art when he was in college, starting with some works on New York City's billboards that aimed at changing the semiotics of the city, until he began drawing on walls rather than on paper and creating his signature hyper-realistic portrait murals that look like large-scale pictures. Realised during the OpenWall conference 2015, this mural is a composite portrait that combines the facial traits of ten different women from the neighbourhood: a 29-meter high tribute to the local community foreseeing a future where differences will melt and we will be united, as a planet.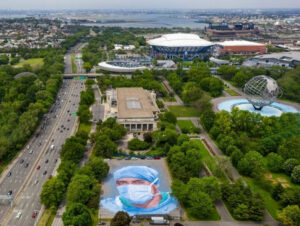 Borondo's mural in Carrer Pallars 297 
Invited by OpenWall Conference 2015, Borondo realized this stunning, expressionistic mural in the Poblenou district depicting a castell (human tower), which is something very traditional during Catalonian festivals. Castellers from Barcelona wear a red shirt, together with the traditional white trousers and black sash. An example of this is at La Mercé festival. The mural is titled "Fer Lenya", a term used when a castell falls. Here Borondo's spontaneous, expressive brushstrokes and colours shape the forms of his characters, the dripping paint finishes the magic. And even if the castell is about to fall, the tone is contemplative, as in many other works by Borondo.  
Other noticeable work
Isidre Nonell Square, Gothic quarter 
​A work by Joan Fontcuberta, it is not a graffiti but a mosaic made out of photos. Unveiled in 2014, it has 80 columns and 50 rows of tiles; 30.4 m2 of photos sent by Barcelonians. Titled "The World Begins With Every Kiss," this photomosaic has as its slogan a phrase by Oliver We​ndell Holmes: "The sound of a kiss is not so loud as that of a cannon, but its echo lasts a great deal longer."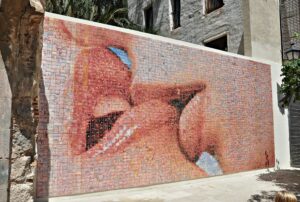 BLU's mural in Carrer del Santuari 
As with all other works by BLU, this enormous shark in El Carmel neighbourhood has a strong political and social meaning. The mural depicts a shark, made out of 100€ bills, swallowing up the faded acronym 'PSOE', which stands for the Spanish Socialist Workers' Party. BLU's shark is speaking against the financial crisis from a neighbourhood, El Carmel, of workers and immigrants. 
Ethos' mural in Av. Mare de Déu de Monserrat 13 
Yet another mural realised during the OpenWall Conference 2015, this mesmerizing work by the Brazilian artist Claudio Ethos refers, like the rest of his artistic production, to both comics and surrealist art. Using a minimal colour palette, Ethos depicts emotional states such as struggle and urban anxiety through his flexible and surreal characters, who are always a bit misshapen and kind of stretched: the twisted protagonists of a dismantled reality.  
Guided street art tours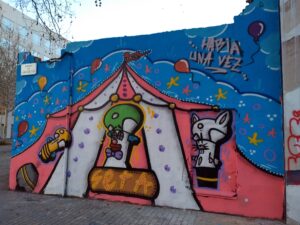 If you prefer to have a guided tour, then Barcelona Street Style Tours might be for you. They offer a couple of options; you can walk the Born/Gothic Quarter or El Raval neighbourhoods or take the morning to bike around the developing industrial neighbourhood of Poble Nou. 
If you are walking in the city and know where to look, you will discover so many pieces of street art that you will feel like you are visiting an outdoors art gallery. 
Take some time to observe the creative practices of these artists, you might find that you yourself will be inspired to create something just as beautiful.