To create a perfect trip, you need both good timing and a good location. Barcelona is the ideal city to tour, fused with both Roman and Gothic architecture, filled with cosmopolitan nightlife and sports fanaticism, and not to mention the Iberian sun which is always shining. Barcelona is the perfect place to tour, let loose, relax and make some perfect memories.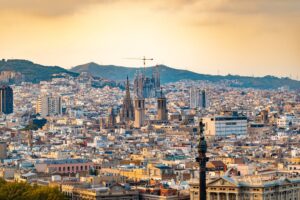 January in Barcelona offers a window of rest from the abundance of tourism. For those who love culture, but hate crowds, January is the perfect time for you to visit. Not only this, Barcelona is not a city that rests, there are a plethora of things to do here in January, read on for our top 10. 
What's the weather like this time of year in Barcelona? 
Probably one of the main things on your mind, the weather. The temperature in January averages at about 16ºC during the day, usually with the sun shining bright. During nighttime this drops to about 10ºC, and the likelihood of rain during your stay is very low. In fact, on average there are just five days of rain during January.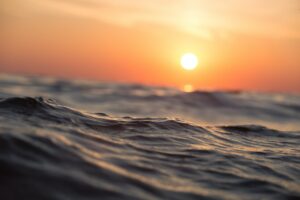 So what should you bring to wear? 
One warm jacket and a few hoodies should keep you warm. Maybe a scarf and a hand umbrella for emergencies just in case! But also pack those sunglasses for that winter sun, it's brighter than you will think. 
Top 10 things to do
No.1 – Check out the architectural attractions 
Barcelona is home to some of the most incredible structures designed by one of the world's most famous architects; Antoni Gaudí. It is also home to famous artists such as Picasso, Joan Miro, Joan Brossa. 
Therefore, in Barcelona you will find the captivating structures of the Sagrada Familia, Park Güell, and museums like Museo Picasso, Fundacio Miro and Cultura Contemporània de Barcelona. 
Top Attractions to Visit 
The Sagrada Familia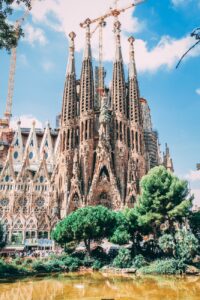 As one of the most famous tourist attractions in Barcelona, this one is a must. The Sagrada is just as incredible on the inside as it is the outside, receiving annual impressions from four million visitors from all over the world. This cathedral guides its guests into epiphany and an insight to the life of Christ through its incredible facades, symbols and designs. 
Park Güell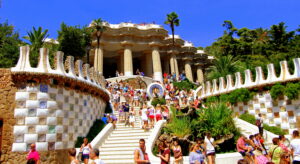 Park Güell is Gaudí's very vibrant mosaic park, another of the most well- known spots in Barcelona. The architectural and beautiful mosaics in hand with the green spacious environment park creates the most incredible park one can visit. 
Casa Vicens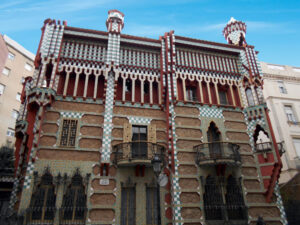 Casa Vicens was the first big architectural work of Gaudí after he graduated. This was built initially as a residential house of Manuel Vicens, it is now a museum to showcase Gaudí's work. This place takes great inspiration from nature, and another spot which is worth visiting purely to admire the classical architectural style during Gaudí.
Casa Batlló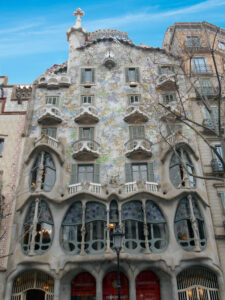 Casa Batlló can be found down the famous Passeig de Grácia, in the heart of Barcelona. This was a house renovation work of Gaudí, it has a bone like facade and has been named "The house of bones". 
Casa Milà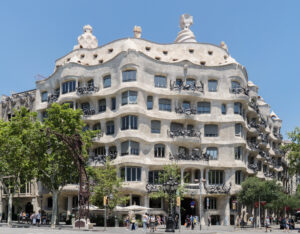 Another one of the famous works of Gaudí, which is also known as "La Pedrera". When the building was first created it was subject to criticism due to its design, and only seen as a masterpiece years later. 
Parc de la Ciutadella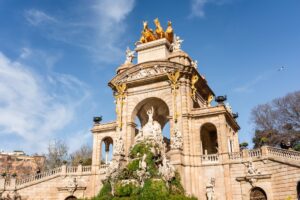 Ciutadella Park is a beautiful lush green environment with a Cascada fountain, the Catalan Parliament, Geological Museum, Castell dels tres Dragons, Zoological Museum and Umbracle. This place is fascinating and perfect for a lovely relaxing stroll or picnic during your trip to Barcelona. 
If you love Gaudí and want to make the very most of his architecture during your trip, check out our blog on seeing his art in a different light, to really indulge yourself in his work. 
No.2 – Check out what festivals are on 
Three Kings Parade on January 5th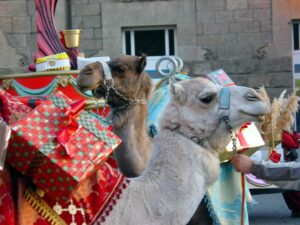 This is a tradition celebrated yearly on January 5th, representing the moment in which the three kings travelled to Bethlehem to visit Jesus and bring him gifts. On this day in Barcelona, there is a parade 5km through the city, which is filled with live music, bright costumes and large and uniquely decorated floats. For more information, read our blog about the three kings parade in Barcelona. 
The Festa Dels Tres Tombs on January 17th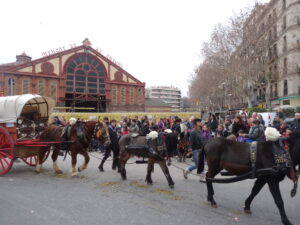 The Tres Tombs Parade is a celebration of the feast of St Anthony Abbot, a Roman Catholic monk and patron Saint of domestic animals, basket weavers, farmers, grave diggers and the sick. This is celebrated in Barcelona through the parade Els Tres Tombs, a procession which completes three laps of the town and dates back to the 15th century when farmers would bring their animals to town to be blessed. 
In Barcelona, during this festival, locals are encouraged to bring their own pets to be blessed. 
No.3 – Check out the January shopping sales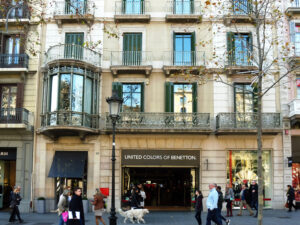 January is the best time of year to grab a bargain in Barcelona, with their incredible winter sales. Down the Passeig de Gràcia you will find every shop you could think of, as well as shopping centres such as Las Arenas. Barcelona offers everything from high- end, haute couture to the more affordable places. 
The sales in Barcelona in January don't just involve the internationally recognisable brands, make sure you also check out your local boutiques! For more information read our blog on when, where and the best bargains in Barcelona in January! 
No.4 – Make a splash for the new year!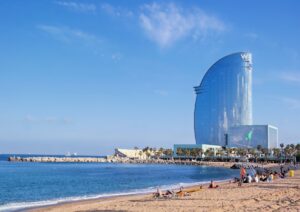 Although it's probably not quite hot enough to go sunbathing, it is a tradition for those Spaniards to start off the new year by leaping into the sea at noon on the first day of the year. Why not take this tradition on for yourself and begin your new year the same? Dive into your 2022. 
No.5 – Check out La Rambla and the Gothic Quarter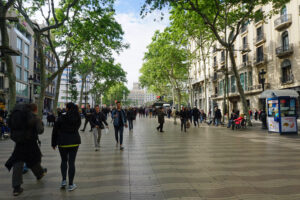 Las Ramblas is one of the busiest strips in Barcelona, populated with hawkers and peddlers, and people selling everything you could think of. It's the perfect place to pick up some authentic Spanish jewellery, some touristic pieces that will help you keep your memories of Barcelona, and the best place to just admire the busy life of Barcelona. 
Luckily, January brings a bit of quietness to Las Ramblas, allowing you to completely take in your surroundings and make the most of them. Before you go, read our blog on the five secrets of Las Ramblas, to see which you can spot when you visit. 
No.6 – Poble Espanyol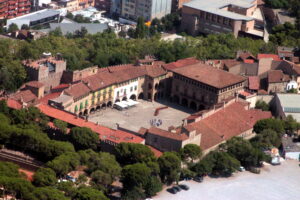 The Poble Espanyol is an open- air museum dedicated to the wide array of architectural developments that Barcelona has been through. It was originally built for the 1929 Barcelona International Exposition, so it is a model of different Spanish architectural styles such as Gothic, Mudéjar, Renaissance and Baroque. This is the perfect place to visit on a warm day to learn more about Barcelona and its history. Discover more information about Poble Espanyol in our blog!
No.7 – Do your own Food Tour through Barcelona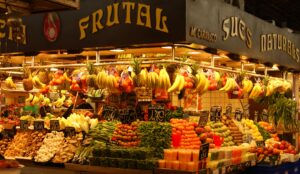 If you know Barcelona, you know it has some of the most incredible cuisine in the world. There are countless food markets, restaurants and takeaways throughout Barcelona that you need to try! La boqueria is one of the most incredible food markets in Barcelona, and is a must visit. 
You will find the best paella restaurants, Italian restaurants, amazing street food and the most incredible locations to enjoy the food, like rooftop restaurants with views over Barcelona.  
No.8 – Check out the Barcelona Aquarium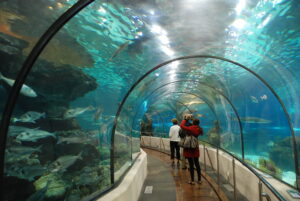 L'Aquarium Barcelona is the largest aquarium in Europe, providing you with the opportunity to see over 11,000 water creatures from 450 different species; from seahorses to sandbar sharks. They offer cage dives with sharks, rays and penguins being fed, and a plethora of information on the underwater ecosystem. Learn everything you need to know on the Mediterranean sea at this fascinating aquarium! 
No.9 – Port Vell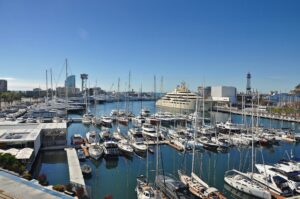 Port Vell is not only home to the Maremàgnum, one of the best places to go shopping near the port. Port Vell is one of the most vibrant harbours in Barcelona, and a very popular landmark due to its scenic views and enormous boats and yachts docked up there. 
The Maremàgnum isn't just an amazing place to go shopping, but it also hosts some great bars, cafes, restaurants and cinemas. Check out our favourite five things to do at Port Vell. 
No.10 – Take a trip Skiing in Andorra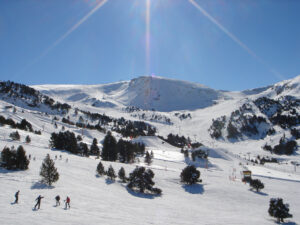 Why not treat yourself to a wild weekend on the slopes in Andorra? It's a beautiful little country in the Pyrenees, the perfect place to get away from it all. And it's only a few hours north of Barcelona. Find out everything you need to know on Andorra.
You can get involved in trips running every weekend from January through to March. These begin at only €260 including return transportation from Barcelona, meals, ski passes and even your equipment. Just make sure to book in advance. 
Cheaper flights and cheaper accommodation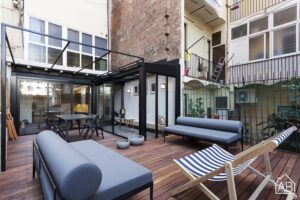 Not only is January quieter, more relaxing, yet still has so much to offer, the flights and accommodation are also so much cheaper. You can see savings across flights to Barcelona from all over the UK and Europe. Not only this, but at AB Apartment Barcelona, you will see savings of up to 25% cheaper than other websites, offering everything from daily rentals to long- term rentals of up to 11 months.