Last Updated: November 2017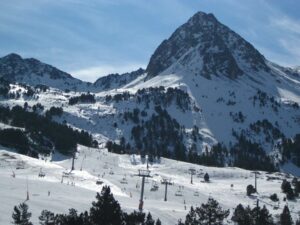 Andorra. That small gem of a country in the Pyrenees. A mountainous land at the heart of nature, where the hills are green and the air exhilaratingly fresh. This certainly is a place to get away from it all, and a place that is able to offer something for everyone. This Catalan-speaking country, just a few hours north of Barcelona, is a real all year round destination, offering heaps of glistening snow during the winter months and a wonderful temperate climate during the summer. Whether you seek total tranquility, leisurely walks, or the feel of the wind swoosh by as you race down the pistes, a holiday in Andorra is sure to cater to your needs.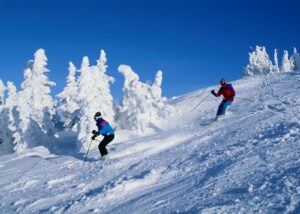 Snow-Season in Andorra
For you sporty types out there, a skiing holiday in Andorra is the ideal thing. A real outdoor nation, it offers a whole host of activities. Winter is an especially good time to visit, as the two main ski resorts, Grandvalira and Vallnord, really come to life.
With 210km of pistes, Grandvalira is the biggest skiing area of the Pyrenees and indeed of Southern Europe. Consisting of seven different sections, it offers visitors an extensive range of options where both beginners and seasonal skiers will be more than satisfied.
Though smaller, Vallnord is also a great area for winter fun. Consisting of three resorts (Arcalís, Arinsal and Pal), ski passes can be used in all, allowing visitors both variety and flexibility. And its not just skiing and snowboarding you'll find in Andorra. How about trying out a snowmobile, or husky riding? Or even snow-snaking or ski-biking? Whatever you fancy, you're sure to find something to entertain you on your Andorra skiing holiday.
Andorran Summertime
Summer is an equally lovely time to holiday in Andorra. The lush green landscape is invigorating, and there are plenty of exciting activities on offer. Walking is popular with both visitors and locals alike, as is horse riding, and given the beautiful surroundings it's easy to see why!
If you fancy something more energetic why not hit one of the wonderfully scenic cycling routes, try some hair-raising mountain biking or even test out some quad-biking? Both Grandvalira and Vallnord shed their ski goggles during the warmer months and play host to a variety of sunny outdoor activities. So for a holiday away from the hustle and bustle of the high-season Mediterranean, a summer break in Andorra is the thing you need!
Time for Some Shopping
One of the treats of Andorra, and a firm favourite with visitors, is that fact that it is a tax haven. Top brands can be purchased for a few euros less, keeping our purses happy. The capital, Andorra la Vella, is a pleasant if tiny city, and a good place to spend a few hours whilst not engaged in more energizing activities.
Andorra la Vella also has plenty of bars, cafés and restaurants, plus plenty of places to explore such as Naturlandia nature park.

Apartments in Andorra
If you're considering a holiday in Andorra the best thing to do is rent one of the authentic, cabin-like Andorra apartments on offer near both ski resorts. Whether you're planning a romantic weekend away, a family holiday or a trip with friends, a cozy apartment set amidst the beautiful landscapes of Andorra is perfect for that escape to the country. Tempted? Your holiday in Andorra awaits…