Last updated: November 2017
Barcelona is a creative and artistic city with many internationally renowned galleries and museums such as the Picasso Museum, the MACBA contemporary art museum, and the Fundación Miró. There are also countless smaller galleries, cultural centres, cafés and corners where art is displayed and appreciated.
Other art in Barcelona reflects Barcelona life itself and can be experienced in the open air under Mediterranean blue skies. Urban art and graffiti murals are constantly flowering and being replaced by new pieces. There is also a wealth of permanent urban art in Barcelona; the public sculptures that are scattered around the city for all to enjoy. Here are a few you might already be familiar with:
1. Raval Cat by Fernando Botero
The up and coming neighbourhood of Barcelona's Raval district is getting trendier by the minute. Complete with its own palm-tree lined Rambla, it's definitely worth visiting for the alternative art galleries, nightlife, and of course, the gorgeous fat cat!
This large bronze feline stands with its thick tail towards the bottom of Rambla Raval, sharing "selfies" with countless tourists and just begging to be climbed by 3am students. The kitty arrived in Barcelona in 1987 and has already moved twice. It once stood in front of the MACBA but after much discussion and controversy was moved to the Raval.
The artist responsible is the well-known Fernando Botero, a Colombian painter and sculptor who is renowned for his exaggerated, puffed up human and animal forms. His huge idiosyncratic bronze sculptures have been displayed in Los Angeles, New York, Madrid, Tokyo, and Chicago.
2. Gambrinus by Javier Mariscal
Gambrinus is probably the happiest lobster in Barcelona and one of the stars of Barcelona's public art. He waits at the end of Passeig de Colom with big pinching claws and a cheeky smile ready to welcome you to the seafront. This huge cartoon-like lobster was, like most of the urban art in Port Olympic, commissioned for the 1992 Barcelona Olympic Games.
Gambrinus was created by the Valencia-born artist Javier Mariscal, dubbed "the Peter Pan of Spanish design". He first won the adoration of the public in 1988 with his design of "Cobi," the official Olympic mascot for the Games in 1992, creating its corporate identity with this friendly dog mascot. Gambrinus is clever, edgy, and humorous. Below it there was once a Gambrinus café bar, and whilst the café has now closed the lovable lobster remains.
3. Barcelona's Face– Roy Lichtenstein
One particular piece of street art in Barcelona that is impossible to miss is Lichtenstein's "Cap de Barcelona." The late American pop artist Roy Lichtenstein created a colourful portrait of a woman's face in the cartoonish way for which he is so famed.
Barcelona's Face (as it translates) was commissioned for the summer Olympics of 1992 and was inspired by the famous Catalan artist Antoni Gaudí. Lichtenstein was clearly so impressed by Gaudí's technique of "trencadis" tiling (smashing up ceramics and piecing them back together in patterns) that he adopted a similar form creating Barcelona Head out of coloured ceramic tiles.
The sculpture stands tall at 64 feet, in front of the post office at the end of Passeig Colom. She can be seen from many directions, and can be appreciated from all her different sides. Her red lips and luscious lashes welcome you to the port and invite you to the Moll de la Fusta.
4. Dona i Ocell by Joan Miró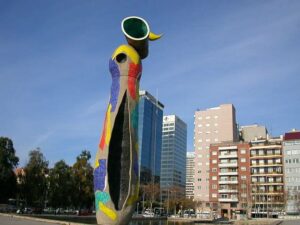 You'll find this Barcelona sculpture behind Las Arenas Shopping Centre and Plaça Espanya, in Parc de Joan Miró. "Dona i Ocell" means "woman and bird" in Catalan. These are recurrent themes in Miró's work although you might not always immediately recognize them!
The striking 22 metre high sculpture is located close to the lake and rumour has it that on the night of Sant Joan, that epic night of Midsummer fire and fun in Barcelona, it glows in the light of the bonfire that seems to burn on the lake below. It was commissioned as part of Barcelona's 1983 public art initiative. Its strange, abstract quality was considered quite daring and its size is obviously pretty dominating. Joan Artigas helped Miró cover his concrete sculpture in brightly coloured broken mosaic pieces, a technique often used in Gaudí's work.
5. Frank Gehry's Golden Fish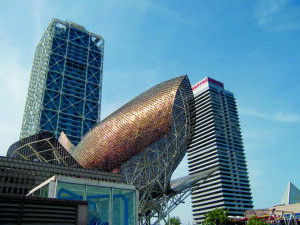 The Golden Fish looks down on Barcelona's beach and is a striking feature in the seafront skyline. It swims below Barcelona's tallest buildings, the Hotel Arts and the Mapfre tower, like a goldfish skirting the deep reeds of a lake.
Its architect is none other than Frank O. Gehry, considered to be one of the most creative contemporary architects, who artfully plays with space, materials and form to create unusual, lively works. His masterpieces include the Walt Disney Concert Hall in Los Angeles, and the Guggenheim Museum in Bilbao. Like so much of Barcelona's public art in this area, Gehry was commissioned for the 1992 Olympics.
This huge fish sculpture, measuring 35m x 54m was inspired by Gehry's ongoing interest and fascination in fish imagery and shapes. The position of the fish looking out to sea is rather appropriate too. The sculpture itself is made out of stone, steel and glass and its shiny metal plates changing colour depending on the sunlight.
There are countless more public art sculptures throughout Barcelona; keep your eyes open and savour each new experience as you encounter it. The transformative power of art can be found alongside many of the busy streets, high-rise buildings and urban infrastructure of this Mediterranean metropolis, and is one of the subtle details that give Barcelona such a unique and vibrant energy.