With the Mediterranean Sea as its backdrop, it comes as no surprise that Barcelona offers some of the best and freshest seafood around. And no trip to a Spanish city is complete without a taste of 'paella' – a traditional rice dish made with the best land or sea fare (typically prawns, squid, muscles, chicken, rabbit or vegetables). However, with great desire for this dish comes an abundance of eateries trying to do it justice. We know that not a lot of places can cook paella as it should be, oozing with flavour and rich ingredients. So, we've put together a list of some our favourite and most popular seafood and paella restaurants in Barcelona, so that all you have to worry about is the eating!
7 Portes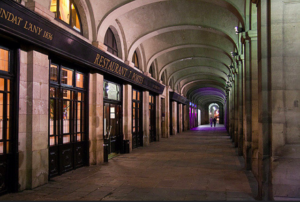 Featuring 7 distinct doors to which its name is attributed, 7 Portes offers some of the city's most famous paella. Founded in 1836, this classic and timeless establishment is a favourite for both residents and tourists alike. While exuding an 'old world' feel, the restaurant offers traditional Catalan cooking creating a memorable dining experience. The impeccably dressed waiters offer unparalleled service and you can expect to receive generous portions, exploding with flavour. You only have to ask a local where to find good paella and they'll most likely recommend this smart establishment. Head here for an elegant evening of crisp white linen table cloths, exquisite wine and of course, fantastic seafood. Make sure you book in advance!
Passeig d'Isabel II 14, 08003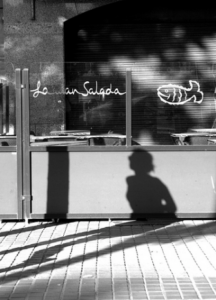 La Mar Salada
In 1993, La Mar Salada opened in Port Vell, the harbour in the district of Barceloneta. Twenty years later, the fifth generation of the family whose hard work and passion brought the restaurant to life, has transformed the place into an unforgettable gastronomic experience. In recent years, La Mar Salada has positioned itself as one of the leading seafood restaurants in Barcelona. Some of their popular dishes include spectacular stews and paellas, like their black rice with cuttlefish and their 'de senyoret' rice with razorfish, monkfish and prawns.
Passeig de Joan de Borbó 58-59, 08003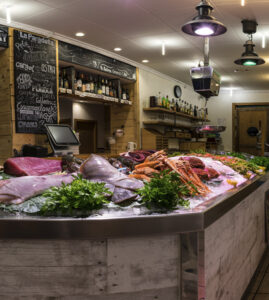 La Paradeta
In July 1994, Pedro Rodríguez, born in Cádiz and raised in Barcelona, decided to launch a small seafood restaurant in the heart of Sants neighbourhood in Barcelona. It was a new restaurant concept, based on offering exquisite seafood at a reasonable price that everyone could afford. Part of what makes La Paradeta so great is that you can choose the fish from their ice-counter yourself, order by weight, and then wait for your order to be called out from the kitchen. They have a huge selection of seafood on offer, including razor clams, squid, cockles, mussels, octopus, and more. They have a few different locations all over Barcelona, so you're never too far from La Paradeta.
Carrer Comercial 7, 08003
La Muscleria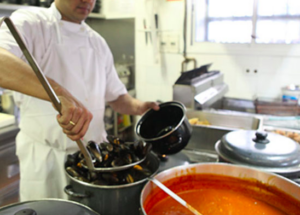 Opened in 1997, this restaurant has 10 years of gastronomic and culinary experience. As the name suggests, their speciality is mussels, inspired by traditional Belgian cuisine and cooked in over 50 different ways. In addition to mussels, the menu also offers salads, tapas, freshly made coconut, and elaborate fish and seafood dishes. Located in the heart of La Dreta de l'Eixample, the informal and cosy atmosphere is inviting to locals and tourists alike, where they can enjoy some of the best mussels in town.
Carrer de Mallorca 290, 08037
La Gambeta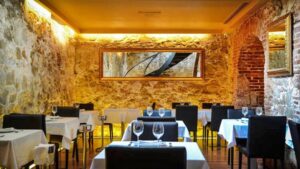 This much-adored establishment serves fresh fish and seafood in traditional Catalan and Mediterranean dishes, just yards from the beautiful Parc de la Ciutadella in one of the most bustling and chic neighbourhoods of the city – El Born. Located in an arched original building, featuring rustic brickwork, this is the place to go for an evening of sophistication.  Fresh and creative dishes are served in a relaxed and inviting atmosphere, perfect for a night out with friends. Afterwards, why not take an evening stroll around the park to walk off your feast!
Carrer de la Fusina 3, 08003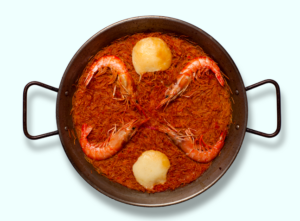 Restaurant Elche
For more than 50 years, the Iborra family has dedicated time and hard work to sharing the culinary culture of their home in Elche, in the Alicante Province. Bringing their passion and knowledge north to Barcelona, this temple for paella lovers was one of the first restaurants in the city to specialise in the traditional rice dish. It quickly gained a great reputation and is now one of the most popular and well-loved restaurants serving paella. Expect an evening of class, with dishes such as paella with cod and wild mushrooms or grilled sea bass.
Carrer de Vila i Vilà 71, 08004
Have we whet your appetite? Read about how you can indulge in a three-course lunch for just 10€ in our blog post about Menús del Día.