When you're in Barcelona, you can simply never get bored. Be endlessly entertained by the street festivals, underground techno parties, art galleries, and much, much more. It's very easy to get FOMO (fear of missing out) when you decide to stay home in Barcelona!
That's why sometimes the best idea is to take the time to leave the city for a day, to escape the fast pace, and to step out into nature. Nothing can unwind you better than a relaxing day on the beach!
As is the case with any city beach, they can get quite crowded and be a bit messy from the sheer volume of visitors. For true relaxation, we recommend venturing a little further to one of the lesser-known, hidden beaches in and around Barcelona.
Here's our favourite secret beaches near to Barcelona for you to try!
Platja de Castelldefels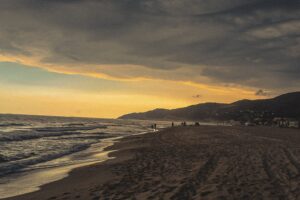 Castelldefels is only 30 minutes south of Barcelona and easily accessible by train from the Passeig de Gràcia station. It is a beautiful, wide beach that has a stunning backdrop of the mountains to admire. There's ample space to relax, and you don't have to worry about vying with other tourists for a spot!
We recommend bringing some snacks and drinks along with you to Castelldefels Beach, as there are no beach bars around like in Barcelona. There's not much of anything around here, which is why it's one of our favourite beaches to escape from the city to.
Platja de Garraf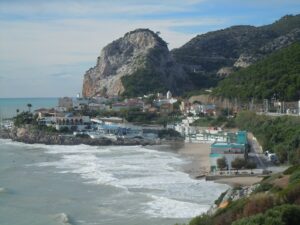 Only a few stops further than Castelldefels, you can find the lovely Platja de Garraf. It offers a completely different beach experience to Castelldefels, as this beach is much smaller, and located in a rocky area among impressive cliff faces. Expect to find cute beach huts by the bay, and a sailing boat harbour too.
Platja de Garraf is slightly more touristy than Castelldefels but is well worth a visit to experience the rocky landscape and calm waters. We recommend stopping for dinner after the beach at La Cúpula restaurant, which serves delicious seafood dishes with panoramic views of the sea to accompany!
Platja de Morer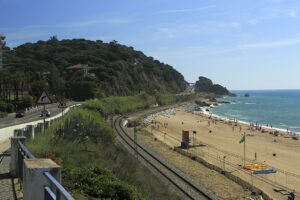 Located north of Sant Pol de Mar, just an hour north of Barcelona, is the secret Platja de Morer. It runs parallel to the train track and has 750 metres of golden sands and clear waters to enjoy. Despite the train track and highway above the beach, you'll find beautiful golden cliffs around the lagoon. There are also the roman ruins of Morer, which used to be a wine production centre way back in the 1st century!
The beach has a variety of services, such as showers, footpaths and a Red Cross point. It also has wooden walkways adapted for people with reduced mobility or prams. You can get here on a direct train from Plaça Cataluña.
Platja de Sant Simó
This paradise in Mataró is one of the most popular hidden beaches near to Barcelona. It is a stretch of fine, golden sand, with very little visitors to contend with! It also goes by the name of "Platja del Fortí" or "del Búnker" which means "Fort Beach" or "Bunker beach", as you can find an actual Spanish Civil War bunker located on the beach! The forts are the last remnants of the Republic defence line, and historians have worked hard to preserve them.
Platja de Sant Simó is divided up into an area for family use, and another which is a suitable for naturists. There are beach bars, showers, volleyball, sun loungers, WiFi, a floating inflatable park, and much more to have a fun day out at this beach!
Platja del Canyadell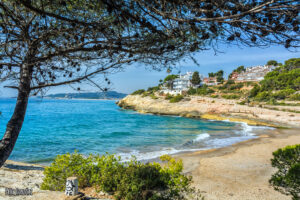 The small town of Altafulla, just an hour away from Barcelona, has several beaches that are worth visiting, but we recommend the Canyadell cove. It is a small sandy beach, with several white houses and a lush pine forest, that makes for the most postcard-worthy photos!
It is a quiet beach, so you can be rest assured that you'll have some peaceful R&R on a day trip out of Barcelona here. It has shallow water that is perfect for taking a dip, and is the perfect spot to admire the incredible sunsets that this coastline is famous for.