Fire up the grill because summer calls for a BBQ in the sunshine! With such beautiful year-round weather in Barcelona, what could be better than a barbecue with lots of carne (meat) and cervezas (beers) to accompany?
You may have been wondering whether it's even allowed for people to fire up the barbie in Barcelona, and the answer is: it depends on where! It can seem a bit confusing, but the rules are that it's illegal to have a BBQ within the city area, such as in the Ciutadella Park, for example. You're allowed to on a private balcony or terrace, but often neighbours won't take too kindly to this…
If you head just out of the city, however, there are a plethora of beautiful settings in which you can enjoy a barbecue with friends and family. To save you the time of researching the better spots, we've compiled our list of the best places in Barcelona to have a BBQ!
1. Font de Les Planes
Fancy a barbecue but don't have all the right equipment? Not to worry, as at Font de Les Planes in Vallvidrera, you can rent a table, grill, firewood, and charcoal, for only a few euros! This means you can simply turn up with your food, and you're good to go. We recommend getting here in good time to get a table, as it can fill up fairly quickly.
The location here is fantastic, nestled in the Collserola Park, a beautiful and serene setting surrounded by nature. It is open every day except for Tuesdays and holidays, from 9am to 7pm. From the centre of Barcelona, it only takes around 15-20 minutes to get here too by train.
Address: Les Planes de Vallvidrera, Carretera de Vallvidera a Sant Cugat (BV 1462), 08017
2. Parc de la Trinitat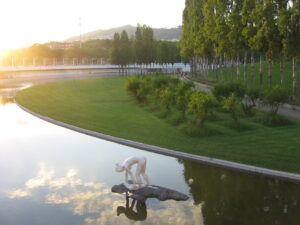 This is a great spot for kids too, as the park has a playground with swings and sports facilities. Simply hop onto the L1 (red line) metro and get off at Trinitat Vella stop. This service is open every day from 10am until 6pm.
Another great spot for a BBQ in Barcelona is at the park in Trinitat Vella, which has lots of sculptures and lovely shaded areas. Here you can also rent everything needed for your barbecue with your loved ones, costing only €12 per table.
Address: Nus de la Trinitat, 821, 08033
3. Santa Creu d'Olorda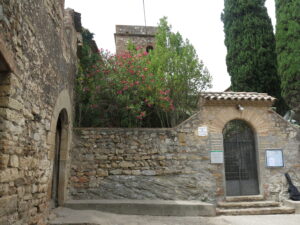 Another wonderful BBQ spot in the Collserola mountain range is the Santa Creu d'Olorda. Here you can find a beautiful Romanesque chapel, with a pleasant recreational area offering a wide range of outdoor activities.
At Santa Creu d'Olorda you can find several picnic tables, and a small restaurant where you can buy everything you need to cook on the BBQ! In summer, the area is open 7 days a week from 9am to 4pm, but if you're coming at a different time of year, make sure to double check the timetables.
Address: BV-1468, km 6, 08750
4. Torrent de Can Coll
The Torrent de Can Coll restaurant is another great option, located just a few miles away in the Collserola hills. It's a hit place with cyclists, as it is found on a popular cycling route nestled in nature. They have a large leisure area where you can find a picnic zone with barbecues.
If you find yourself forgetting to even bring the food, don't fear! The bar sells ingredients that you can easily pick up. You can also rent grills, firewood, and charcoal, as well as many other things from the bar area and kiosk. Additionally, if you visit on a Sunday morning, you can visit the Can Coll Environmental Education Centre, where you can take a guided tour in a fifteenth century farmhouse to learn about the heritage of the building and the surrounding area!
Address: BV-1415, Km 2, 08290
5. Gualba Environmental Park
If you're looking for a really unique spot for your BBQ, and perhaps want to combine it with a hiking trail, the Montseny Natural Park is the best place for you! Visit an impressive waterfall on your walk, before settling down in the picnic and barbecue area under the shade of the trees.
You can book a table that includes free access to the park, marked maps, and even access to their football field for a kick about with your friends too. Even better, in summer you can also combine your ticket for the picnic area with the swimming pool to take a dip to avoid the heat! They're open here from 9.30am to 8pm in Summer, and until 6pm in the winter months.
Address: Can Illa Vella, 08474, Gualba
6. Barbacoa Europa (Gavà)
Are you dreaming of having a BBQ by the sea? If you want to combine an enjoyable day at the beach with a delicious slow-cooked BBQ, this restaurant in Gavà makes it so simple. Rent the chairs and tables and cook a big paella in one of the three barbeque area that the venue has outdoors.
This place is so special that we'd say it's even a good place to hold a celebration with your group! It's open every day of the week, and is open on weekends from 8.30am until 12am, so the fun can keep going until late!
Address: Av. Europa 92-102, 08850 Gavà Mar
7. Begues Valparaíso
This barbecue spot is found just next to the stunning Garraf Natural Park, in Begues, a town that is famed for its culture and natural beauty. The barbecue area here has over 150 tables to have your BBQ, and if you're thinking of having a bigger celebration, you can book a Foc Rodó, a large grill where you can make huge paella and grill food for big parties.
They're open on Saturdays, Sundays, and holidays from 9am to 8pm, and although it's a little far out of Barcelona, we couldn't recommend a trip here more!
Address: road from Gavà to Avinyonet, km 13.7, 08859