Açai is the Brazilian superfood that has taken the world by storm thanks to its jam-packed nutritional benefits and delicious flavour. Açai (pronounced ah-sigh-EE) is found on açai palm trees in South American rainforests, with the nickname "purple gold" due to its powerful content of vitamins and nutrients.
South America reaches the Catalan capital with ease, as you can find so many fantastic cafés and restaurants serving delicious açai bowls. It is usually served with honey, peanut butter, granola, alongside other fruits such as banana and strawberries. In the warm summer weather, there's nothing better to help cool down than a frozen açai smoothie bowl!
Here's our top recommendations of the best açai bowls to try in Barcelona:
Oakberry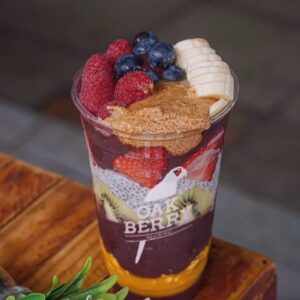 Oakberry is a world-renowned açai spot that aims to serve healthy fast-food, for those who want nutritious food, and quickly! Oakberry's açai is 100% natural, containing no food colouring or artificial preservatives. Their production process seeks to preserve as much as possible all the benefits of the açai berry.
Customise your bowl with unlimited toppings at no extra cost, including chia pudding, kiwi, condensed milk, peanut butter, cacao nibs, seeds, yoghurt, mango puree and much more!
Addresses: Carrer del Baluard 52, Plaça del Sol 15, Carrer del Joncar 5, and Carrer de Sardenya 340.
Billy Brunch
Famed as one of Barcelona's best brunch spots, it's unsurprising that Billy Brunch serves up one of the best açai bowls in town! They blend their açai with banana, and top it with coconut, homemade granola, and a mix of tasty fruit.
Billy's is a great place for normal smoothies too, which they call their 'detox juices'. If you're heading in a group with people who want something a little less on the healthy side, they have an extensive menu of other options including American pancakes, English breakfast, sandwiches, and more.
Address: Carrer de Bailèn, 115
Açai & Me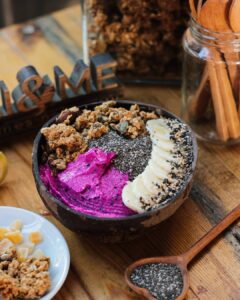 Located just a stone's throw from the beach, visitors to Açai and Me say that it's the best açai in the whole of Barcelona. They serve hearty portions of the 'purple gold', with a variety of different options to choose from.
Our personal favourite recommendations are the 'Tame my Dragon', which is blended with dragon fruit and topped with granola, banana, and chia seeds, and the 'Hold my Banana', which is topped with blueberries, peanut butter, banana, and homemade granola. Mouth-wateringly good!
Address: Plaça de Mar, 08003
Green & Berry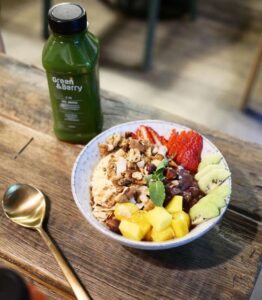 Green & Berry is another local favourite for a bowl of soul-soothing açai! They pride themselves on serving delicious, healthy vegan & vegetarian food, as well as cold-pressed juices, superfood lattes, and more.
They have a wide range of smoothie bowls to choose from, and two açai options that come with a rainbow of fresh fruit on top! Our favourite is the rainbow açai bowl, which has homemade granola, banana, strawberry, mango, and kiwi.
Address: Carrer d'Enric Granados, 153
Flax & Kale
Flax & Kale is a big household name for healthy food and drinks in Barcelona, with them even having a range of smoothies available to buy in the supermarkets! They are a chain of 'flexitarian' restaurants, with over 80% of their menu being plant-based, and the remaining 20% of recipes containing oily fish.
On their weekend brunch menu, you can find the 'Açaí na tigela' bowl, which is açai blended with banana, strawberries, cashew milk, and agave, and topped with delicious blueberries, watermelon, crumble-style granola, hemp seeds, and goji berries. To die for!
La Hamaca
La Hamaca is a super-affordable and environmentally option if you're fancying an açai bowl in Barcelona. They have different customisable options of their bowls, that you can get for as little as €6!
They use seasonal fruits to blend with their açai and offer many different blends including our personal favourite the 'açai passion', which is with passionfruit, banana, and strawberries. Add your favourite toppings and feel like you're in fruity heaven at La Hamaca!
Address: Plaza Sant Agusti Vell, 15, 08003
FitBar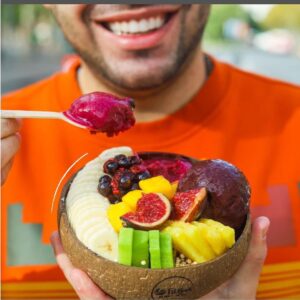 This pint-sized eatery is one of the newest additions to the Barcelona açai scene. Found in the Barceloneta neighbourhood, FitBar serves delicious smoothies, juices, tapioca sandwiches, and other Brazilian treats.
Their açai bowls are custom made to your tastes and are super healthy with no added sugars. Choose from toppings such as: banana, granola, puffed rice, honey, and agave. Grab one yourself for only €5!
Address: Carrer de Sant Miquel, 41