Deciding where to stay in Barcelona can feel a little daunting, given that each neighbourhood is vastly different to each other in terms of transport, general safety, and access to facilities: some of the most important factors when looking for a family holiday home.
Below are four of the neighbourhoods that we think are the best places to stay when coming to Barcelona with family, as due to their close proximity to the city centre, you are likely to find many more available properties than in the suburbs further away mostly filled with long term residents.
Eixample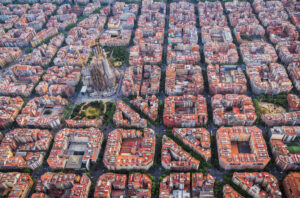 Eixample's wide streets and grid like system make it a great neighbourhood for families. Unlike the Old Town neighbourhoods like the Gothic Quarter, Raval, and El Born, it's almost impossible to get lost in Eixample.
The neighbourhood is one of the newer areas in Barcelona, constructed in the 19th and early 20th centuries, which means it's littered with public transport routes like metro stations, bus stops, and even tram routes further out. There are also wide cycle lanes for active families who want to see the city using pedal power.
Plenty of important Barcelona landmarks are also situated in Eixample, namely The Sagrada Familia, La Pedrera, Casa Batlló, and the famous Passeig de Gràcia avenue filled with shops and restaurants.
Gràcia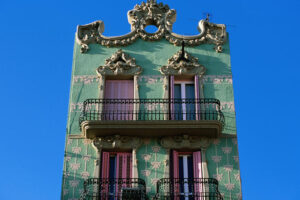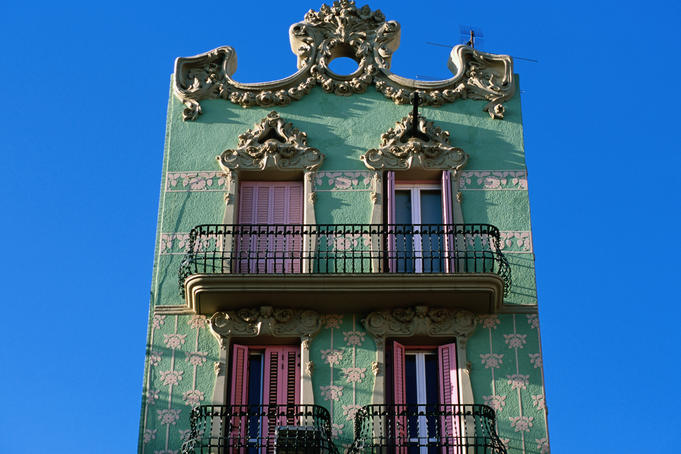 The neighbourhood of Gràcia was previously an independent village separate from the old town of Barcelona. It lived as a self-sufficient neighbourhood for hundreds of years until the industrial revolution saw it connected to the rest of Barcelona through building the previously mentioned Eixample neighbourhood.
Locals say that once you're in Gràcia, you'll never have to leave, which makes it perfect for families that want to experience the more local life that Barcelona can offer.
Gràcia is a little further out than the other neighbourhoods on this list, but its community feel is second to none, and is generally a lot safer than the other barrios in the centre. It is also well-connected by public transport routes and houses a few city gems like Gaudi's first architectural creation, Casa Vicens, and his later work, Park Guell.
Poble Nou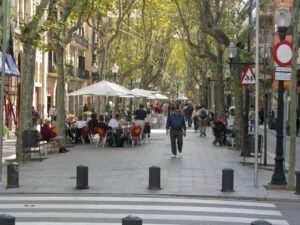 For families that want to stay close to the beach during their time in Barcelona, we recommend staying in the neighbourhood of Poble Nou. This barrio has previously been referred to as the Catalan Manchester, due to the huge part it played in Barcelona's Industrial Revolution in the 19th century.
It is a peaceful yet vibrant neighbourhood and its commercial centre, La Rambla de Poblenou, is full of cafes, bars, and restaurants, as well as artisan markets on weekends.
For shopaholics, there are two large shopping centres in the area, Les Glòries and Diagonal Mar, as well as the second-hand and vintage Encants Market, and infamous Palo Alto Market held the first weekend of the month.
Sarrià- Sant Gervasi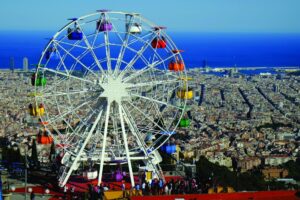 Sarrià- Sant Gervasi is the best neighbourhood for those staying in Barcelona for a longer period of time. It is largely residential and remains both peaceful and authentic to Catalan life. As well as plenty of parks and green spaces, there are great cafes and patisseries.
It is also home to Tibidabo mountain, an iconic Barcelona landmark, and the interactive science museum CosmoCaixa. Like Grácia, the Sarriá neighbourhood is close-knit, but also welcomes newbies into the community with open arms.
Hotel or Apartment?
We highly recommend staying in an apartment during your stay in Barcelona as the extra space and extra facilities will make your experience a lot more comfortable, and mean that you can explore the city on your own terms instead of relying on a hotel.
For the best selection of apartments in Barcelona, check out our website. You can search by location, so don't forget to filter your selection with the aforementioned neighbourhoods, if you're searching for a family holiday home in the city.