Originally built for the 1929 Barcelona International Exposition, Poble Espanyol is a model village that features winding streets, charming squares, facades and buildings inspired by different autonomous regions and provinces of Spain. Situated atop Montjuïc, it was built according to the original idea of famous Catalan architect, Puig i Cadafalch, and is made up of different Spanish architectural styles such as Gothic, Mudéjar, Renaissance and Baroque. The village makes for a perfect place to go exploring on a warm, sunny day, so now spring has finally sprung and summer is just around the corner, here is you need to know about Barcelona's famous Poble Espanyol!
Plaza Mayor
A replica of the Castilian square of Riaza in Segovia, Plaza Mayor is one of the largest and most emblematic spaces in Poble Espanyol. The grand square is ideal for large festivals, outdoor parties, concerts, banquets, and other events. When there isn't an event at Plaza Mayor, it also doubles as the perfect space to rest your legs and enjoy a bite to eat in one of the many restaurants that surround it, such as Boria or Albí. Characterised by its large town hall building (Ayuntamiento de Valderrobres) and vast open-air space, many famous DJ's and artists travel to Barcelona to perform here, especially during the summer season. Top Barcelona events companies such as Brunch-In Barcelona and Off Sonar are known for hosting some of their top day and night parties at Plaza Mayor. For more information on events at Plaza Mayor de El Poble Espanyol, see Resident Advisor's official website or Poble Espanyol's official site, where you can find all of the upcoming activities and events across Poble Espanyol's many venues.
Plaza Aragonesa
Plaza Aragonesa is another famous square in Poble Espanyol, surrounded by various shops, artisan craft stores and a tapas restaurant, La Bodeguita del Poble. The Torre de Utebo, a grand clock tower, stands majestically over this quaint plaza, and is one of the well known Mudéjar style buildings in Poble Espanyol. The tower is a replica of the Torre de los Espejos (Tower of the Mirrors) that can be found in the Utebo area of Zaragoza.
Catalan Architecture
What would Poble Espanyol be without an area dedicated to Catalonia? Admire the beautiful Monestir Romànic de Sant Miquel, an example of Romanesque Catalan architecture. Made up of a combination of elements from different monasteries around Catalonia, this quaint yet grand building is surrounded by lush green gardens and impressive panoramic views over Barcelona.
If Girona is your favourite destination in Catalonia (other than Barcelona, of course!), then look no further than the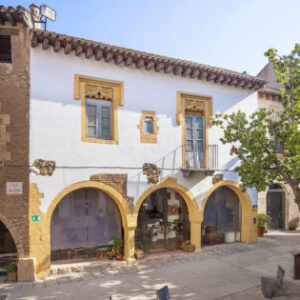 buildings inspired by the town of Besalú, one of which is a cute nude-pink hued house with pastel blue shutter doors and balconies covered in colourful flowers – like something out of a fairytale! Casa de los Balbs is another Girona-inspired gem, with whitewashed walls with gold-yellow window trims and arches, inspired specifically by the Santa Pau area.
Tarragona, a province south of Barcelona, was also an inspiration for many of the Poble Espanyol structures, such as Portal d'en Bover and the Hospital de Santa Magdalena. For more information on Catalan inspired architecture in Poble Espanyol, see the official website.
Andalusian Region
In the central area of Poble Espanyol, there is a space dedicated to the Andalusian region, which serves as a delightful architectural contrast to the rest of the village. Characterised by its winding, cobbed streets, white facades and blue flower pots, this area replicates provinces such as Córdoba, Seville, Cádiz and Jáen. Relax on a traditional Córdoba patio surrounded by greenery and pink flowers, visit the replica of the Palacio del Marqués de Peñaflor from Seville, or simply take a stroll along the Cádiz inspired Calle Arcos as you take in the beauty of Andalucía.
Opening Hours
Monday: 09:00 – 18:00
Tuesday, Wednesday, Thursday, Sunday: 09:00 – 00:00
Friday: 09:00 – 03:00
Saturday: 09:00 – 04:00
How to get there
Metro Station: Espanya (L1 & L3)
Bus: Poble Espanyol (Line 13, 23 and 150)
Ferrocarrils Train: Espanya
Bus Turístic (Tourist bus): Poble Espanyol stop
Entrance Fees
Adult: €14
Child (from 4 to 12 years old): €7
Night visit (from 20:00 onwards): €7
Student: €10.50
Retired: €9
Family: €36
There are plenty more provinces to explore in Poble Espanyol, we've only named a few here! So now you're clued up, jump on the metro or bus towards the model village and explore the whole of Spain in one day! What are you waiting for?