Occupying 2,583 square metres and housing more than 270 stalls, La Boqueria is one of Europe's greatest food markets and a true treasure of Barcelona. Located in the bustling street of La Rambla, the city's most famous street, the market attracts thousands of people every day. The vibrant colours and scents of the fresh produce will have your eyes popping and taste buds tingling.
History
The first mention of La Boqueria dates back to 1217 when farmers from villages surrounding the city supposedly set up temporary stalls selling meat on Pla de la Boqueria.  In the 19th century, after the stalls moved sites various times, a square named Plaça de la Gardunya was constructed to give the market a home and metal roofs were put up to protect the stalls from the elements. In 1985, Plaça de la Gardunya was eliminated and the market was moved closer to La Rambla, in Plaça de Sant Josep where it stands today. Between 1998 and 2001 the market area was remodelled, making it a covered, arcaded and un-enclosed square. The facilities were rebuilt and the roof was also reformed.
Over the hundreds of years since its founding, La Boqueria market has undergone multiple changes. From its beginnings as a humble meat market founded by farmers, it has grown hugely and now boasts a diverse array of fresh fruits and vegetables, fish of all kinds, meats and offal, speciality items, and sweet treats, just to mention a few. You can even sit at some of the stalls to enjoy some freshly cooked tapas and a glass of cold beer. Appearing on numerous lists of the world's best food markets, La Boqueria needs to be on your list of places to visit whilst during your stay in Barcelona.
Stalls
La Boqueria market is home to fresh fruits, vegetables, cheese mongers, fishmongers, dozens of stalls specialising in hams and cured meats and much more. It can satisfy almost any gastronomic craving with its cornucopia of fare. Whilst you cannot go wrong with pretty much any purchase from the limitless options, a few worth taking note of are Universal Kiosk, Bar Pinotxo, ESlice and El Quim.
Universal Kiosk is known for serving up the fresh, grilled seafood, at any time of the day! Some of their specialities include the grilled sardines, Galician octopus and razor clams. This stall is a must visit for those of you who are seafood and shellfish lovers.
A favourite of American chef and food TV presenter, Anthony Bourdain, Bar Pinotxo is a small, family-run bar that seats up to fifteen. It has made a name for itself among tourists and locals, alike. Dishing up authentic Catalan tapas, it is worth the wait! Check out the bar's gastronomic delights here.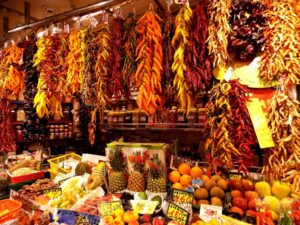 El Quim, a favourite amongst locals, is a 16-metre counter that is always filled with people. From the bar's humble beginnings with five stools to the eighteen that they have now, packed with hungry visitors, El Quim continues to create delicious meals that have customers coming back for more time and time again. Check out how about El Quim became what it is today here.
Fancy something a little different to tapas? Creating fresh pizza everyday made from the best quality ingredients found in the market, ESlice offers delicious pizza to snack on while wondering through the various aisles. Check out what they have to offer here.
To see a full list of the stalls at La Boqueria, click here.
La Boqueria Food School
If you are interested in learning more about food and cooking, check out La Boqueria Food School. In this culinary classroom, a food fanatic with no cooking experience can be transformed into a talented kitchen whiz. Offering courses that combine theory and practice, there are classes for all skill levels ranging from amateurs, to professional, and even including kids. Each course is taught by knowledgeable chefs and sommeliers.
With the cooking workshop, you will tour the market while learning about the importance of choosing the highest quality ingredients. You will then head behind the counter and cook up a four-course meal with a renowned, experienced chef who will gladly answer all your gastronomic inquiries.  Dive head first into the culinary pleasures of Spanish cuisine as you buy, cook and eat like a local!
La Boqueria is without doubt a must-visit during your stay in Barcelona. Teaming with history, culture, and of course, delicious food and drink to entertain you for hours, you can't go wrong with a visit to this age-old market. The mere fact that it has been running for centuries proves its worth! Check out our central apartments within easy reach of La Boqueria.