Barcelona fortunately hosts a very long and very hot summer. With these high temperatures there's no doubt that many wish to make the most of this, cool off and enjoy the green spaces and beaches that the city offers. 
From urban tourism parks, with everything you need nearby, to more isolated locations that not everyone knows about, we will give you our favourite picnic places in Barcelona. Do you like a bit of a challenge and prefer a little hike before you're treated to a picnic? Or perhaps you're looking for a more relaxed spot for a quick bite? We have you covered! 
Our Favourite Parks 
Parc de la Ciutadella, a Must See 
The Parc de la Ciutadella is a must visit in Barcelona. Just round the corner from the famous Arc de Triomphe, this Parc has everything you could need from yoga classes to boat hires.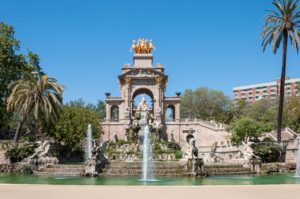 This is a fab spot to really soak up the sun on an expanse of green space. You will find plenty of others picnicking, partying, exercising, playing music or almost anything! This park is a great choice for a day of sightseeing, somewhere you can slow down a bit and relax. 
Jardin de Mossèn Costa i Llobera, a Quieter Choice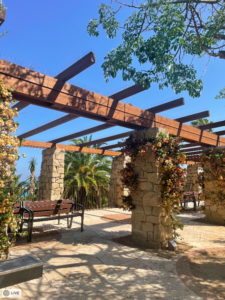 This incredible garden isn't a first choice for everyone, meaning it's a lot quieter and in fact the perfect place for those who prefer a more tranquil location with a lot more privacy. This park is located at the foot of Montjuïc making it a good stop off for those exploring this side of the city. 
The botanical garden is full with cacti and succulent plants, you'll find a plethora of aloe Vera and all types. You can enjoy views over the sea from above and walking to this park is a nice choice for a bit of exercise before treating yourself to a tasty picnic! 
Parc del Laberint d'Horta, Get Lost in This Maze 
This beautiful green space is known for its maze- like design. This historical garden comprises an 18th century neoclassical garden and a 19th century romantic garden. This is one of the oldest of its kind in the city & popular with the locals!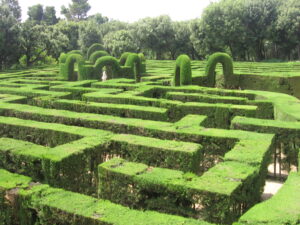 Located in the Horta- Guinardó district, this park is a good choice for those staying in Sarrià, Gràcia or even Eixample. 
Parc Güell, Gaudí's Playground 
Again, you will have to trek a little further out of the city centre. But the Parc Güell is an absolute must see in Barcelona! If you don't know who Gaudí is, he's an incredible Catalan architect who has designed some of the most famous pieces of modernist art around Barcelona, giving the city its reputation for great art. 
The Parc Güell is the perfect place for a picnic, a stroll, a romantic date or a spot to share a bottle of wine! At the top of Carmel hill, this park stands, composed of gardens, and architectural elements. There's a very famous bench that runs along the plaza looking much like a snake. You must look out for it! You will also be amazed by the plethora of unusual species you will come across in the park, including geckos and rock doves! 
The Classics
The Carmel Bunkers, at the Top of Turó de la Rovira 
The Carmel Bunkers is a viewpoint from old Spanish Civil war bunkers where anti- aircraft guns were installed. This viewpoint gives the most amazing panoramic views of the city and is always filled with atmosphere. 
This again includes a small walk to the top if you're travelling via bus, but the view at the top is certainly worth it. You'll find all sorts at the top, including artists, photographers, talented musicians and more! Another spectacular location for a picnic. 
The Gothic Cathedral, for Relaxed Vibes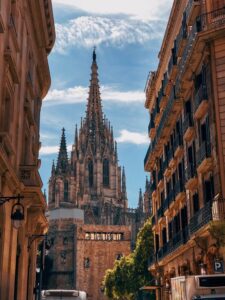 The gothic cathedral is in an ideal location for a quick stop & chill whilst admiring your surroundings. Enjoy the live musicians playing beside the cathedral, listen to the background noise of the tours explaining the never ending history of the gothic quarter. 
There's an enormous bench which directly faces the gothic cathedral which is ideal for a quick bite or drink, or instead relax upon the steps of the cathedral, where you'll find there's room for plenty! Sit and people watch in front of this historical monument. 
Take to the Beach 
Barceloneta, for a Buzzy Evening 
Barceloneta is an ideal location, especially for those who love to party. There is constantly live music or speakers blasting out exciting songs! You won't go thirsty with the beach bars which offer you drinks ordered straight to where you're sitting on the beach. 
Bring a blanket, bring your friends, a speaker and lots of food & drink, your night is sorted! Enjoy the endless entertainment and the stunning views over the Mediterranean Sea. 
Bogatell, for a Quieter Beach Picnic 
If you love the beach, but want something a bit more tranquil without trekking out too far, Bogatell is a good choice for you. Relax and enjoy your picnic in peace, go for a dip in the sea, play a bit of volleyball, or whatever suits you. 
You won't run out of options for a relaxed picnic lunch in Barcelona, and you certainly won't be bored! If you love the idea of a picnic with a view, why not read our article on the best viewpoints in Barcelona?