Barcelona is home to some of the most marvelous structures and incredible architecture in the world. And, it is a well-known fact that much of the city's beauty comes from the imagination of one of the greatest and most interesting architects to have lived, Antoni Gaudí. Gaudí, a Catalan-native, is best known for his colorful naturalist and modernist designs, especially those dotted around the Eixample area of Barcelona. From the Sagrada Familia – his unfinished masterpiece – to La Pedrera and many more, visitors flock to the city to marvel at the amazing works of this architectural genius. So, after you've explored Palau Güell and Casa Batlló, head out of the city center to take in some fresh air and amazing views of Barcelona from the famous Park Güell!
Park Güell – A Rich History
Park Güell, one of the many UNESCO World Heritage Sites found in Barcelona, is one that carries an interesting story. Originally intended as a housing site for Barcelona's aristocrats, Count Eusebi Güell commissioned none other than Antoni Gaudí to create the designs for this stylish 42 acre space during the early 1900's. Güell wanted this area to cater to the wealthy, granting them a chance to enjoy both the fresh air and magnificent views of the city. But the plan failed, and instead, Park Güell offers the same luxury to millions of tourists and local residents…and we couldn't be happier!
Architectural Awe – Gaudí Strikes Again!
A trip to Park Güell offers a serene escape from the bustling Las Ramblas, as well as an in-depth look at the signature styles of this famed architect. From the moment you enter the park it is evident that you have stepped into Gaudí territory, as you can see its colorful and fantastically shaped rooftops above, as well as the most famous monument in Park Güell: the Dragon Fountain. Situated at the entrance of the park, this magnificent fountain is a brilliant display of Gaudí's signature mosaic-style. The distinctive method he uses, known as 'trencadís', can be described as joining together bits of broken tiles, dishes and glass to create astonishing art, and Park Güell is a true homage to these unique designs.
Gaudí, an architect known for his elaborate use of natural shapes, proved that his designs would remain groundbreaking for centuries to come. Naturalism, his other signature style, can best be seen in the twisted rock pillars that line the walkway in Park Güell. Many argue that Gaudí's intention was for the pillars to symbolize large tree trunks, as the naturalist and animal themes were his biggest inspirations during this creative design.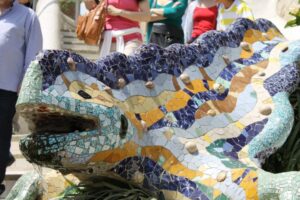 The focal point of Park Güell is the main terrace from where breathtaking views of the city await you. Flanked by a long bench, made from the multi-colored mosaic tiles in the form of a sea serpent (following the animal theme seen throughout the park) this seating area in Park Güell offers a relaxing way to unwind as you look out over the beautiful area and all the vivid designs that surround you!
The Sala Hipòstila is another area of the park that should not be missed on your visit! Perhaps one of the most stylish parts of the park, intended to function as a marketplace, the Hypostyle Room is host to a mass of tree trunk-style Doric columns that serve to hold up the roof as well as drain rainwater through their hollow cores to a reservoir below. Even more mosaic designs await you here…this time on the ceiling!
Be sure to hike up to the highest part of the hill where the Calvary awaits – three stone crosses can be found at the top where Gaudí had originally planned to build a chapel.
Gaudí's House – Step Inside!
The Gaudí House Museum, where the famous architect resided for almost 20 years, is host to a collection of furniture and objects designed by Gaudí himself. The house has four floors, with the ground and first floor open to the public, and the basement remaining closed.
Besides the furniture on display, visitors can also marvel at the paintings, drawings and the wrought iron elements exhibited in the garden, believed by many to be the most valuable of the collection.
How to Get to Park Güell?
The city of Barcelona started to offer a free return shuttle since April 1, 2019, for Monumental Zone ticket holders, which is a 10 to 15-minute trip that runs every seven minutes from Alfons X (L4) metro station (within Park Güell opening hours).
TAXI
Taking a regular taxi to get to Park Güell costs around €10.00 to 15.00 from anywhere central. Because Park Güell is uphill and out of the way, you can get a €5.00 or €6.00 discount on Spain's taxi app program, which was formerly called MyTaxi. It's a great transportation option, especially if you're traveling with kids or in large groups.
BUS AND METRO
From Plaça Catalunya or Passeig de Gràcia, for you to get right to the gates, take Bus 24.
Bus 92 connects Park Güell to the Sagrada Familia and the sea but expect a 10-minute walk. For Metro bus, it stops at Vallcarca or Lesseps on the green line L3, and you'll need to take a 15-minute uphill walk. On the other hand, taking the Bus Turistic would leave you a short distance walk from the park.
Essential Tips for an Ultimate Park Güell Trip Experience
If you don't want to end up waiting for hours, book

Park Güell Tickets

online.

It's best to leave at least 50 minutes of allowance time to travel to Park Güell from the city center.

There's a 30-minute entry time grace period.

If you have pre-booked tickets, take the west gate, which is less crowded than the main entrance.

You can take advantage of big discounts by bringing appropriate IDs (for seniors, children, etc.).

Wear comfortable shoes if you're planning to go all the way up to the top.

For great sunset photos and more comfortable temperatures, visit the place in the evening.

Take some food and bottled water with you because the amenities are scarce and overpriced.

Don't forget to wear sunscreen, especially in summer.

People with limited mobility should ride Bus 24 or take a taxi to avoid uphill walks.
So, why don't you make a day of it and head toward the outskirts of the city and visit Park Güell? For those families visiting Barcelona with kids, we recommend grabbing a picnic basket and enjoying a day under the Spanish sun! With numerous picnic tables, you can enjoy a traditional Spanish 'bocadillo' (sandwich) as you surround yourself with Gaudí's magnificent work.