What better way to end your day relaxing at the beach than sitting back and enjoying a drink and tasty meal at a local xiringuito, more commonly known as a beach bar! The nightlife in Barcelona is unmissable and great fun, and the beaches in Barcelona are super nice and relaxing. Why not combine the two so you can get drunk and enjoy your dinner with your feet in the sand! 
Watch the sunset over the ocean with a cocktail in your hand, whether you're looking for something relaxed or something trendy, unique and all things party, our guide to the best beach restaurants in Barcelona will help you out. 
1. Surfhouse Barcelona 

Surfhouse is a super cool and trendy little restaurant right by the beach serving casual but quality dishes. They offer everything from breakfast to dinner and cocktails. They serve salads, burritos, amazing burgers, and so much more! The only issue you'll be having when you visit the surfhouse is trying to pick which dish you want!
Address: Emília Llorca Martín, 22, 08003 Barcelona
2. Xiringuito Escribà 
Xiringuito Escribà make themselves known as the best place to have paella in Barcelona. They mainly serve quality seafood dishes with rice being the star of many of these. They describe their desserts as a sweet finale to your meal, with the owner's family being renowned in the pastry industry in the cooking world of Barcelona and Paris. Their flavours change depending on the season so you know this place is truly fresh and using locally sourced ingredients. 
Address: Av. del Litoral, 62, 08005 Barcelona
3. Vai Moana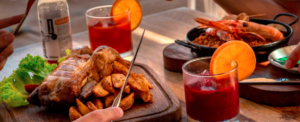 In the heart of Poblenou you will find Vai Moana. Its easter island decor will tempt you inside, located on the beach to give you the most beachy experience possible. This place will allow you to relax and take in your surroundings, whilst enjoying delicious food ranging from healthy salads to burgers and tasty cocktails, smoothies and juices. 
Come to Vai Moana if you just want to relax, and enjoy the evening sunset with a frozen margarita in hand… bliss! 
Address: Av. del Litoral, s/n, 08005 Barcelona 
4. Jefferson beach club 

For good food, drinks and vibes and for somewhere you can sit on the beach, Jefferson is the place for you. Their mojitos are to die for like many of their cocktails, and foodwise their chef is well- known for his incredible paellas. The music in Jefferson will make you feel at ease and you can sunbathe on their loungers whilst you wait for your food, what more could you ask for?
Address: Playa Bogatell, Av. del Litoral, s/n, 08005 Barcelona
5. L'Escamarlà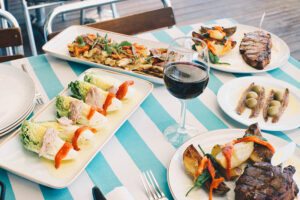 This Mediterranean restaurant is a good choice after a day at Bogatell beach, they specialise in local produce; seafood, paella and market products. They have a spectacular terrace with sea views for you to enjoy. This is a good place to come in big groups as they offer group menus, giving you a taste of everything for a set price, including drinks! 
Address: Passeig Marítim del Bogatell, 40, 08005 Barcelona
6. Bambu beach bar h2
Bambu is a local's favourite, they have a tranquil atmosphere and are located right on the beach. They serve food all day long, and cater to all tastes, serving everything from burgers to tacos and even sushi. They have a fun filled cosmopolitan atmosphere, allowing their customers to unwind and have fun. They bring a touch of Southeast Asia with their tropical trees and proximity to the sea. This is the perfect spot to enjoy dinner with family or friends and to really relax. 
Address: Ronda Litoral, s/n, 08005 Barcelona
If you are looking for more of a bar where you can let loose, check out our guide to the top 6 beach bars in Barcelona.