1. La Bombilla
A recent edition to the thriving Sant Antoni neighbourhood, this new bar is a real treat. Along way from the busy tourist routes, this chic hangout offers class, diversity and authenticity and is very popular with Barcelonans. From live DJ sets to charcuterie plates La Bombilla has something for everyone.
Address: Carrer de Manso, 13
2. Mau Mau
A renovation of an old industrial space, Mau Mau has bags of character and locals to boot. Hidden underground in the residential Poble Sec district, Mau Mau is packed out from Thursday to Sunday or on special occasions like match day. With its giant screens, it's a great place to go watch FC Barcelona!
Address: Carrer de Fontrodona, 35

3. El Rabipelao (Gòtic)

If you like rum then El Rabipelao is the place to head to. With over 20 different labels on the menu this Venezuelan watering hole will no doubt go down a storm with those who have a taste for mojitos. What's more, the prices are very reasonable, ranging from 4-8€ for one of their delicious cocktails.
Address: Carrer de la Mercè, 26

4. L'Ovella Negra
Ask anyone from Barcelona where to go if you're looking for a local bar and L'Ovella Negra is sure to be mentioned. No matter what night of the weekend, this place is bound to be packed. With a lively, younger crowd you'll be sharing a 'chupito' or two with a local in no time!
Address: Carrer de Zamora, 78
5. Aperol Spritz Bar
You wouldn't think a new bar dedicated to a fashionable Italian drink would be attractive to Barcelonans but this is exactly the case. This cool Barcelona bar is the first of its kind in Spain devoted to serving the classic Aperol Spritz. proving a huge hit with the locals.
Address: Passeig d'Isabel II,
6. Manchester
Despite the name, this isn't a hangout for Oasis wannabes and is in fact one the most popular places for the alternative young crowd of Barcelona to hang out and enjoy a pint or two of an evening. Its laid back indie vibe and low lighting provide a great ambience whilst the Britpop music makes it that extra bit more comfortable.
Address: Carrer de Milans, 5
7. Viblioteca
Located in the neighbourhood of Gràcia, this Barcelona wine bar has the sort of elegance you'd expect from a SoHo champagne loft. Not only does it offer a great selection of 'vinos' but it also boasts expertise in delicious cheeses, making it the ideal spot for a quiet drink with friends.
Address: Carrer de Vallfogona, 12
8. 33/45
Found in the heart of the trendy El Raval district of Barcelona, 33/45 is by far one of the coolest watering holes in Barcelona. Its vintage décor and quirky seating have it packed out almost every night. What's more, there's not a tourist in sight.
Address, Joaquin Costa, 4
9. La Cyrano
Imagine a bar where you can pour your own drinks… La Cyrano makes this dream a reality. This place is a second home to young locals and students alike. It doesn't look like much from the outside but the atmosphere is lively and the free-pour alcohol really goes down a treat.
Address: Carrer d'Aribau, 154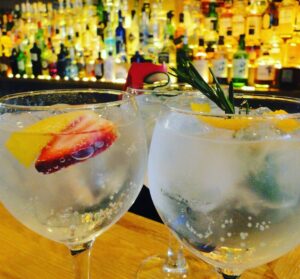 10. Bloody Mary Cocktail Lounge
Another one situated in Gràcia, the Bloody Mary Cocktail Bar is one of the neighbourhood's classiest hangouts. This local bar in Barcelona takes taste very seriously and with hundreds of different varieties of drinks on offer, plus an intimate ambience, this place offers some much needed respite in the bustling Catalan capital.
Address: Carrer de Ferrer de Blanes, 3