From its humble beginnings as a bar designed to bring together the beauty of the sunset and music to the worldwide record label and father of house as we know it today, Café del Mar is known across the globe as THE place to be during the warmer months of the year.
This legendary name in the music industry will be opening its largest club in the world right here in Barcelona this May! The huge project, which has cost Café del Mar more than 5 million Euro, is already being called the Porto Banús of Barcelona. Located in the up-and-coming Fòrum Marina, this project is expected to breathe new life into this area of the city and change its face forever.
The Grand Opening

Taking pace on the 27th of May 2017, this is one of the most highly anticipated events in Barcelona's calendar this year. The club will become host to some of the hottest DJs around at the moment, including the likes of Juan Díaz, Cesar de Melero and Peter Brown. The event will last from dusk till dawn on all of its four floors and is expected to firmly put Café del Mar on the map in Barcelona.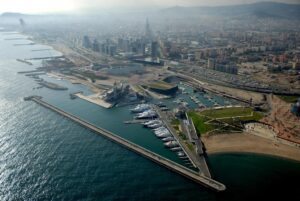 This brand will also go beyond operating as a club and is set to extend its services by offering the lower area of the 4000m2 complex to private and corporate events. Already the team at Café del Mar has been contacted by many different corporations including those behind the Mobile World Congress.
What to expect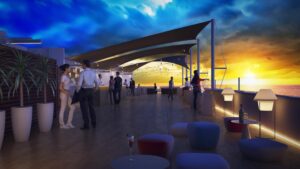 Although the club area outside will close at midnight, the interior, which has a capacity of up to 600 revelers, will remain open until 6am. And if the huge space in the main complex isn't enough, then clients can opt to head up to the exclusive rooftop which boasts amazing views of the city skyline, perfect for catching those Spanish sunsets.
The space will be split over four different floors, and will include, of course, a swimming pool, stage, an outside terrace along with a cocktail bar. There are also plans for an exclusive Mediterranean restaurant and a leisure area.
And there's more…
This massive club will also have another location in Barcelona: Café del Mar's very own boat! Docked in front of the main building, a boat with the capacity to hold 350 people will head three miles out to sea to observe the blazing Barcelona sunsets in style. What's more, those behind the project are in talk with ship owners and captains to encourage large boats and yachts to moor in the marina to help build on the ambience.