El Born is one of the trendiest neighbourhoods in Barcelona, characterised by narrow medieval streets. El Born offers some trendy designer boutiques, cafes and restaurants throughout the day. But at night, the place comes to life with some of the finest cocktail bars in Barcelona. 
Whether it be a cocktail, beer, gin, sangria or just somewhere with an incredible atmosphere that you're after, our blog will give you an insight into everything El Born has to offer in the evening. 
Collage Art and Cocktail Social Club: For all your cocktail desires…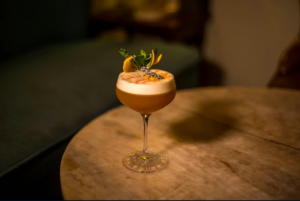 Collage Art and Cocktail Social Club give you the opportunity to learn the art of cocktail making,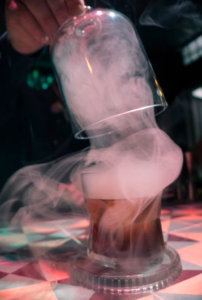 teaching you how to mix your favourite drinks whilst teaching you history on the art of cocktail making. 
They have a highly talented team of bartenders and cocktail makers to give you the most exquisite cocktails, from your classics to their very own homemade recipes. Collage Art is just a 4 minute walk from the Barceloneta and Jaume metro stations, open Wednesday day times and Thursdays to Saturdays until late. 
If you are a cocktail enthusiast, our blog on the top 5 best cocktail bars in Barcelona is definitely worth a read!
Address: Carrer dels Consellers, 4, 08003 Barcelona
Rubi Bar: Gin lovers prepare yourselves!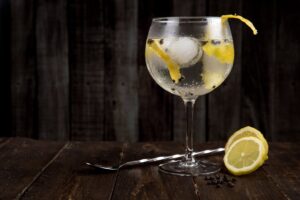 The Rubi Bar, only a 3 minute walk from the Jaume metro station, provides one of the largest selections of gins as well as an incredible dark and red atmosphere to give a stylish and unique vibe. They also serve mojitos for only €4!
They also have a jukebox, perfect for you music lovers and party people. 
Address: Carrer dels Banys Vells, 6, 08003 Barcelona
Skybar: A rooftop experience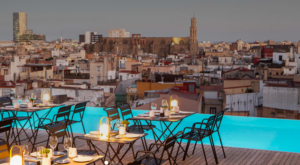 Skybar offers an intimate terrace in the sky, for those after drinks, a meal and a rooftop experience. Skybar has views of the Born and Mediterranean sea, so you can sit back, relax and take in the beauty of Catalonia. 
They offer everything from cocktails, to gin and tonics and beers. Located just a 2 minute walk from the Jaume metro station, they are open weekly and you can book via their website.
Address: Via Laietana, 30, 08003 Barcelona
Paradiso: 'The pastrami bar which hides a secret'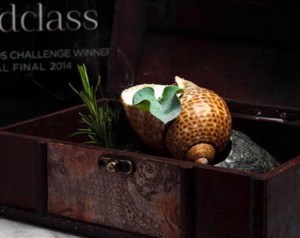 In Paradiso you will be in paradise… They serve specialised cocktails which are presented in a theatrical way so that the presentation is unbeatable. If you're looking for an unforgettable experience, Paradiso is the place for you. 
The owner, Giacomo Giannotti and his team spent almost a year designing its incredible menu. This effort is reflected by its ranking as 19th in the world's 50 best bars.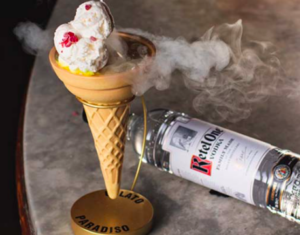 The bar itself is a pleasure to behold, when you walk in you are in a pastrami bar, but through the cabaret entrance you can walk into the bar that is disguised as a refrigerator. The Calypso cocktail is a must- try, made from a mixture of sweet and citrus fruits, it is an easy pleaser. 
If you're a lover of secret bars like this one, you'll love our blog on the best secret bars in Barcelona.
Address: Carrer de Rera Palau, 4, 08003 Barcelona
Creps al Born: Cocktails and desserts anyone?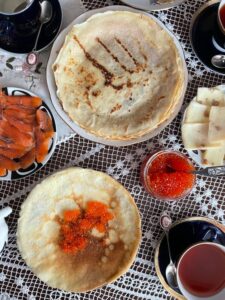 Creps al Born is a locals pick, as long as you don't mind paying slightly more for the quality, the unusual but fascinating combination of the finest drinks and french crepes will be worth it. 
They serve everything from classic cocktails to their own signature cocktails, created by professional mixologists, as well as both sweet and savoury pancakes and are renowned for their cheery and friendly staff, and unique and cosy atmosphere. 
Address: Passeig del Born, 12, 08003 Barcelona
CactusBar: The best gin and tonic in the neighbourhood!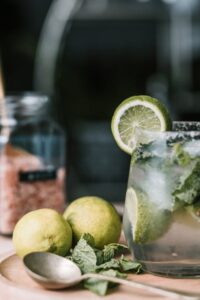 CactusBar is another great bar for gin lovers, they have a wide variety of gins and are renowned for the best gin and tonics in the neighbourhood! They have live music and DJ sets to provide a great selection of music to accompany their fine drinks. 
They also serve a variation of cocktails, and are open for coffees and breakfast during the day! Located just a 2 minute walk from the Santa Maria Del Mar.
If you are a huge gin lover and fancy a few more gin- specialised bars, check out our blog on the top 5 gin bars in Barcelona!
Address: Passeig del Born, 30, 08003 Barcelona
El Born Bar: Best sangria in town!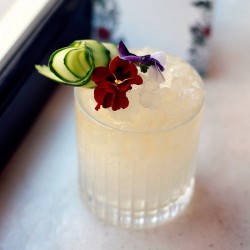 El Born bar is located again just a 2 minute walk from the Santa Maria Del Mar. They offer both Sangria Vino (Sangria with wine) and Sangria Cava (Sangria with Cava), you must try both! 
They also serve their own signature cocktails as well as their own, ranging from 'Lolitas' which include a mix of vodka, passion fruit and cava, to the classic Espresso Martinis and Manhattans. 
Address: Passeig del Born, 26, 08003 Barcelona
Porteño: Good vibes, great people, and even better cocktails.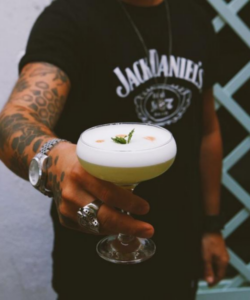 Porteño is located about a five minute walk from the Jaume metro station, it is the perfect location for a cosy and relaxing drink. They take their liquors seriously and have a trained team of professional mixologists to ensure they're serving the best cocktails. 
You must try their watermelon martini, it's refreshing and uplighting, perfect after a hot day. Or their whisky sourz, amaretto sourz or any type of sourz you could wish for! 
Address: C/ dels Carders, 32, 08003 Barcelona