When looking for the perfect place for a relaxed meal, look no further than the district of El Born. There's just about everything going on here, amazing little clothes and jewellery shops, unique takeaways and cute bars, stunning restaurants for everything you could imagine. The Passeig de Born is lined with trees and ends with the beautiful Basilica de Santa Maria del Mar.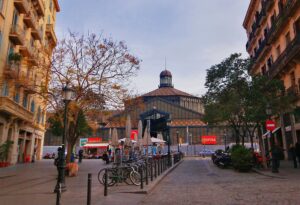 Whether you fancy Mexican, tapas, Italian or even Vietnamese, we have all the best to offer for you, from our personal experiences. If you love a good night out after your meal, we know exactly what will get you into the mood with the best club restaurants in the area. 
1. Mimos, for tasty tapas on a stunning terraza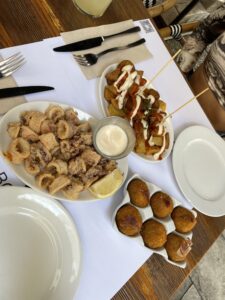 Mimos is the place to go for a comfy and buzzing atmosphere, great options to sit both inside or outside and incredible service. From bravas to cauliflower in Gochujang sauce they have everything to offer. Their bar is extensive, and don't be surprised if they bring you a shot when you've finished your dinner. 
They are open from 12pm until 11pm Monday to Friday and on the weekends they open at 11am. For a light lunch or an early dinner, this is certainly the best spot in town for a welcome to Barcelona city. 
Address: Mimo's Born, Plaça de Jacint Reventós, 08003 Barcelona, ​​Spain
2. La Hacienda, for the best Mexican food in Born 
On Carrer de Rec you can find the first of La Hacienda Mexican restaurants, which was first introduced in 2009. The restaurant itself is covered in Aztec- style decorations making it very colourful. You can also find a small but pleasant terrace perfect for people watching down the Calle rec.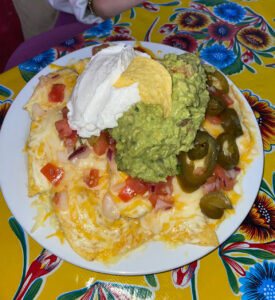 They serve traditional Mexican gastronomic specialities, such as fajitas, enchiladas, burritos, beans, tacos. They serve food all day long from noon to midnight, they also have an incredible variety of tequilas and cocktails which are very well priced. Their kiwi margaritas are to die for and do not get us started on the nachos! If you're a cheese lover, trust us that this is the place for you. 
Address: Carrer del Rec, 69, 08001 Barcelona
3. Pizza de Nanis, for a truly Neapolitan experience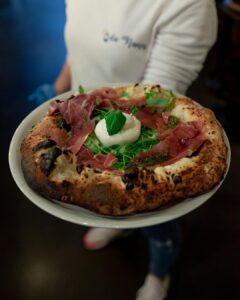 At Pizza de Nanis you can prepare to experience top quality products brought directly from Italy.Their mission is to serve the best pizza in the city and when it comes to Neapolitan style pizza we must agree that they do not fail in this. They have a restaurant in the heart of the gothic quarter, and a second location in the beautiful el Born. Their restaurant in el Born is huge with plenty of space for you to be comfortable. The atmosphere is always lively and the waiters are always smiling. Their burrata starter is delicious, and they have an extensive drinks menu so you won't find yourself going thirsty any time soon. 
Address: Carrer del Rec, 30, 08003 Barcelona
4. Guzzo, the place to go for urban art and live music 
Right in front of the cultural centre of El Born is Guzzo. Guzzo offers incredible dishes with touches of urban art, cosmopolitan decoration and a complicit atmosphere. The food mainly has mediterranean roots, they serve things like beef tenderloin, stuffed squid, artisanal burrata. The food here is incredible and something different to what you find in your average restaurant, reflecting the atmosphere itself.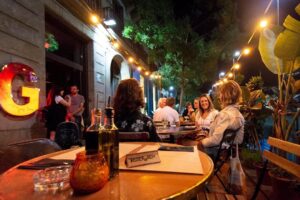 The restaurant itself is very colourful, with a wide variety of art and culture. There is live music and DJ sets that you can enjoy with musical lunches on weekends, live painting sessions on the walls of the premises or artistic presentations. Make sure you don't miss out on their delightful cocktails or special homemade lemonade either. 
Address: Plaça Comercial, 10, 08003 Barcelona
5. La Central Hamburguesería, for a burger exactly the way you like it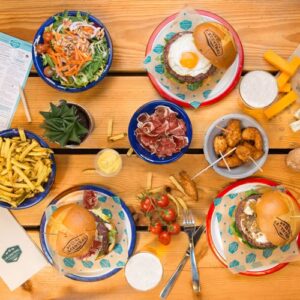 For burgers made with 100% beef, served to perfection and the option to have your burger exactly the way you like it, La Hamburgueseria is the place for you. They serve a black angus, organic meat from the Pyrenees, or Pollo Campero. You can choose the way you want your burger cooked, whether you want a white or wholewheat bun, or no bun at all, what you want it served with, whether you want extras on your burger and if you want a dessert or salad.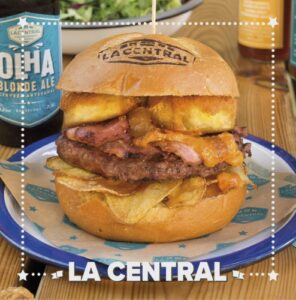 Their sides consist of bravas, onion rings, nuggets, cheese sticks, and they also have chickpea options for the burgers so you aren't missing out if you're not a big meat lover. The buns they use are baked daily, the ingredients are from the local market, and the restaurant is decorated in an industrial vintage style to make you feel at ease. 
Address: Passeig del Born, 29, 08003 Barcelona
6. Mosquito Restaurant, for amazing asian food at a good price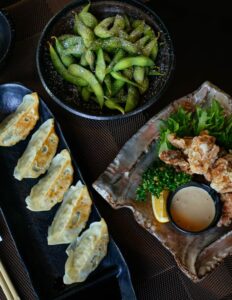 For true asian food at a great price Mosquito Barcelona is one of the best asian restaurants in Born. They make home- made products with quality ingredients, including dumplings and noodles. They also have a large variety of IPA beers and mochi. The servers are friendly and happy to help, and the place itself is very homely and cosy. 
They have good options for vegans and great value for money. If you're a lover of 'pho' look no further than this establishment, you will be more than satisfied. This place does get busy however so prepare to queue during peak times… 
Address: C/ dels Carders, 46, 08003 Barcelona
7. 7 Portes, for a posher experience
The 7 Portes restaurant is the best spot for a slightly posher meal. 7 Portes can be found just between the Gothic Quarter and El Born, making it the perfect location for a relaxed meal before a few drinks in Born. 7 Portes are especially famous for their rice and paella dishes, their fresh and popular salads and their seafood and meat dishes. Their menu includes an extensive recipe book that has evolved over time.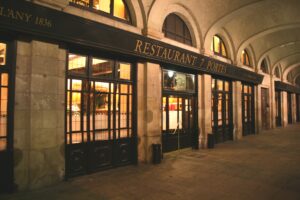 The restaurant 7 Portes has been around for 185 years, and their team of professionals are renowned for their great service and professional manner. They serve modern dishes that you won't find just anywhere and festive dishes too. They also offer out private rooms to rent out for special occasions, where your experience will be completely personalised. For special occasions this is the place to go. 
Address: Passeig d'Isabel II, 14, 08003 Barcelona
8. Restaurant club Bananas, international cuisine, tropical cocktails and a quirky trendy interior
Restaurant club Banana, similar to Guzzo, is the sort of club restaurant you want to go to before a big night out. Not only does Banana have an amazing international menu for offer but also great cocktails and liqueurs and good vibes. Their food is mainly with Caribbean and Oriental flavours, but they also serve finger foods, and great meat and fish dishes.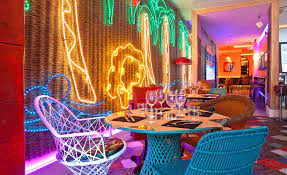 Their menu involves sharers such as nachos, gyozas, they serve poke bowls, they have prime dishes such as fajitas, fish and chips and pad thais, they also serve burgers, tapas, steaks and more. They even have incredible desserts and trust us they don't stop there. The cocktails are unique and tropical, and they have an extensive option of whiskeys, gins, vodkas and rums. 
Address: Carrer de la Fusina, 7, 08003 Barcelona
9. La Vietnamita, for fresh and fantastic vietnamese food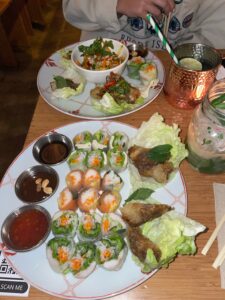 La Vietnamita Barcelona is the perfect mix of asian and oriental food, harmoniously combined to create healthy and fresh dishes. This restaurant is dedicated to those passionate about asian street food. The Vietnamita provides fresh and healthy asian food options inspired by various trips to Vietnam by a group of friends who decided to open this restaurant. 
The restaurant itself is vibrant and informal, and the dishes are all prepared and created with very fresh ingredients of great quality and very aromatic. All their dishes can be adapted to any kind of diet so don't worry if you're vegan, gluten free or celiac, they will have you covered. 
Address: Carrer del Comerç, 17, 08003 Barcelona
10. Ziryab Fusión Tapas, Mediterranean fusion tapas on the backstreets of born
This fusion tapas restaurant serves Mediterranean tapas and is hidden in a winding alleyway near to the Picasso Museum on the Carrer de Muntaner. This street is great to walk through as it used to be the street in which during the 17th century, rich merchants and noblemen used this street to build their palaces. These palaces have now been converted into museums and galleries, with the gorgeous Ziryab just round the corner.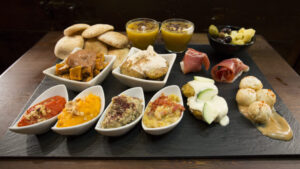 They have a tasting menu which is between €25.00 and €37.50 which includes four steps and drinks and extra wine pairing at an extra €15 if it's wanted. Their main menu however includes a variety of dishes, like burrata salads, quality meats and cheeses, falafel in Catalan sauces, homemade dips with mini pitta bread and much more. 
Address: Carrer de Grunyí, 5, 08003 Barcelona