When you're visiting Barcelona, you may think of paella, tapas, Gaudí and football… but flamenco, the passionate dance from the south of Spain (Andalusia to be exact) is also a part of the city to be discovered. Check out our guide for the best places to experience flamenco in Barcelona. Grab a glass of sangria to get you into the mood and stop by one of these happening spots to enjoy some authentic and exotic flamenco.
Los Tarantos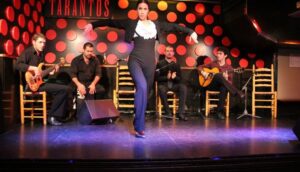 Located just off Las Ramblas in the amazing Plaça Reial (worth a visit in itself!), Los Tarantos is the place to go for an authentic flamenco experience in a spectacular setting. The talented and passionate crew puts on a performance that you won't forget quickly! Founded in 1963, it is one of Barcelona's oldest flamenco venues! Gracing the stage is Iñaki Márquez, who is said to be one of the best dancers of the new generation of Catalan flamenco. They host about three shows an evening, with a duration of approximately 30 minutes per performance. Find out some more here.
Plaça Reial, 17, 08002 Barcelona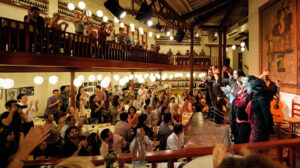 Tablao de Carmen
A delectable dinner and a beautiful flamenco show? This delicious combination is possible at Tablao de Carmen. Opened as homage to the great dancer, Carmen Amaya, this performance offers a night to remember. Located close to the magical fountains of Montjuïc in the Poble Sec neighbourhood, there's no doubt that this experience will leave you dancing and smiling long into the night. The head chef, Juanjo Martínez, is the third generation of a family devoted to gastronomy and whose family restaurant has been awarded a Michelin star. If the unique and enticing flamenco show isn't enough to get you there, the culinary excellence should be all the reason to spend your night at this dancing and dining fiesta. If you wish to reserve a table, you will be offered a choice of four menus. You may think this isn't the cheapest of meals but with an intimate flamenco show as well, it's great value for a fantastic, and truly Spanish, evening out. For more info, check their website.
Avinguda Francesc Ferrer i Guàrdia, 13, 08038 Barcelona
Palau de la Música Catalana, Barcelona y Flamenco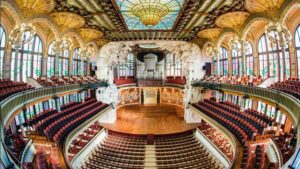 Debatably one of the most beautiful buildings in Barcelona, the Palau de la Música Catalana is 100% worth a visit during your time in Barcelona, and what better way to see it than watching a flamenco show inside the great hall? The romantic ambiance makes it the perfect spot to take a partner for a date night in the Mediterranean city. 'Barcelona y Flamenco', who run the most famous flamenco productions in the city, put on shows based on love stories between the dancers, interspersed with opera music or traditional Spanish guitar. Enjoy the performances underneath the spectacular stained-glass windows in the dome-shaped roof above you. This unforgettable experience offers something unique to do in the city, in one of the most breathtaking locations – not to be missed!
Carrer del Palau de la Música, 4-6, 08003 Barcelona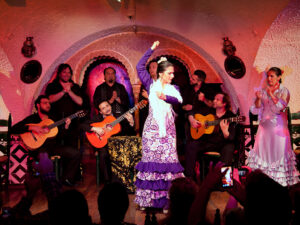 Tablao Flamenco Cordobes
At this beloved flamenco show, guests again have the option to wine and dine before watching a spectacular dance performance. When you book the dinner and show, the menu varies from €59 to €79.50. First, you will eat in the beautiful, Mediterranean inspired restaurant where you can choose from an extended menu of tapas, salads, or a buffet dinner, followed by an exciting and vibrant performance. With five show times to choose from, there is a time to suit everyone. The price for the show itself is approximately €45, and worth every cent! Support this family business that has been running since 1970. Explore their website for more information:
Las Ramblas, 35, 08002 Barcelona

With performances, shows and concerts all over the city, there's no shortage of cultural events to get involved in. If you're all danced-out and fancy going to see some live music, check out our post about live music in Barcelona!