For many people, exercise doesn't stop whilst abroad. Whether you come to Barcelona for a long or short stay, you may well be in search of a gym. If so, you've come to the right place. Get those legs moving and that blood pumping…here are our top picks of gyms around the Catalan capital.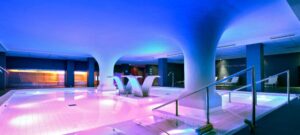 Club Metropolitan
If you are looking for a gym that offers more than just equipment, look no further than Club Metropolitan. A large national chain of sports, health, and wellness centres, Club Metropolitan offers 23 centres in the main cities, and seven in Barcelona. A membership comes equipped with access to trainers, instructors, state of the art technology, a spa, and a built- in restaurant. Members rate Club Metropolitan with 4-5 star ratings, and it's obvious why. Your membership includes a personalised, free-of-charge interview to design your own fitness program. Additionally, this club is not only a gym, but a place where you can eat good food and relax to read and work. Club Metropolitan is not just a gym, but a fitness experience.
Sagrada Familia: Carrer de Provenca, 408, 08025 Barcelona
Iradier: Carrer de les Escoles Pies, 105, 08017 Barcelona
Balmes: Carrer de Balmes, 215, 08110 Barcelona
Las Arenas: Gran Via de les Corts Catalanes, 373-385, 08015 Barcelona
Galileo: Carrer de Galileu, 186, 08028, Barcelona
Gran Via: Avinguda de la Granvia, 142, 08907 L´Hospitalet de Llobregat, Barcelona
Badalona: Carrer de Sant Miquel, 16, 08911, Badalona, Barcelona
Duet Fit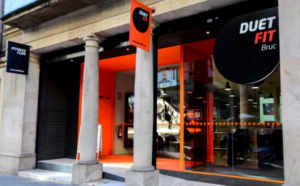 If Club Metropolitan seems a little out of your budget, or more than you need, Duet Fit might be a better option. Duet Fit offers 'activity, fun and training, all at the best possible price!' Membership varies, but all members have access to the centre at all hours and can go to all group activities. Furthermore, they have unlimited use of the Fitness area, free use of the showers and locker rooms, WiFi, and Lunch Club Area. You can pay a monthly or annual fee, or a premium that gives you access to all Duet Fit centres.
La Rotonda: Passeig de Sant Gervasi, 51, 08022 Barcelona
Bruc: Carrer del Bruc, 49, 08009 Barcelona
Via Augusta: Via Augusta, 17, 08006 Barcelona
Universitat: Gran Via de les Corts Catalanes, 584, 08011 Barcelona
Sagrada Familia: Carrer de Mallorca, 508, 08013 Barcelona
Av. Roma: Av. de Roma, 48, 08015 Barcelona
CrossFit Eixample
A more rigorous, unconventional gym to consider would be CrossFit Eixample. This gym offers four pillars: technique, performance, community, and lifestyle. Programs include CrossFit, weightlifting, personal training, and others that test your speed strength and endurance. Members of CrossFit Eixample describe it as a 'no nonsense' gym that has built a community around CrossFit. Although it lacks the amenities of most high-end gyms, such as a pool or spa, you are still guaranteed a good workout.
Carrer d´Áusias Marc, 45, 08010 Barcelona
McF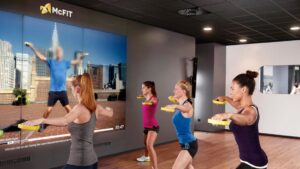 it
Membership at McFit gives you access to 3 different centres in Barcelona. This gym offers a wide range of activities, including boxing, Zumba, weightlifting, and more. With over 240 centres in five different countries in Europe, they are so confident in their services that they offer a free training day to convince you to join. Featuring high end equipment and a fun, motivated atmosphere, you can enjoy a unique approach to their group activities accompanied by music, videos, images, and interactive media.
Les Corts: Av. Josep Tarradellas, 133, 08029 Barcelona
Universitat: Gran Via de la Cortes Catalanes, 593 08007 Barcelona
El Clot: Carrer de Mallorca, 669, 08027 Barcelona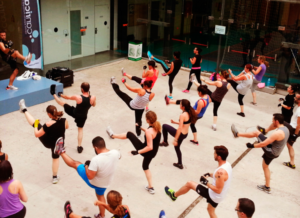 CEM Can Ricart
CEM Can Ricart offers many classes including dance, spinning, Zumba, stretching, yoga, and many more. This gym includes a pool, jacuzzi, sauna, and steam room. CEM also offers a unique morning only membership, which is 12 Euros cheaper a month than the regular membership. In addition to their personal training services, they offer spa, physical therapy and acupuncture services. Additionally, they have a free weight and resistance area, as well as cardiovascular machines and stretching mats.
Carrer de Sant Oleguer, 10, 08001 Barcelona
All of these gyms are unique in their own ways, offering a variety of services and benefits hopefully meaning you'll be able to find the perfect one so you can accomplish your personal fitness goals here in Barcelona. If none of these tickle your fancy, take a look at our recommendations for Free activities in Barcelona, to find a way to stay active on a tight budget.