The Barcelona nightlife is unlike any other in the world, but Barcelona has a lot more to offer than late night discos and electronic beats. Barcelona is a city bursting with live music venues – any music genre imaginable can be found in this city. Whether you prefer concert halls with enormous auditoriums, clubs with large stages or bars with intimate spaces, Barcelona offers incredible live experiences for any kind of music lover.
Palau de la Música Catalana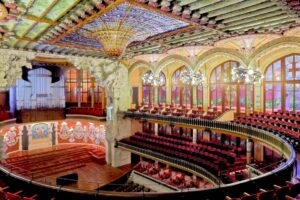 The Palau de la Música Catalana is one of Barcelona's top tourist attractions. This famous masterpiece, listed on the World Heritage site by UNESCO, was designed by the famous architect Lluís Domènech i Montaner. From the outside alone it's an impressive building, but wait until you get inside! The Library, the Lluís Millet hall, the Chamber Music hall, and the even more impressive concert hall will blow you away.
Although it is most commonly associated with classical music, this venue also hosts different genres, such as gospel, jazz and flamenco. We recommend you book your tickets in advance, as this venue is very popular with tourists and locals alike. Whatever your musical taste is, visiting the Palau de la Música Catalana will be an extraordinary experience!
Address: Carrer Palau de la Música, 4-6
Razzmatazz
This internationally renowned mega-club offers no less than 5 stages! Without a doubt Razzmatazz is one of the most popular nightclubs in Barcelona. But aside from the killer DJ sets, they have tons of live music acts as well. All genres of popular music are on offer, from rock to hip hop, and from big international artists to up-and-coming local talent. This monster of a club has something to suit everyone!
Address: Carrer Pamplona, 88
Sala Apolo
Sala Apolo is a lively club with two super unique separate areas that still have their charming 20th century dance hall look. Located in Poble Sec, you'll quickly recognize this venue due to the large queue lined up on the Parel•lel street. This is a setting for a wide variety of bands each day of the week, making it a real Mecca for live music. With red lights, crushed velvet and old booths around the edge of the dance floor, you'll be sure to have an exceptional experience in this amazing live music venue.
Address: Carrer Nou de la Rambla, 113
Sidecar Factory Club
Tucked away in a corner of Plaça Reial is one of the hidden gems of Barcelona, the Sidecar Factory Club. This club used to be an American bar where the 6th Marine Regiment of the US Army used to party when they passed by the Catalan capital. With a different kind of performance everyday, Sidecar Factory club only plays music that is not mainstream. With a slightly eclectic and underground feel, this club is perfect for discovering some cool new local bands at an affordable price. Don't miss out on this unique venue!
Address: Plaça Reial, 7
Jamboree
For over half a century Jamboree has brought joy to the live music scene of Barcelona. Located on Plaça Reial just off Las Ramblas, Jamboree is probably the most famous jazz club in Barcelona. Most evenings this club hosts 2 performances, usually jazz or blues. Many famous artists like Ella Fitzgerald, Chet Baker and Elvin Jones have made their appearances here.
Once the impressive live shows are over, Jamboree turns into one of the city's most popular dance clubs.
Address: Plaça Reial, 17
Harlem Jazz Club
Harlem Jazz Club is one of the city's most legendary Jazz Clubs. With a legacy larger than the queue at the entrance of the Sagrada Familia, this venue has held over a 1000 concerts over the past years. Ranging from jazz to reggae to blues, you'll find lots of locals and a handful tourists who where lucky enough to find the place to be. Located in the heart of the Gothic Quarter, this small music hall had a huge contribution in welcoming modern jazz and blues to the Catalan capital.
Address: Carrer de la Comtessa de Sobradiel, 8
Heliogàbal
If you ever find yourself in the Gràcia neighborhood, stopping by Heliogàbal for live music is a must. This live musical venue in Barcelona allows local artists to share their artistic talents, but Heliogàbal is far more than that! Apart from the amazing live jazz and rock music, this venue hosts various poetry readings, audiovisual screenings and art exhibitions, which makes it a true meeting point for cultural activities and arts.
Address: Carrer de Ramón y Cajal, 80