The sunny Catalan capital is renowned for its second hand clothes and vintage wonders. When it comes to second hand vintage and flea markets in Barcelona, a day shopping feels more like a treasure hunt. Each market has its own distinct personality that shoppers can connect to.
From clothing and fine furnishings to rare books and jewellery, you can find anything you're looking for. What's more, these markets not only offer vintage goods, but also artisan and local food products served from the ever-popular food trucks. Ranging from permanent and weekly events, to ones that occur monthly or less frequently, get ready to rummage for second hand treasures!
Flea Market Barcelona
The Flea Market Barcelona is the city's coolest open-air street market. Once a month on a Sunday, you can treasure hunt for unique vintage and antique goods, as well as finding everyday items, such as clothes, housewares, jewelry, tools and many more.
The large offering of clothes is incredible; ranging in styles, sizes and age, this market has something in store for everyone! A fun day out in the sun, the market is located by the Maritime museum. Enjoyed by young and old alike, people from all over the city come together to participate in one of Barcelona's hippest monthly events.
How to get there: Metro Drassanes (L3)
Lost & Found
Lost & Found is a selling, buying and exchange market held every three months at Plaça del Mar, Barceloneta. People can exchange articles, grab a bargain or two and be delighted by an assortment of gastronomic treats. Furthermore, the market has great music, especially remixes from the 70's till the 90's. Under the heading 'Vintage and secondhand curated treasures', Lost & Found is original, inventive and unique. Take a look at their website for more information.
How to get there: Metro Barceloneta (L4)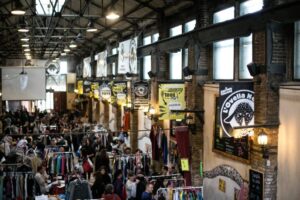 Two Market
This environmentally sustainable, second hand market takes place in the mega sized L'Ovella Negra in Poble Nou. With their slogan 'Reusing is the best way to recycle' this Barcelona vintage market continues to attract customers to this original and inventive way of recycling. Pick up some serious bargains in an economically viable and fun way, with prices starting from 1€! Check out their Facebook page to see what's on and where.
How to get there: Metro Marina (L1) and Bogatell (L4)
Encants Vells flea market
The Encants Vells is one of the city's oldest markets, dating back to the 14th century. Barcelona's biggest flea market, and only real permanent flea market, has a lot to offer. Shop for everything old, antique and second hand, come for auctions from 8h to 9:30h or try your luck and grab a bargain by negotiating a deal on your own schedule. Open Monday, Wednesday, Friday and Saturday from 9h to 20h. Tip: Get there early and you might be lucky to find something special!
How to get there: Metro Glòries (L1)
Mercat de Sant Antoni
Although you can't miss the Boqueria market, Barcelona has a lot more to offer when it comes to mouthwatering food and produce markets.  Normally this would be exactly what the Mercat de Sant Antoni would provide however, at present, it is undergoing a huge renovation project which isn't expected to be completed until 2018. Temporary market stalls currently surround the site but this is a mere shadow its usual self.  Despite the works the Sunday flea market still continues but is now located on Carrer del Comte d'Urgell between 8:30h to 14:30h, where you will find a large number of books, coins, magazines, comics, postcards, interesting for those wanting to discover the Barcelona of the past.
How to get there: Metro Sant Antoni (L2)

Palo Alto Market
When you think about Barcelona what comes to your mind? Food, art, music? You are missing something… When you think of Barcelona, there is something else that should come to your mind, and that thing is the Palo Alto Market!
The Palo Alto Market is a creative street market that occurs every month; the fair comes to life in the garden of an old factory in the Barcelonian neighborhood of Poblenou about a mile from the beach. Every month chefs, musicians, artists, and creative minds alike gather here to exhibit the best of their craft and offer to the public a taste of their art. Experience Barcelona from the perspective of the locals by visiting Palo Alto market every month at Carrer dels Pellaires, 30.
How to get there: Metro Selva De Mar (L4)