For many people, a small dose of Barcelona is just not enough and we couldn't agree more! Finalising your decision to stay in Barcelona on a longer term basis is indeed exciting but also perhaps nerve-wracking for some. Using some of the advice from a few of our team members who have made the leap themselves, here's some of our top tips for a long term stay in Barcelona. So what are you waiting for, read on and purchase your one-way ticket pronto!
Paperwork
If you're coming to Barcelona with professional or economic interest, obtaining a Número de Identificación de Extranjero (NIE) should be at the top of your priorities. The NIE is a personal identification number for foreigners that want to come and reside in Spain for more than 3 months, and is essential for virtually every activity that requires your identification such as opening a bank account, studying and getting a job – to name a few. To obtain this, you must book a cita previa (appointment) using the government website; however these appointments get booked up quickly, so the best time to check is 8am on a Monday morning. You must then complete an EX-15 form and gather all the required documents (passport and photocopy, original letter explaining reason for residency in Barcelona e.g. University document, original document from job offer/contract and proof of Spanish address). There are agencies that offer the service of helping you through the whole process including the required documents (only original copies accepted), making the overall experience a lot less stressful. However you manage to sort it, we recommend starting as early as possible.
In order to become employed, you must register on Spain's Social Security system by obtaining a social security number. This is something that can only be done once you have obtained your NIE however it is a much simpler process that requires similar documents as mentioned above as well as a photocopy of your NIE. No appointment is required for this service, and the Modelo TA1 form can be completed in the Tesoreria General de la Seguridad Social office on the day.
Public Transport
Barcelona's public transport system is a breeze to use, as the whole city is closely connected via metro, buses, trains and trams that run frequently and don't break the bank!
The most frequently used mode of public transport in Barcelona is undoubtedly the underground metro service, in which a single-journey ticket can be purchased at €2.15. However it is much more economically efficient to buy a T-10 ticket which offers you 10 single journeys for €9.95. There are also many more ticket types that can be purchased at ticket machines at the metro stations such as tickets that offer unlimited use of the metro for a certain amount of days or months. Buses also run frequently around the city if this is your preferred choice of transport, with many key bus stops at Plaça de Catalunya.
For more information check out our blog post on How to Get Around Barcelona, or see Barcelona's Public Transport website.
Bicing
If you've already visited Barcelona, no doubt you will have noticed stretches of parked red bicycles around the city, and you may have even tried to use them. This is the city's Viu Bicing service, an urban and sustainable service where users can purchase an annual card which allows them to use the bicycles for their journeys around the city for only €47! The service also offers options for shorter term use of the bicycles; take a look at the tariffs on their website. Bicing is only available for residents of Barcelona so this is something else you will need your NIE for. Barcelona is one of the most bike friendly cities around, so don't worry about being limited to unnecessary routes, there are plenty of cycle lanes – just make sure you stick to them!
Food Shopping
Barcelona's streets are filled with convenience stores, but we wouldn't recommend doing your weekly shop in the smaller Supermercats, as they may not be the best value for money. Barcelona's larger supermarkets usually offer wider ranges of items for a better price. Here are some of Barcelona's main supermarkets that offer great value for money as well as an online shopping service:
Mercadona
You will find Mercadona stores dotted all over Barcelona as it is definitely one of the most popular supermarket chains here. Mercadona stores offer great quality products for a bargain price!
Carrefour
Carrefour has an impressive store on Las Ramblas and other areas, however if convenience is key, you can also find the smaller shops called Carrefour Express quite frequently around the city. Although not as cheap, the quality is on par.
Alcampo
AlCampo is less frequently found however if you find yourself in DiagonalMar shopping centre, it will be a difficult store to miss! AlCampo also offers homeware, electronics and much more. Worth a visit if you can get there!
A Taste of Home
If you're travelling to Barcelona from the UK and you're missing out on your PG Tips or McVities biscuits, it's definitely worth checking out A Taste of Home, which offers brands that aren't as easily accessible elsewhere in Barcelona as they are in the UK. This store offers Dutch, German and American brands too. Pretty soon your homesick feeling will be all but forgotten! Check out our blog post on international supermarkets in Barcelona for other recommendations.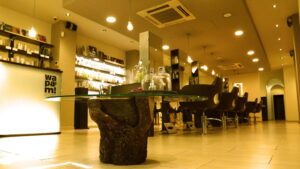 Grooming and Beauty Services
If you're finding it difficult to find a hairdresser or salon here in Barcelona, then look no further, as we've collated some our top picks of places to get a haircut as well as other beauty services that you may desire. Prepare to look good, and feel even better during your stay in Barcelona.
Wapa'm
Located in the Eixample neighbourhood, Wapa'm offers both male and female haircuts of the highest quality from a dynamic and creative stylist team. As well as this, spa services such as chemical peels, facials and massages are also available. Wapa'm also uses Avena products, which are all natural and contain pure essence oils, leaving your hair and skin feeling amazing!
Carrer de Girona, 152, 08037 Barcelona
Anthony Llobet
With 4 salons based in Barcelona, Anthony Llobet salons boast an experienced and international team of hair stylists and barbers that offer high quality hairdressing services as well as speaking 11 languages between them! Anthony Llobet himself is a TREsemmé Spain ambassador whose slogan is "Don't let your Spanish come between you and your hair''. We couldn't agree more…
Gràcia: Carrer de Ros de Olano, 19, 08012 Barcelona
Gòtic: Carrer d'Avinyó, 34, 08002 Barcelona
El Born: Carrer dels Carders, 34, 08003 Barcelona
Barceloneta: Carrer de l'Almirall Churruca, 8, 08003 Barcelona
Factory 236
From hair styling to acrylic and gel nails, or even eyelash extensions Factory 236 offer all the beauty services that you could possibly desire! With a dynamic team with various nicknames such as 'the IT girl', 'the architect' and 'the artisan' this is definitely a company that doesn't fall short on perfectionism and skill!
Carrer de Còrsega, 236, 08036 Barcelona
Emergency Services
Hopefully, you won't need to put this information to the test during your time here in Barcelona, but it's definitely useful to have the correct numbers for the emergency services just in case. Here are the most important numbers you need to know.
General emergencies: 112
Medical emergencies: 061
Fire services: 080
Police: 088 (Mossos)
Local police : 092 (street patrol-Guàrdia Urbana)
National police: 091 (Policía Nacional)
Hospital General de la Vall d'Hebron: +34 932746100
Hospital Clínic i Provincial: +34 932275400
Hospital de la Santa Creu i Sant Pau: +34 932919000
Hospital del Mar: +34 932483000 or +34 932483335/34
Hospital Sant Joan de Deu: +34 932532100
Whatever the purpose of your long-term stay, be it work, study or simply leisure, we hope this information helps you to settle into the breathtaking city. With plenty to do, we can guarantee you won't get bored. Check out our apartments to rent in Barcelona for your stay.
If you're a student living in Barcelona, check out our student guide to the city.