When you're on holiday in Barcelona there's no doubt you'll want to kick back, relax or just go absolutely wild, but for those of you who find losing your routine a bit of a mental burden, we have some top tips for you!
1. Check out gyms in Barcelona you can use with just a daily pass
Not all of us want to go to the gym when we are on holiday, but valuing your health and getting your blood flowing isn't such a bad thing. An early morning walk or jog, or even a nice swim in the sea or in a pool can be worthwhile. However, if you're someone who just loves to exercise whether you're at home or travelling and feel the necessity to keep this up wherever you go, there's no need to worry when you have a load of gyms which offer daily passes.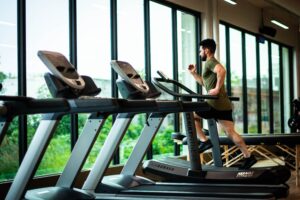 Here you have some examples:
Club Natació Atlètic- Barceloneta 
One of the main clubs that offer daily passes is the Club Natació Atlètic- Barceloneta, based right on the beach, they charge only €13.07* per day and have a huge swimming pool and gym. When booking an apartment for monthly stays or longer with AB Apartment Barcelona, you will receive a free 1 day invitation! 
Address: Plaça del Mar, 08003
*Prices subject to change. We recommend checking them out on their official website. 
Holmes Place Barcelona 
Holmes Place Barcelona also offers free day passes with a monthly price of €74.90*, Holmes is more of a luxury gym and when booking an apartment for monthly stays or longer with AB Apartment Barcelona you will receive a free 2 week membership. For more information on the best gyms and places to workout in Barcelona, read our blog! 
Address: Carrer de Balmes, 44-46
*Prices subject to change. We recommend checking them out on their official website. 
2. Take time out to relax
This most certainly must be one of the easier objectives on the list, relaxing. Although Barcelona has so much to offer don't burn yourself out by forgetting to give yourself time to relax! There are many ways we can encourage you to do so, as it gets quite hot in the afternoons, why not leave the morning to your sight seeing and wandering round the city, so that you have the afternoon to yourself. 
Spend your time relaxing at the pool, Barcelona has lots of indoor and outdoor swimming pools where you can go to chill and soak up the sun. Or, perhaps the beach is more your style, but Barceloneta may be a bit too busy and hectic for you? Why not take a look at the best hidden beaches around Barcelona for you to escape to! Or why not really treat yourself by organising a day of tranquillity at a spa. 
Barcelona offers some of the trendiest and unique spas, where you can truly relax and feel at ease, check out the top 10 spas in the city. 
3. Getting in your five a day
We all know the importance of eating healthy, and the benefits that come along with doing so, but often when we are on holiday it can be easy to quickly forget about these. The good thing about Barcelona is there are plenty of places you can enjoy delicious food without it being unhealthy. Restaurants such as Honest Greens are perfect for truly enjoying a meal whilst fueling your body with goodness. 
For more information on healthy eating read our blog on some of the best healthy restaurants in Barcelona. 
4. Be positive about keeping your routine
Don't feel like you need to stick to a specific routine, be positive about what you're doing and give yourself time to relax. If you don't feel like getting up early one morning, allow yourself to lie in, listen to your body and try not to make yourself feel guilty for doing things you wouldn't usually do! 
At the same time, remember that routine is positive. Who hates returning home after a holiday to feel bloated and horrible and dread returning to the gym? Doing a little bit of what you usually may do at home, such as eating healthy or exercising as soon as you wake up, will make you feel better and will help avoid those overwhelming feelings when you return home. 
5. Get some vitamin D at the beach 
A day out at the beach? You'll be pleased to know vitamin D can bring you so many benefits, in fact it is proven to protect against disease, optimise physical performance, and improve mental health. Let your stress melt away with an ice cream in your hand and make the most of your naturally enhanced mood. 
6. Drink plenty water
Like many during your holiday you will more than likely enjoy alcoholic beverages at any opportunity, and we don't blame you! However, make sure to keep yourself hydrated! There is nothing more important when you're in the sun, you must drink a good amount of water to maintain a healthy body temperature. 
7. Avoid screen time and enjoy the real time
Make the most of your time abroad and try to avoid screen time. We all know the damage that social media causes and the pressure it puts on society. Why not take a break from your phone and enjoy your surroundings? Stick your phone on airplane mode so you can continue to snap plenty of pictures, but enjoy the sunshine, your company and the surrounding city. 
8. Aim to get enough sleep
We are very sure that you'll explore a fair share of the best bars in Barcelona, the best clubs in Barcelona and check out everything the city's nightlife has to offer. However, take care that you're getting enough sleep so that you aren't drained, moody and exhausted during your trip. There is so much to see in the city of Barcelona and you don't want to miss everything because you were partying every night! 
9. Get exercise through fun movements if you don't fancy the gym 
To be able to fit in some exercise whilst you're on holiday doesn't just mean going to the gym! There's so much more you can do which is enjoyable and exciting. Don't force yourself to go to the gym if you really don't want to. Instead, how about you check out the best watersports in Barcelona, soak up the sun whilst taking part in some of the coolest water adventures in the city. Go surfing, jet skiing, or even on a seabob tour! The city has so much to offer so that you can stick to a healthy routine and take care of your physical and mental health all at the same time as enjoying all the perks of a holiday in Barcelona!