Are you a lover of moussaka, grilled meat in gyros, feta, olives and greek salads and delicious baklavas? You are a lover of Greek food. In Barcelona, although few, you can find some amazing Greek restaurants, confirmed by the Greek workers there themselves. 
The restaurants are authentic and unique, making the cuisine proud. If you're looking for a taste of Greece during your time in Barcelona, here's a quick and simple guide to the best! 
1. Greek Aribau
In the heart of Eixample you can find the authentic Greek Aribau, specialising in authentic and traditional Greek cuisine. Here you will find their dishes are based on local products and products of Greek origin. This is the place to go for quality and taste.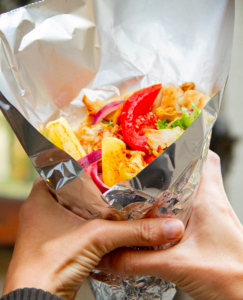 They have specialities in Greek tapas, quality meats, fresh fish all brought to life with stunning Mediterranean flavours. Their kitchen team is made up of those with Greek roots and those with full knowledge of the country having lived and worked there. 
They have a stunning terrace for you to enjoy your delightful dishes on, and their service is outstanding. This is the place to go for a real experience, we recommend trying their gyros, or a mixture of their traditional mezes. 
Address: Carrer d'Aribau, 50, 08011 Barcelona
2. The Quick Greek 
This is one of Barcelona's main Greek eatery franchises with branches in many neighbourhoods. They are available for takeaway and delivery, and are the fastest Greek food company in the city. They are open until late in the evening and offer a quick to-go style Greek food centred around a very simple menu. The service is over the counter but they also usually have a few tables in the restaurant.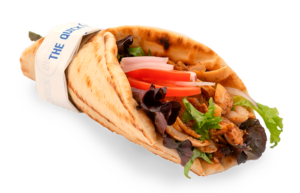 They offer traditional gyros with your choice of filling like different souvlaki meats or falafel with sides or a variety of greek salads. They are also filled with tzatziki and properly seasoned chips. 
If you're trying to decide which quick Greek to visit, why not check out the one in the Gothic Quarter. A quick gyro could be the perfect pick me up after some shopping in Plaça Catalunya, or exploring the Gothic Cathedral, or even a wander down the beach and the coastal attractions. 
Addresses: 
Carrer de Muntaner, 102 / Carrer dels Escudellers, 31 / Carrer d'Astúries, Plaça del Diamant, 67 / Carrer Nou de la Rambla, 121 / Rambla del Poblenou, 11 / Carrer de Pi i Maragall, 1
3. Furnos BCN 
Serving up breakfast, lunch and brunch is the wonderful Furnos based in the Poblenou District. They have managed to bag 31st place out of 339 dessert places in Barcelona on tripadvisor due to their delicious bakery selection. They serve fresh bread, Greek pittas, moussaka, sweets and many sauces and sides.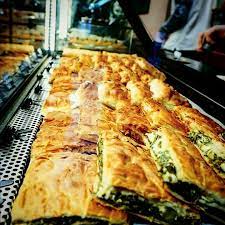 The owner is always out front and ready to recommend the best on their menu for you. They offer delightful authentic treats made with fresh ingredients. The bakery here is truly the same as one you may find in Greece, they have the great taste, quality and experience. You can also find special Greek delights in their fridge like feta and proper greek yogurt. 
Make sure you try the greek coffee too! As it certainly does not disappoint. 
Address: Carrer de Marià Aguiló, 67, LOCAL, 2, 08005 Barcelona
4. La Taberna Griega 
In the heart of Gracia you can find the authentic Greek restaurant La Taberna Griega. Taste one of the best homemade Greek cuisine in the area. They serve specialties such as pickilla, salads, horiatiki salata, moussaka, kalamaria as well as beautiful Greek wines and homemade desserts.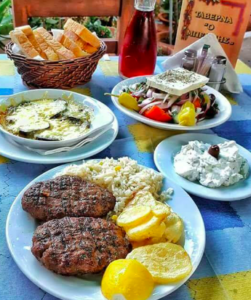 Enjoy their dining experience or order the incredible cuisine straight to your door. Their dining experience will make you feel as though you're in Greece, with authentic decoration and Greek music. Their food reflects the Mediterranean atmosphere with their dishes exceeding expectations. Be sure to give this place a visit and expect nothing less than good value, good quality dishes and fabulous service. 
Address: Carrer del Torrent de l'Olla, 123, 08012 Barcelona
5. Dionisos 
Around since 1993, is Dionisos, the place to go for genuine and generous dishes. They use only fresh local ingredients and greek products to prepare their dishes. At Dionisos they are much more than just enjoying the beautiful Greek cuisine, it is travelling to Greece through their aromas, wines and their music.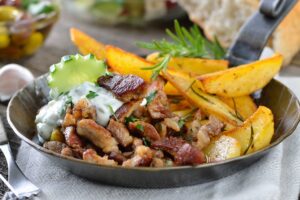 They also have a lovely outdoor seating area where you can relax in the sun, enjoy delicious food and enjoy a friendly service. They are child friendly and located very centrally. For good value for money this is the spot for you, good food, great portions, good prices and a nice service! 
Address: Av. del Marquès de l'Argentera, 27, 08003 Barcelona
If you've been craving more international food, why not check out the top 5 Italian eateries in Barcelona?