Whether you're an avid swimmer looking to keep your fitness levels up, or just somebody who enjoys a leisurely dip now and then, the cold winter weather doesn't need to stop your fun in the water. We all love a dip into the warm waters of the Mediterranean and the city's outdoor swimming pools when the summer months come around, but Barcelona still has a great selection of indoor pools for you to get your heart racing in the winter. 
Swimming is a great activity for any age or physical ability to do, as it exercises every muscle in the body, without putting too much strain on your joints. There are countless indoor pools in Barcelona to choose between, and could even be a great option in summer to avoid the crowds that flock to the seafront for a swim. Here are our favourite indoor pools for you to try in our city. 
1. Piscines Bernat Picornell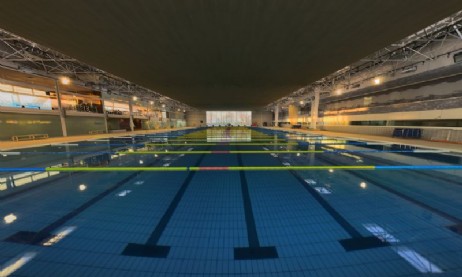 The Bernat Picornell pool is found on Montjuïc, close by to the Olympic Park and the Palau Sant Jordi, and is the second Olympic pool in Barcelona. It was the host of several aquatic events of the 1992 Summer Olympic Games, but don't worry if you're not an Olympic level swimmer, as it is open to the general public all year round now!
Piscines Bernat Picornell offers a range of aquatic fitness activities too, or weekly lessons if you want to learn to swim or improve your level. Adult prices start at €12.73 for a day pass, which includes access to the pools, fitness room, saunas, whirlpools and steam baths. If you're thinking of making regular trips to the pool, why not consider investing in a season ticket pass for just €46? There are also excellent discounts available for children, young people, and elderly swimmers. 
Address: Avinguda de l'Estadi, 30- 38, 08038
2. Piscina Sant Jordi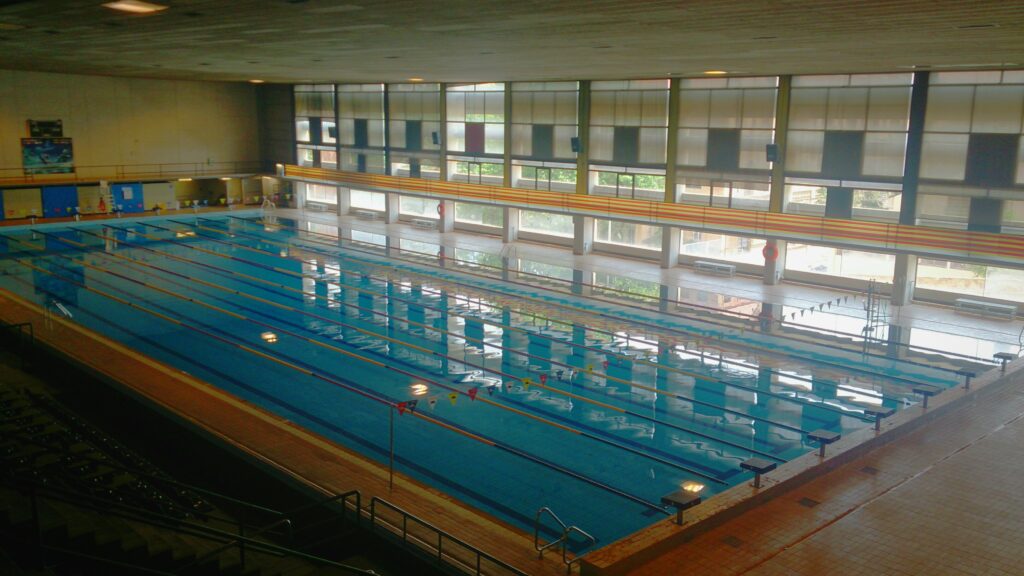 Located in Eixample, Piscina Sant Jordi has a fantastic 50 metre length, Olympic size swimming pool for you to get your laps in! They offer very reasonable prices for access to the pool, starting at just €7.20 for over 16s and only €3.22 for over 65s and children under 15. 
Aside from access to swim as you please, they also offer swimming lessons for all ages and all skill levels, whether you're wanting to build up your confidence in the water or take it to the next level. If you decide that this is a pool that you'd like to make your regular, there are also great membership subscriptions starting from just €39.50.
Address: Carrer de París, 114, 08029
3. Club Natació Catalunya
Offering 3 different sized indoor pools, the Club Natació Catalunya is another great option for indoor swimming for any age or skill level. Found just next to the Parc Güell, the club has a 25 x 16m and 2-metre-deep pool, as well as a 16 x 6m and 1.2m deep pool, that are available for members to swim freely or take the swimming courses on offer. Additionally, there is a 6x4m baby pool with a designated children's changing area. 
If you're willing to bend your definition of indoor, the club also has an outdoor pool that they cover with a balloon structure during the colder winter months! To enter for the day without being a member, the admission fee is €12.75 for adults and for children and the elderly it is €8.10 to enter alone, but there is a discount for coming in groups of 2+. The option to gain a membership for multiple entries as often as you like, it costs €35.50 for kids up to 17, and €51.10 for adults. 
Address: Carretera del Carmel, 5, 08024
4. DiR Gràcia
This excellent gym in Gràcia provides not only a large variety of activities and classes, but also two 20 x 8 metre indoor swimming pools for members to enjoy. If you're somebody that also enjoys heading to the gym for a workout, why not combine the two by getting a subscription here?
As well as being able to swim on your own terms freely, they also provide HIIT, pilates, and other low-impact water classes to get your heart racing. There are a variety of different subscriptions available depending on what you're wanting to use, and at which times of day you'd like to be able to go. Head to their website for some more information and enquiries on the best option or you.
Address: Gran de Gràcia, 37, 08012
5. CEM Júpiter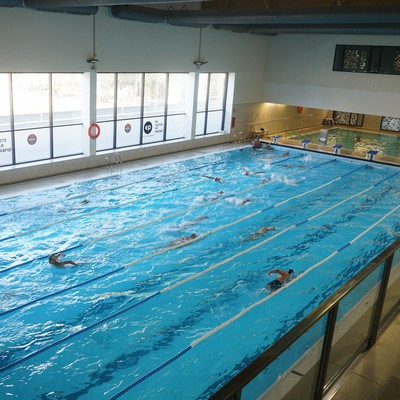 Slightly further out of the centre in Barcelona, but well worth the trip, is to CEM Júpiter in Sant Martí. They offer two indoor pools, a half-Olympic sized pool at 25 x 14 metre size and with 8 lanes, and another smaller pool that's 14 x 6 metre pool that is used for exercise classes and even has a hydromassage feature. 
They offer a range of water sports to have a go at, or small group classes to improve confidence in the water, as well as the option to just go to do your own thing of course! Prices start at around €15 for adults and between €5-10 for children and seniors.
Address: Carrer de l'Agricultura, 232, 08020