Barcelona has the perfect combination of sandy beaches and warm weather…which means that they host loads of amazing water sports in Barcelona.
From jet skiing and paddle surfing to sailing and open water swimming, the Catalan capital is the perfect place to make a splash! So just what's available? Get your wetsuits (or swimwear) at the ready and head out to sea try one of these exciting water sports in the inviting Mediterranean waters!
Jet skiing

Fancy yourself as a bit of a James Bond? Taking on the waves with speed and style? An exhilarating Barcelona jet ski tour is what you need, then! This top Barcelona water sport offers amazing vistas of the city, and let's be honest, it's just plain cool! Feeling the fresh spray of the Mediterranean Sea on your cheeks as you zoom past some of the Barcelona's sights and trendy beaches is none other than electrifying.
Surfing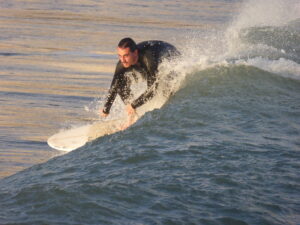 Although Barcelona may not have the fame of other places around the world as a surf destination, there's definitely an active surfing scene here. One of the coolest water sports in Barcelona, taking on the Med in the early hours is an invigorating way to start the day! Never surfed before? Fear not, there are some great surf schools in the Barceloneta area offering classes for beginners. Tempted?
SUP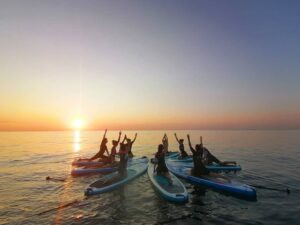 Of course, there are days when the waves take a time out, and the Med turns into a placid lake. The latest Barcelona water sport to take off on such occasions is SUP – stand up paddle, otherwise known as paddle surfing! One of most fun water sports in Barcelona, SUP is bang on trend at the moment, and is a great thing to try out with friends. It's super easy to pick up, so it's possible to just rent a board for the day and head out on your own. But if you'd rather have some support to get going, it's also possible to book a guide to teach you the ropes. For a calmer paddle board experience, although perhaps not for a first-timer, why not try paddleboard yoga too?
Kayaking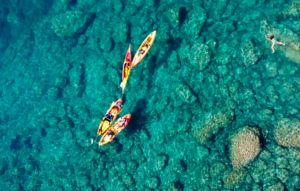 Another fun-filled option for those looking to chillax on the deep-blue is kayaking. The nearby Costa Brava with its turquoise waters and wonderful marine life is ideal for such an activity. Excursions Barcelona run a great day trip from the city to San Feliú de Guixols where kayakers can explore beautiful coves and hidden caves, combined with snorkelling, perfect for discovering the best of the Med!
Sea swimming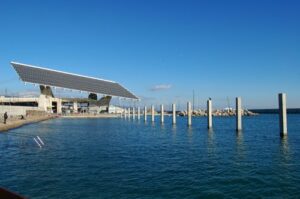 Water sports don't always mean needing fancy equipment, sometimes just yourself will do. And this is exactly the case at the Fòrum open water swimming pool. This no frills Barcelona water sport if perfect for those who just want to get back to basics, and plough through the Med without getting in the way of surfers and such folk. This segregated section of sea is fashioned as a laned pool and is great for a refreshing few laps!
Sailing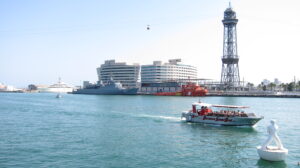 In the mood for something fancy? A Barcelona water sport with a touch of class? How about few hours sailing around the city's coastline, and letting a professional skipper do all the hard work for you. This way you can spend more time relaxing, admiring the landscape, and sipping on a glass of wine, than having to do the heavy lifting yourself! Book onto either a private yacht tour or join a larger group, and sail through the serene waters for the ultimate relaxation experience. We recommend a sunset sailing experience, to see Barcelona in its best light under dreamy pink skies.
Flyboarding
Adrenaline junkies will love this next Barcelona water sport! Dream of being a superhero? This is the sport for you! Flyboarding is recent water sport to have skyrocketed (pardon the pun) in popularity all over the world in recent years .By attaching a jet pack to the feet which is used to shoot water downwards, you can experience flying above the sea! This crazy sport is ideal for extreme sports enthusiasts looking to try something different! Check out Jetscoot's website for more info!
Kitesurfing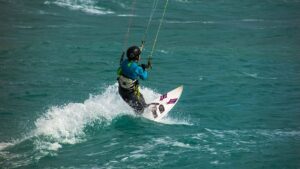 Inspired by this possibility of flying? By trying something radical? How about kitesurfing? For onlookers this oh-so-cool sport is awe-inspiring, and that person taking to the waves could just be you! Fancy a go? It's perhaps one of the most difficult water sports in Barcelona to master, so it's certainly not one for the fainthearted. But if you're up for the challenge, it's a great way to spend an adrenaline-filled afternoon. Mojokite Barcelona offers a selection of courses. So go on… what are you waiting for?
Windsurfing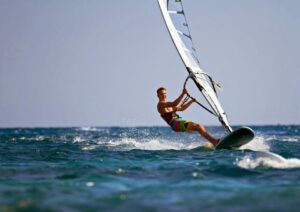 Feeling up to the challenge of mastering both wind and sea simultaneously? Well, windsurfing is the sport for you! This is another difficult sport to master at first, but if you're up for the challenge, it's one of the best water sports to try out in Barcelona. If you're seeking a hardcore Barcelona water sport then why not have a go? Escola de Catalana offer courses covering all aspects of the sport for reasonable prices.
Seabob Tour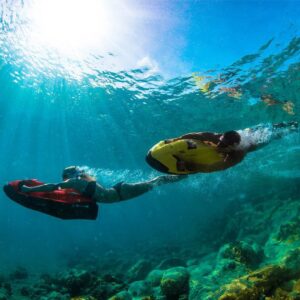 You'll be forgiven for not immediately knowing what a seabob is, so allow us to explain! They are a hydrodynamic jet that you grip onto, to propel you both above and below the water. It gives the sensation of swimming like a fish, leisurely gliding through the serene waters of the Mediterranean. One of the best aspects of Seabobbing is that it's completely environmentally friendly, it zooms powerfully and almost silently through the water. Dive to depths of up to 40 metres with proper safety equipment to explore what lies under the Barcelona shores.
Canoeing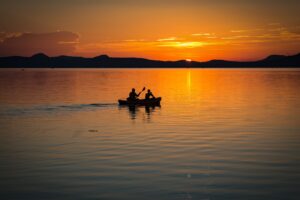 Soak up the sun and sit on a small boat with your family and friends adrift with the waves and watch the crystal clear waters. The sport is very simple and suitable for beginners with a basic 0. There are many tour companies that launch kayaking activities, where you can find your favourite schedules and prices.
Fishing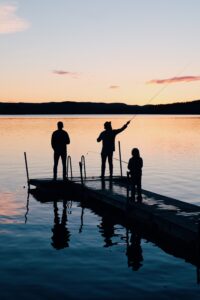 Would you like to experience a gift from sea after a day of work? Fishing is definitely the best option. There are many companies that organise fishing in Barcelona. Whether you want to fish for tuna on the high seas or fish on a yacht, Barcelona has a variety of activities to choose from. 
Canyoning
Do you enjoy travelling close to nature? Canyoning is definitely one of them. In Barcelona you can experience canyoning in the most exciting and interesting ways. You can walk, climb, jump and swim in the canyon. This is a sport you can practice with your children. There are professionals to protect your safety during the trip. 
Diving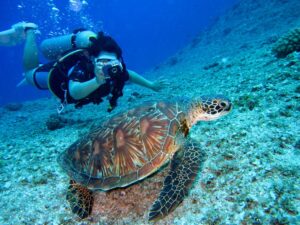 Do you want to fall into the depths of the sea, be surrounded by schools of fish, feel the beautiful marine world and forget the problems of the land? Then you must experience the charm of diving.  There are plenty of diving schools in Barcelona and you can choose a favourite coast or course to carry out your diving experience. If you have a diving license, you can also rent equipment. 
It takes it out us of just talking about the array of Barcelona water sports on offer! But if you still have some energy left, be sure to try some out during your stay!
About the accommodation
: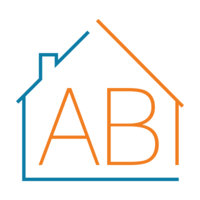 When you enjoy the beach and water sports, you will need a comfortable place to stay near the sea, right? We recommend that you choose AB Apartment Barcelona. We offer you a wide selection of apartments in Barcelona. It can meet your accommodation needs when you travel with friends and family. Just visit our website and search for the location of the apartment you want to live in. Our team is available 365 days a year to help you.